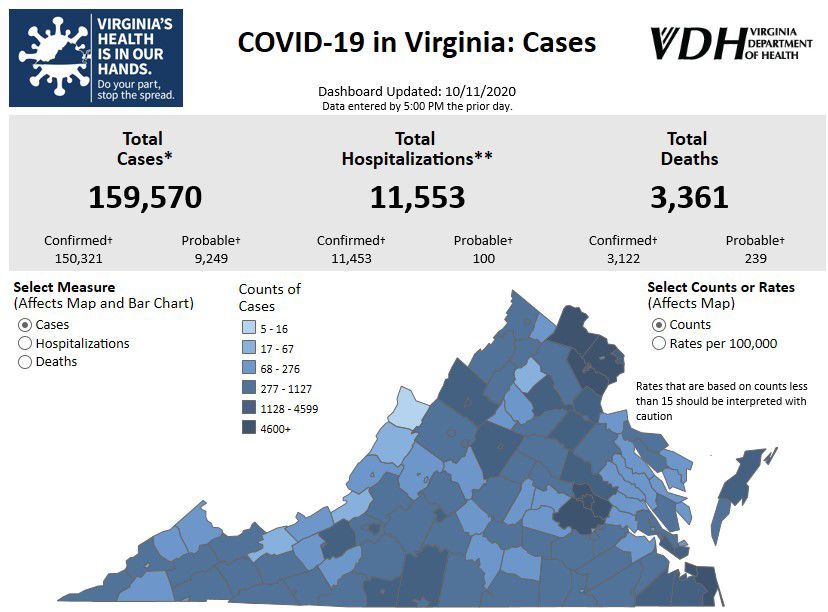 ROCKY MOUNT — Nearly as many Franklin County residents have become infected with the coronavirus during the first 12 days of this month as in all of September.
Outbreaks in the jail and a long-term care facility contributed to the spike in cases.
The Virginia Department of Health on Monday reported 15 additional cases, which brings Franklin County's total to 516. Of those, 143 have been reported since Oct. 1.
On Monday afternoon Franklin County Treasurer Susan Wray announced that her office would be closed to the public for the remainder of the week to protect against the community spread of COVID-19. The release did not offer specifics about why that decision was reached.
It did specify that the public could pay taxes online at https://franklinvatax.com/taxSearch, by calling 888-272-9829 or in-person using the designated drop box at the Treasurer's Office located in the drop box.
The Franklin County Government Center will remain open for in-person absentee voting at the Registrar's Office and other county services.
The long-term care facility has not been publicly identified. It is not yet on the state health department's long-term care public list.
Nancy Bell, population manager for the West Piedmont Health District, said that the long-term care outbreak is ongoing and that she expects to be briefed Tuesday as to the number of cases and whether there have been deaths or hospitalizations.
She said the district's epidemiologist, Sharon Ortiz-Garcia, reports that the jail outbreak has been resolved with no deaths and mostly mild or asymptomatic cases.
The Franklin County Sheriff's Office on Monday said the first case was detected during a daily screening process at the end of September when an inmate reporting sinus and allergy-like symptoms tested positive for COVID-19. The inmate was isolated, and further testing was done at the jail.
"Since that time, there have been other offenders and corrections staff to test positive for COVID-19. We have utilized the Western Virginia Regional Jail to assist with temporary housing for our offenders to keep them and our staff separated and safe," Sgt. Megan Patterson said in a statement.
She said that the regional jail has greater capacity to provide medical care and isolate infected inmates from healthy ones, and that alternative arrangements are being made to reduce exposure for new arrestees.
She declined to say how many cases were found in inmates or staff.
Another reason for the county's increase in case numbers is a correction in data. Bell said some cases that have shown up in recent days on the state's website initially were assigned to the wrong jurisdiction. Specific numbers were not available.
The virus prompted Franklin County Public Schools last week to switch from a hybrid model to all virtual learning for middle school and high school students. Superintendent Mark Church said too many teachers and staff were required to quarantine, which left the schools understaffed.
The school policy follows federal and state guidance that calls for those who have been in contact with a known case to quarantine for 14 days. Church said he expected to return to hybrid classes Oct. 19, which marks the end of their quarantine period.
Virginia's schools are consulting metrics developed by the Centers for Disease Control and posted to the state's website that measure the risk of the coronavirus transmission in schools. Franklin County remains at the highest risk level.
During the last 14 days, the rate of positive tests has risen to a rate of 11.8%. During the week of Sept. 26 to Oct. 9, 841 tests were given with 99 being positive. The week before, 514 tests were given with 46 positives for an 8.9% rate.
Staff writer Jason Dunovant contributed to this report.
Staff writer Jason Dunovant contributed to this report.
Concerned about COVID-19?
Sign up now to get the most recent coronavirus headlines and other important local and national news sent to your email inbox daily.