Results are incomplete, but the numbers reported to the Virginia Department of Elections favor incumbent Joe Bryant for the Collinsville District Board of Supervisor with 58% of the vote, Garrett Dillard for Iriswood District Board of Supervisor with 39% and Elizabeth Durden for Collinsville District School Board with 57%.

In the House of Delegates with 45 of 48 precincts reporting Wren Williams (R) easily won District 9 with 76% of the votes. Incumbent Danny Marshall (R) will retain his seat in District 14 with 66% of the votes after 39 of 41 precincts had reported. Incumbent Les Adams (R) also won another term with with 70% of the votes after 47 of 50 precincts had reported.
"I am humbled to receive the overwhelming support of Virginia's 9th House District," Williams said in a prepared victory statement. "It is an even greater honor to be granted the opportunity to represent them in Richmond. It has been a privilege to campaign across the district and hear from thousands of residents about their needs and the issues they care about."
The Iriswood District Henry County Board of Supervisors race was the closest local contest. Garrett Dillard received the most votes among four candidates with 1,286, followed by Eric Phillips with 1,085, Billy Dean White with 645 and Eric Bowling with 303.
Dillard started watching the election results with his family and friends at Elizabeth's Pizza on A. L. Philpott Highway when the polls closed at 7 p.m., but just after midnight the count was still not in, so he drove to the registrar's office at the Henry County Administration Building on Kings Mountain Road "to see what was going on," he said.
"Around 12:30 a young man came out and gave us the final count," saying that the only thing they were waiting on to make it official was the count on post-dated mail-in ballots, said Dillard. "Although it does seem to be a final answer, you still want to hear that officially finalized, so there's still a bit of anxiety, a bit of excitement. I can't wait until they say they're done counting. I want to enjoy the moment and to move on to the next phase, to carry out the plans that I have discussed."
Dillard thanked everyone "who got in behind the 'Revisioning Henry County' platform'" and all who voted, as well as those who worked the polls and assisted with the registrars' process and he also thanked the other three candidates.
"It was a nice, good, clean race. I commend everybody for that," Dillard said, "because there were four candidates, and nobody created any commotion, and that's what campaigning should be about: everybody telling what their platforms are and not knocking or trying to criticize the other candidates."
Dillard won two precincts while Phillips and White each got the most votes in separate precincts.
In the Axton precinct, Dillard won with 160 votes, White was close behind with 150, Phillips had 86 and Bowling received 31.
"I kind of wish I would have done a little bit better, but I'm OK with my personal results," said Bowling. "I think all of us did a really good job, [and I] would like to congratulate Dean White and Eric Phillips and wish Garrett Dillard the best of luck as he accepts this position on the board."
In the Irisburg precinct Phillips won with 265 votes, then Dillard with 193, White with 109 and Bowling with 104.
Phillips could not be reached for comment.
The Mount Olivet precinct went with Dillard at 270 votes, Phillips with 239, White at 79 and Bowling with 67.
The Mountain Valley precinct gave 167 votes to White, 127 to Phillips, 106 to Dillard and 18 to Bowling.
White spent the day after the election doing what he would have done, win or lose: hauling wood for the wood ministry at Kearfott Memorial Baptist Church, where he is the pastor. The wood ministry provides firewood for people in need to heat their homes.
"If I'd have gotten supervisor, it would have been a bonus to me" on an already rich life, White said. "The biggest thing is letting people know what God could do in your life. I had already won the race before getting the votes" by going "from drugs and the penitentiary to running on the ballot for one of the most prestigious positions in Henry County. For my name to actually be on the ballot was a God thing."
White offered his "congratulations to Garrett Dillard. All four of us were qualified to the position. I wish him the best and that he serves Iriswood District well, and I think he will. I think he'll do a super job. I was just honored to run for my community."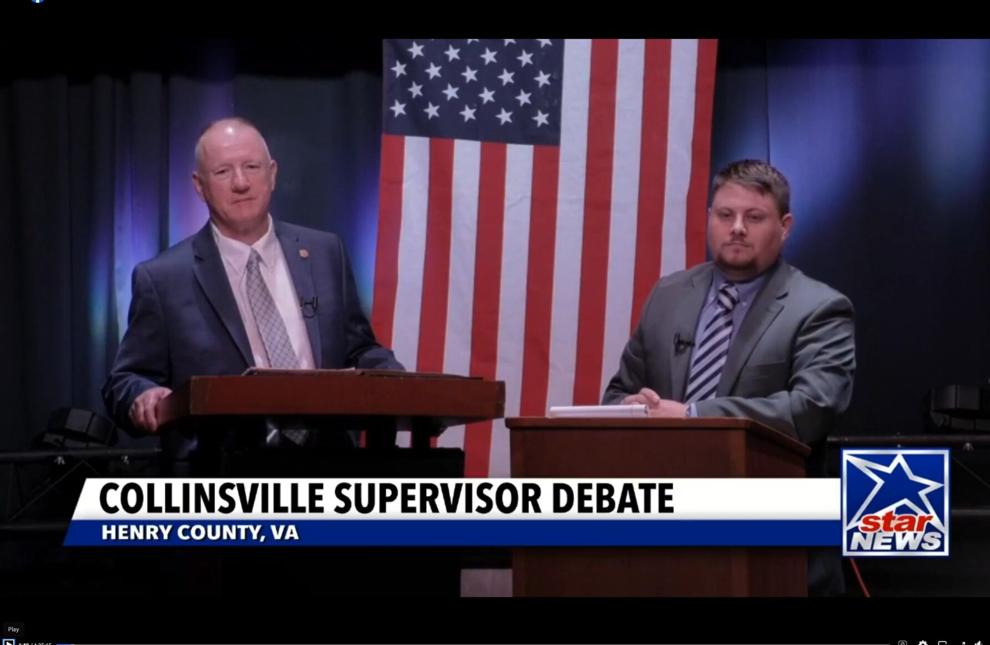 In the Collinsville District Board of Supervisor race incumbent Joe Bryant received 1,595 votes while his opponent, Andrew Palmer, trailed with 1,161.
"I'm glad it's over. It hasn't been the prettiest campaign, but I'm thankful it turned out like it did," said Bryant. "Palmer is a smart young man and will go far in Henry County and I wish him the best."
Bryant was busy Wednesday morning collecting campaign signs and had plans to take a few days off from his business.
"Things have been tough and makes it hard to stay focused and concentrate and not let these guys get to you," said Bryant. "I can only take so much when people push me."
Palmer won the Daniels Creek precinct by one vote, 192 to 191. Collinsville #1 went to Bryant 211 to 163, as well as Collinsville #2, 383 to 301 and Mountain View 250 to 153.
"While I wish the results would have been in my favor, I want to congratulate Joe Bryant on his re-election to the Collinsville District Board of Supervisors," said Palmer. "This has been an experience and I want to thank all of my supporters from the bottom of my heart. I will continue to be active in the community and stay in tune with the Board of Supervisors to make sure our voice is being heard."
Elizabeth Durden received 1,563 votes in the Collinsville District for School Board taking three of four precincts, while her opponent, Ray Reynolds, received 1,187.
"I appreciate everyone who took the time to seek out information on who I am as a candidate and to all those who shared concerns, asked questions, and showed confidence in my serving our district though the school board. I thank you," said Durden. "I look forward to representing the voice of our district and getting to work on behalf of the values of our students, parents, teachers and community."
Reynolds received the most votes in the Daniels Creek precinct with 206 to Durden's 188. Collinsville #1 went to Durden with 188 to 182 as well as Collinsville #2, 393 to 289 and Mountain View 229 to 165.
"I want to thank everyone that voted for me and I want to congratulate everyone that won," said Reynolds. "The voters spoke, and I accept that."
Henry County Board Chair Jim Adams ran unopposed receiving 2,121 or 98% of the votes in the Blackberry District.
Also running unopposed for the school board, Chair Thomas Auker received 98% of the votes with 2,039 in the Blackberry District and Ben Gravely got 2,984 votes or 98% in the Iriswood District.
Henry County voted Republican across the board for the House of Delegate races giving Wren Williams (R) 4,350 votes (74%) to Bridgette Craighead (D) with 1,500 (26%) in District 9. Incumbent Danny Marshall (R) 3,824 votes (69%) to Rhett Deitz (D) 1,728 (31%) in District 14 and Incumbent Les Adams (R) 4,889 (71%) to Chance Trevillian 2,007 (29%).
Glenn Youngkin (R) received 12,912 (70%) of the votes in Henry County for Governor to Terry McAuliffe's 5,535 (30%). For Lieutenant Governor, Winsome Sears (R) received 12,712 (69%) to Hala Ayala (D) 5,640 (31%) and Jason Miyares (R) totaled 12,690 votes (69%) to incumbent Mark Herring (D) 5,708 (31%).
There were no locally contested races in Martinsville this election, but voters gave the Democrats a solid win in the statewide races with McAuliffe receiving 2,206 votes (56%) to Youngkin 1,675 (43%) for governor. In the race for lieutenant governor Ayala received 2,218 votes (57%) to Sears 1,660 (43%) and Herring 2,246 (58%) to Miyares 1,644 (42%) for attorney general.
In the District 16 of the House of Delegates Martinsville gave the greatest number to Trevillian 2,112 (55%) over Adams 1,695 (44%).
Four constitutional officers in Martinsville all ran unopposed: Commonwealth's Attorney Andrew Hall 3,280 (99%), Sheriff Steve Draper 3,421 (99%), Commissioner of Revenue Ruth Easley 3,375 (98%) and Treasurer Cindy Dickerson 3,378 (99%).
Patrick County had one contested race this time, and incumbent Walter Luther Scott took the win for Smith River District School Board with 765 votes (53%) over his opponent, Caroline Jones, who had 678 votes (47%).
A named school board member has yet to be announced among 208 write-in votes in the Dan River District. No one registered to run for the seat.
Running unopposed were: Douglas Perry 1,250 (99%) Smith River District Board of Supervisors, Brandon Simmons 1,040 (98%) Dan River District Board of Supervisors and Commissioner of Revenue Cindy Kendrick 5,948 (99%).
Wren Williams (R) received 5,842 (82%) from his home county in his bid to become a state delegate in the House representing District 9. His opponent, Bridgette Craighead (D) received 1,259 votes (18%).
Patrick County gave full support to the Republican candidates in the statewide races with 5,942 votes (82%) for Youngkin, and 1,247 (17%) for McAuliffe. In the race for Lieutenant Governor, Sears received 5,887 (82%) and Ayala received 1,286 (18%). Jason Miyares received 5,851 votes (81%) for Attorney General while Herring received 1,343 (19%).
Bill Wyatt is a reporter for the Martinsville Bulletin. He can be reached at 276-638-8801, Ext. 236. Follow him @billdwyatt.