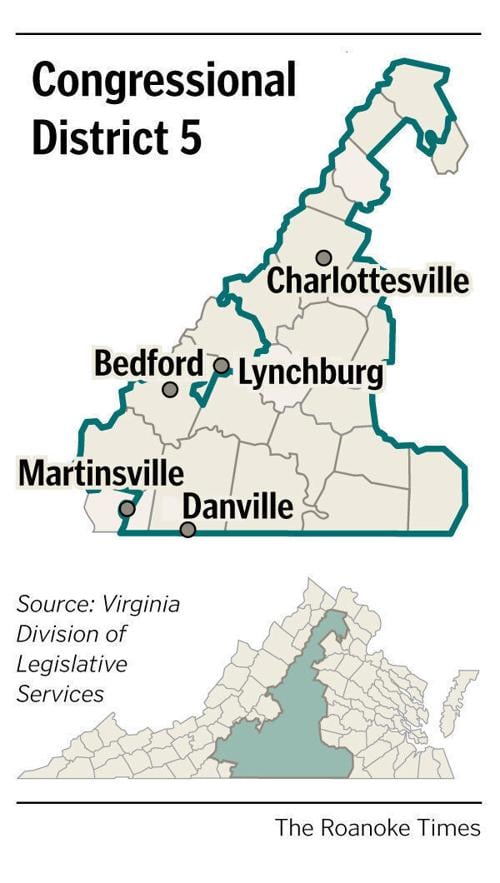 A heavy reliance on Zoom meetings is arguably where the similarities between Bob Good and Cameron Webb's political campaigns end.
As the candidates try to win over the voters of Virginia's 5th Congressional District, they have been challenged by COVID-19 pandemic-related limitations on traditional campaigning elements such as in-person gatherings and handshakes. As social distancing has become a new hallmark of 2020 campaigning, Good and Webb have also worked to distance themselves ideologically from each other.
They see many of the same issues but have different plans of action.
In what has become an increasingly fraught political environment, Virginia's 5th District is no exception.
Good, the Republican candidate, served on the Campbell County Board of Supervisors from 2016 through January and also worked in Liberty University's athletics department for 15 years. Webb, the Democratic candidate, is a lawyer, a practicing physician and the director of Health Policy and Equity at the University of Virginia's School of Medicine, where he also teaches.
Throughout the summer and into the fall, they have received and traded barbs about the other's intentions and policy standings.
"There could not be a greater difference between the positions held by my opponent and me and our visions for the future of our country," Good wrote in an email, where he also went on to say that Webb has aligned himself "with the radical leftist policies that have become synonymous with the Democrat Party of today."
Webb finds that characterization of himself to be misleading.
As a member of a bipartisan initiative to help bring down the cost of prescription drugs, Webb worked in the final few months of President Barack Obama's administration and the first few months of Donald Trump's administration — a position, he told the Register & Bee in a phone interview, that he wouldn't have received if he were a radical politician.
For Good to suggest otherwise, Webb said, is an example of "typical Washington politics."
He continued: "The truth is I'm a physician and somebody who cares deeply about my community. I have been my entire career. That's no different because I'm going into politics."
Their ideological differences aside, the candidates each offered a thought on what they admired in their opponent during a contentious campaign season.
"I respect and admire and acknowledge that he's a man of faith," Webb said of Good. "As a Christian myself, that's something that immediately I'm drawn to — just his passion for his faith. I think it manifests a little differently in the two of us, but just the same I think it's great to hear that he's so motivated by his faith and that he has that relationship."
Good wrote that although he and Webb have different ideas for how health care and abortion should be addressed throughout the country, "I respect my opponent's desire to help patients as a physician. I am also confident that he is a great husband and father."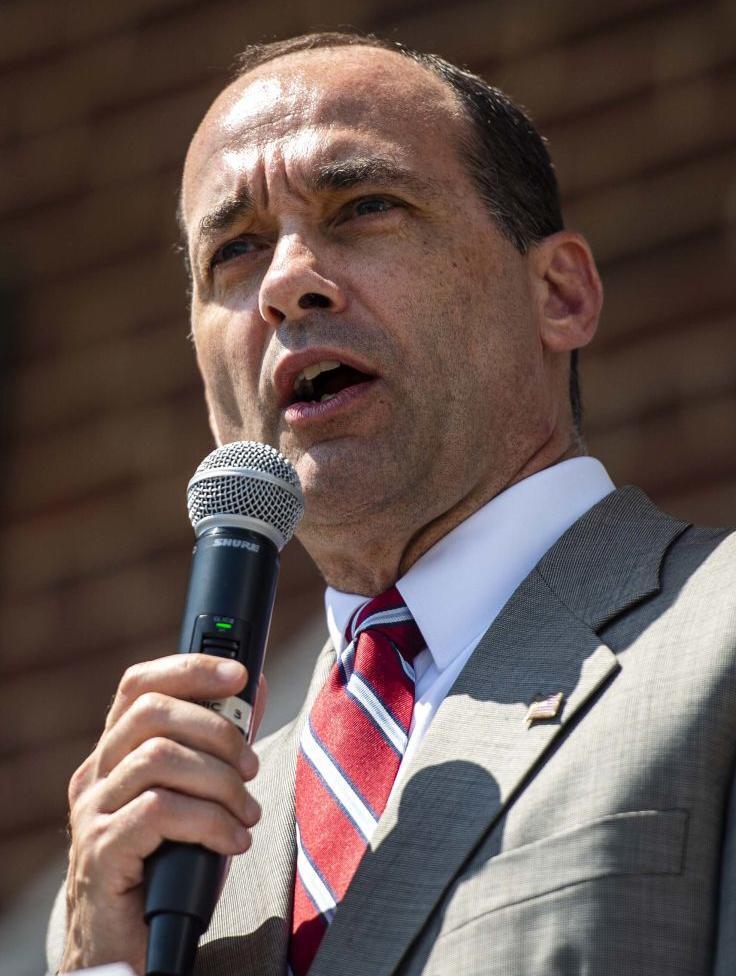 Issues facing
Dan River Region
When pressed for their visions of Danville, Pittsylvania County and the Southside at large, Good and Webb were consistent in where they thought the region was currently struggling.
Both highlighted population loss as a result of dwindling job opportunities as a top-line issue, but the secondary and tertiary priorities are where the candidates start to split away.
Webb noted that the current hope for adding jobs in the area rests on the outcome of the casino vote, which he acknowledged as a divisive issue in town. With or without the casino, Webb said he'd advocate for increased workforce development opportunities and vocational programs, describing them as "things that are really going to make sure that people have opportunities for jobs in the future."
Webb also identified the fact that only two schools within Danville Public Schools were fully accredited last year. Improving the school system, he said, would go a long way toward also helping the area's job prospects.
"That's going to be critical work, but I think it's hard to have a thriving city without thriving schools," he said. "You also have to make sure folks have the necessary building blocks to have success."
Although Good did not mention the casino or schools specifically, he vowed to be a strong advocate for business owners and job seekers if elected.
"In Washington, I will work to advance and continue President Trump's economic policies of low taxes on businesses and individuals, reducing costly and burdensome regulations, maintaining our energy independence and affordable gas and utility prices, and demanding fair trade practice from competitor nations," Good wrote.
Throughout their travels in the 5th District, both candidates have identified access to health care and access to reliable internet as universal pain points for residents. Given how rural parts of the district are, Good recognizes the importance of being a strong supporter of the Second Amendment as well.
"They also want to be safe and secure, to keep more of their hard-earned money and to retain their Constitutional rights to worship as they please and defend themselves and their families if needed," he wrote.
Webb, meanwhile, plans to lean on his experience as a physician to appeal to residents' desires to have more affordable and accessible health coverage.
"I tell people all the time, as a doctor, I walk into a room and I ask people where it hurts," he said. "That's what I do for a living. They tell me and we work together to find solutions."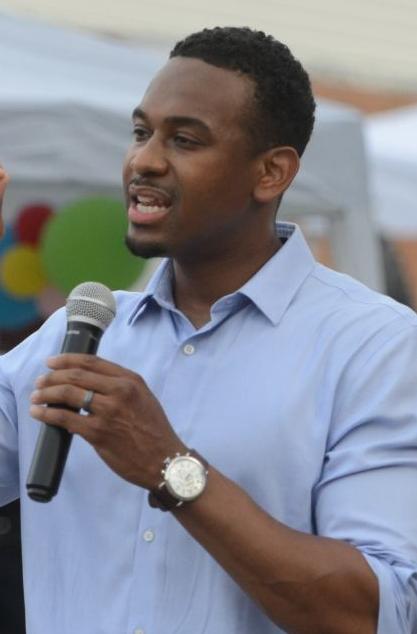 Local voices chime in
Local Democratic and Republican committees are, naturally, split on which of the two candidates makes the most sense for Danville and Pittsylvania County.
In correspondence with the Register & Bee, they described the same set of issues that the Dan River Region is currently dealing with — such as jobs, access to health care, rural internet availability, stronger schools and dealing with the COVID-19 pandemic — but they were unwavering in their support of their party's candidate being the person for the job.
"As freshman Democrats and Republicans, they will likely vote in step with their party," Mark Nicholson, the Danville city chair for the 5th Congressional District Republican Committee, wrote in an email discussing the two candidates. "I could easily see Webb voting in favor of the Green New Deal and defunding the police. On the other hand, I would expect Bob Good to support a continued Trump agenda of energy independence, 2nd Amendment rights and enforcement of immigration laws."
Webb, whose father was a longtime employee of the Drug Enforcement Administration, has previously said he is not in favor of defunding the police but rather investing more in mental health professionals and community engagement among police. Webb is also not a supporter of the Green New Deal, but, according to his website, he will prioritize a "clean energy standard" backed by global warming science and evidence.
Will Pace, the Chatham mayor and the Pittsylvania chair in the 5th Congressional District Republican Committee, sees Good as somebody who would have the best interests of business owners in mind.
"I feel like there's a much larger sense of individualism in Southside Virginia, that people will go with their God-given abilities to succeed, but they don't want to be interfered [with] by the government," Pace said. "[Good] believes in empowering the individual rather than deciding for a group of people."
Pace also sees gun rights as an important topic, especially because, he said, rural residents would like to be able to defend themselves in times when it takes law enforcement longer to respond.
"The Second Amendment is a big deal here, and it should not be infringed," Pace said. "I know Bob Good strongly supports the Second Amendment. I do not see that with Cameron Webb at all."
Roy Ford, chair of the Pittsylvania County Democratic Committee, said health care is the biggest issue facing the region, and he lauds Webb's expertise on the matter while also presenting an optimistic outlook in general.
"The difference between Cameron Webb and Bob Good shows in Webb's having things that he wants to do for the area, and Good seeming to only want to be negative," Ford wrote in an email. "Webb is a person who reaches and wants to work with all people while Good seems more inclined to appeal to a narrow, very conservative base."
Joshua Norris, chairman of the Danville Democratic Committee, echoed a similar sentiment. He sees Webb as a stronger supporter of schools, which would in turn lead to job growth, and ensuring that one's zip code does not dictate the quality of health care received.
"I think that Dr. Webb is uniquely suited to stay focussed on the people and not get caught up in ideological battles," Norris wrote in an email. "Being both a lawyer and a doctor gives him a unique perspective to understand the policy side and the people side of an issue. Electing a doctor during a pandemic is also a pretty good idea, to state the obvious."
5th District at large
Virginia's sprawling 5th District is its largest geographically — with enough landmass to make it larger than six individual states — and was, for many decades, safely Democratic.
But a Republican has represented the district since 2011, and Good believes the district's electorate is not yet willing to switch sides. Trump overwhelmingly won the district against Hillary Clinton in the 2016 election.
"I believe that President Trump will win this district again," Good wrote, "and that the majority of voters will support me as the candidate who will help him advance his policies and enact his second term agenda."
Good went on to say that he's confident the district's residents will not support a Democratic candidate for risk of Trump being impeached again. Further, following the incidents of police brutality and the ensuing demonstrations around the country this year, Good says law enforcement is deserving of more support and he sees himself as a stronger advocate for them than Webb would be.
"[Residents in the district] are witnessing the purposeful dismantling of the foundation and fabric of our country by the radical left," Good said. "When the voters go to the polls this year, they know what's on the line, and I am confident that they will make the right choice."
Just as Good is hopeful of the 5th District retaining its current status as a Republican safe haven, Webb is counting on the district's voters flipping as a result of seeing his plan for a "real vision and not just partisan platitudes."
The odds may already be moving in Webb's favor.
In mid-September, The Cook Political Report — a nonpartisan outlet that analyzes American political campaigns — suggested that the race was moving from "Lean Republican" to a "Toss Up."
The analysts there cited supposed GOP disunity — on account of Good unseating Rep. Denver Riggleman at a June drive-through convention — and a sizable fundraising gap as reasons for the outlook changing. As of June 30, Webb had raised more than $1.3 million compared to Good's $262,000, according to the Virginia Public Access Project. More current fundraising numbers are expected to be released later this month.
Though Webb acknowledged that the district could have more of a conservative lean than a liberal lean, he doesn't think that means it's a Republican lean, which could open the door for him to win over some traditionally non-Democratic voters.
"I think people are always keeping in mind there are a lot of voters in this district who are independent and are looking for someone who will serve them well," he said. "I think you have it wrong if you think this is a bright red district or a bright blue district. It's a very diverse district ideologically."
Additionally, Webb contends that voters across the country, to say nothing of just the 5th District, are tired of seeing Democrats and Republicans being unwilling to work together.
Webb said that he will occasionally bring Republican colleagues from his time working in the White House to his classes at UVa, and his students are often floored by how well they get along.
"They're not used to seeing it all the time because of what politics look like nationally," Webb said. "I remind them that our politics don't have to look that way. They can look more collegial, they can look more collaborative and in fact it has before. That's not a wish to make that the goal. It's just a matter of electing the right people."
{span}Parker Cotton is a reporter at the Danville Register & Bee. You can reach him at parker.cotton@martinsvillebulletin.com or by calling (276) 638-8801 ext. 215. Follow @ByParkerCotton.{/span}