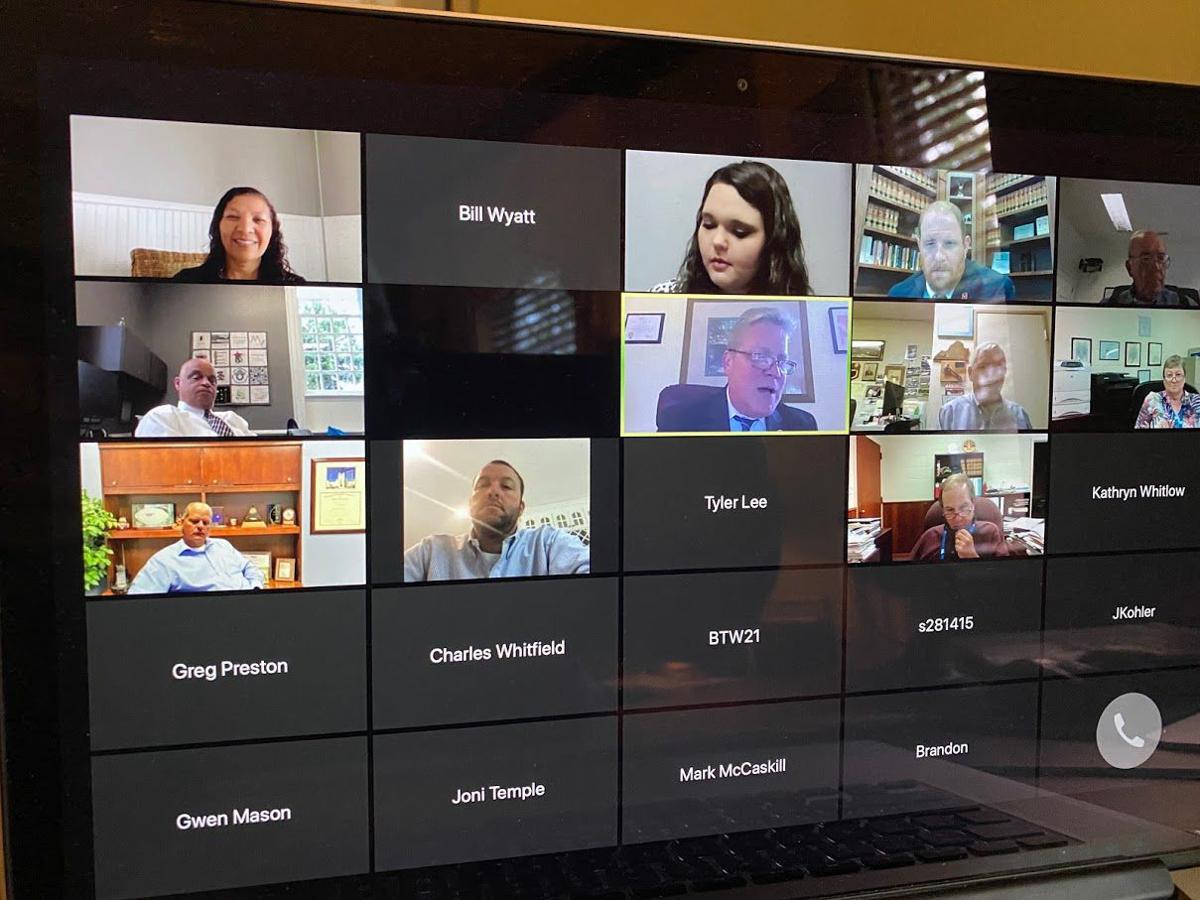 The annual post-legislative event sponsored by the Martinsville-Henry County Chamber of Commerce is usually a luncheon followed by remarks from those who represent the area in Richmond.
This year's event didn't start until 3 in the afternoon, and there was no lunch. Instead, 37 participants joined via Zoom to hear Delegates Les Adams, Danny Marshall and Charles Poindexter and Senator Bill Stanley, all Republicans, talk about a variety of subjects.
"We have to start getting back to the new normal," said Stanley (R-Rocky Mount). "We've paid the price enough when it comes to the COVID[-19] closure.
"When we look back on this — it's the same as burning down the house because you have a cockroach inside."
Poindexter (R-Franklin) agreed it was time to put Virginia back to work.
"Last session was a sharp tilt to the left," Poindexter said. "I've not seen rules modified and broken like they were this year.
"It's very anti-business now."
Adams said the past session was different from anything he had seen since he was elected in 2013.
"It's unusual times," Adams said. "The session was very different with the new Democrat majorities and the governor endorsing everything.
"Nearly 1,300 bills were approved. This year it was just accelerated, and many of those bills were bad for business.
"It's unfortunate timing to have a tax-and-spend government just before a pandemic."
Marshall (R-Danville) found himself removed from various boards and commissions, including the powerful Virginia Tobacco Commission and the New College Institute board.
"It's a strange world we're living in today," he said. "If this was a movie, you'd think it was a 'C' — it's not even a good plot.
"The session didn't go very well."
Sales tax, casinos
Marshall said he was successful in putting a referendum on the November ballot that calls for a 1% sales tax increase earmarked for school construction.
"It lasts for 20 years if it's passed," he said.
Henry and Patrick counties will be included in the referendum, but the city of Martinsville will not.
"Martinsville did not ask to be put on," Marshall said.
A casino bill that passed will allow Danville to go to referendum with the question this November.
"It could be beneficial to Martinsville and Henry County," Marshall said. "Clay Campbell [Martinsville Speedway's president] said this could be beneficial to the Speedway.
"It will give the fans an extra something to do."
NCI board moves
Stanley is on NCI's board and said he, too, was removed until someone realized he was the board's chair.
"With the new majorities, everything is coming out of Northern Virginia, and they don't care about us," Stanley said. "There are members on this [Zoom] call who served faithfully on the NCI board of directors and the Tobacco Commission, and what we have seen is by midnight appointments, we are pulled off these committees and replaced by people from Northern Virginia.
"The commission requires these folks to live in the tobacco region, and none of them do.
"Their [Democrats'] plan is to dismantle the tobacco commission so that it has nothing to do with us.
"Danny [Marshall] has been on the NCI board since its inception — they took Poindexter off and replaced him with one from Northern Virginia, and I don't think she knows where Martinsville is."
Adams was the only one of three local delegates not replaced on NCI's board.
"I made a special plea not just for NCI, but others as well, realizing it's going to be important that I reach out," Adams said. "I didn't assume that I was going to get reappointed.
"I didn't get all that I asked for, but I got some."
The talk of 'defunding'
The latest talks in Richmond and around the state of "defunding" the police — or rethinking the missions of law enforcement — and removing school resource officers from the schools didn't sit well with the local legislators.
"Simply anarchy," Poindexter said. "It's unrealistic — the far left fringe groups are pushing it.
"I don't think the people of Virginia will stand for it.
"Law enforcement is so underpaid that they have a serious problem recruiting. This kind of talk undermines morale."
Said Adams: "Very misguided. When we take a step back, we're going to realize that this is very imprudent and unwise.
"To make police the enemy is a bad way to go. I'm hoping as time goes on those kind of calls abate."
Marshall said it has been the consensus of everyone to value school resource officers.
"I was on the School Safety Committee in 2018, and we had a long list of things we needed to do," he said. "School resource officers were at the top of the list.
"When I first heard this — it was one of those head-scratchers again — why would you do that?
"The idea is to have someone on the ground that could divert a real tragedy."
Stanley agreed removing police is not the answer.
"We need to come together and train and educate the police, but to defend this drastic draconian measure [defund and remove] — that shows a lack of depth in thinking," Stanley said. "Law enforcement already has a 19 to 21% attrition rate.
"Sheriff Dan Smith in Patrick County had a deputy leave the department because he got paid better driving a logging truck."
Bill Wyatt is a reporter for the Martinsville Bulletin. He can be reached at 276-638-8801, Ext. 236. Follow him @billdwyatt
Bill Wyatt is a reporter for the Martinsville Bulletin. He can be reached at 276-638-8801, Ext. 236. Follow him @billdwyatt
Get Election 2020 & Politics updates in your inbox!
Keep up on the latest in national and local politics as Election 2020 comes into focus.