The next formal phase of Martinsville's reversion starts Tuesday morning, when members of the Commission on Local Government will be in Martinsville to hear attorneys discuss how Martinsville would revert to becoming a town in Henry County.
Other than ceremonial votes and a signing of a memorandum of understanding, sessions Tuesday and Wednesday at the New College Institute will be the first times that the public can attend — and on Wednesday night comment on — discussions of these plans.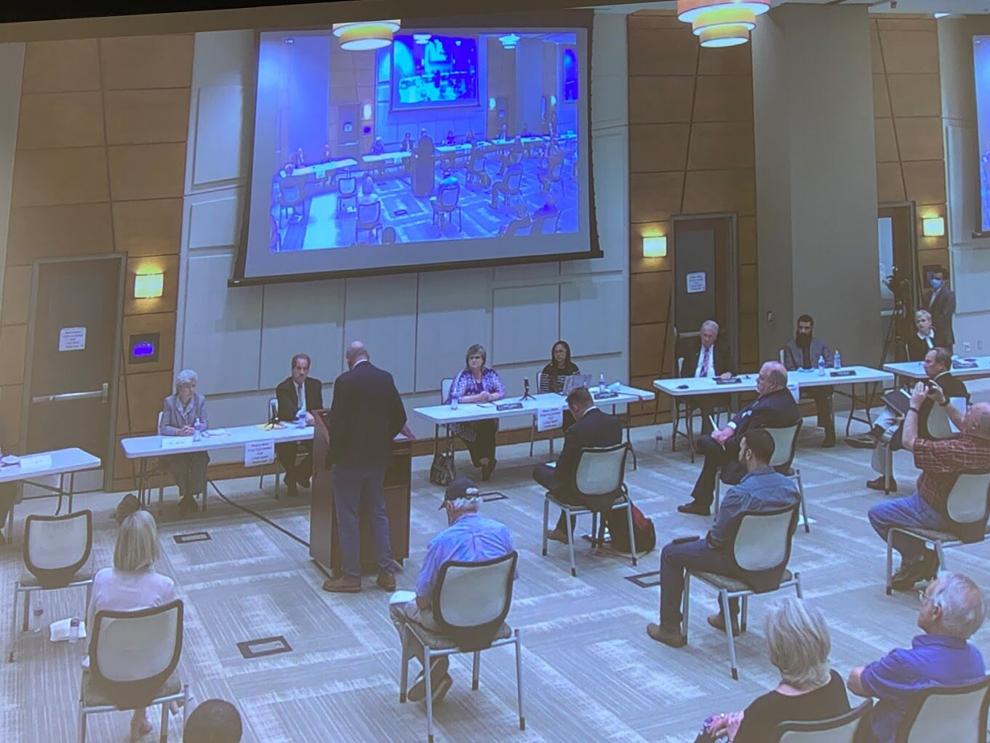 To fill in the blanks: Martinsville City Council voted unanimously in December 2019 to begin the reversion process. After hiring attorneys and codifying that decision, the city was delayed somewhat by the COVID-19 pandemic, and formal discussions did not begin until this spring.
Behind locked doors at the Commonwealth Centre for Advanced Training attorneys and officials from the two governments sat down with a mediator who helped negotiate the basic points of their memorandum of understanding.
Then last month both governments approved a voluntary settlement agreement, which specified how the merger would work for schools, courts, services, constitutional offices and other issues.
The only contentious detail, City Attorney Eric Monday has indicated, is the effective date of reversion, and even then both parties agreed to accept the date established by the special court, a 3-judge panel that ultimately must approve the reversion.
But all of that was shielded from the public shielded by state law.
The order for presentation this week has not been announced, but attorneys representing Martinsville and Henry County each will have a day to present.
These will be open, but with some limitations. Because of the prevalence of COVID-19, the capacity for Martin-Lacy Lecture Hall at NCI will be reduced by 50% to maintain safe distancing, which means no more than 125 people will be allowed to view the proceedings in-person. And everyone will wear face coverings, regardless of vaccination status.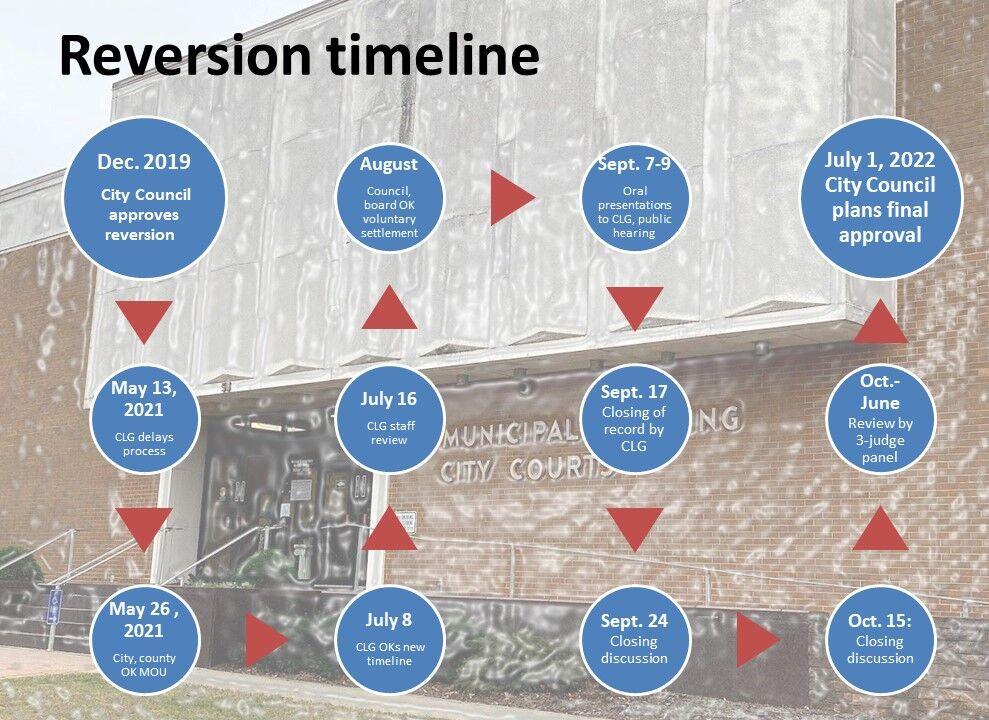 All presentations also will be streamed via Google Meet, beginning at 9 a.m. Tuesday. Regardless of who speaks first, a public hearing is scheduled for Wednesday evening beginning at 7, but with restrictions for speakers.
In order to speak at the hearing you must register to do so by 5 p.m. on Wednesday. According to a public notice by the CLG having appeared in the Martinsville Bulletin, registering to speak is accomplished by "sending an email to cody.anderson@dhcd.virginia.gov" with your name and contact information.
The memorandum of understanding was approved unanimously by City Council and approved, 4-2, by the Board of Supervisors, with Horsepasture District Supervisor Debra Buchanan and Collinsville District Supervisor Joe Bryant casting the dissenting votes.
The voluntary settlement agreement was adopted by both governments on Aug. 24, and Buchanan and Bryant again also voted against the voluntary settlement on Aug. 24. During City Council's review of that document, business owner Tammy Pearson — who was not part of the unanimous council vote that initiated reversion in 2019 — cast a dissenting vote, saying she was "voting against having to approve this document before the public has had a chance to see it."
The VSA is a 20-page document that stipulates that after the special court sets the reversion date:
Both the Board of Supervisors and the Henry County School Board will add a seat for a representative from the town of Martinsville, making seven members on each.
All city officers and employees immediately will become officers and employees of the town, and the City Council would become a Town Council.
The offices of Commissioner of the Revenue, Treasurer Cindy Dickerson, Sheriff Steve Draper, Commonwealth's Attorney Andrew Hall and Clerk of Court will cease to exist.
Court functions will cease in Martinsville, and all pending criminal and civil matters will be moved to the Henry County courts. Henry County may lease Martinsville's facilities for circuit court, general district court and juvenile and domestic relations district court.
Martinsville City Public Schools will fold into Henry County Public Schools. The town of Martinsville will hold title to some current schools facilities that must be redeveloped or transferred to the county. But Albert Harris Elementary, Martinsville Middle and Martinsville High School will transferred to HCPS.
Martinsville will no longer be responsible for any part of the health department or the Department of Social Services but will continue to participate in the Blue Ridge Airport Authority, the library, the 911 center, Patrick & Henry Community College, the Chamber's Partnership for Economic Growth and the Martinsville-Henry County EDC.
The town of Martinsville will continue to provide utility services, public safety services, animal control, public works, street and sidewalk maintenance, solid waste collection, erosion and sentiment control, storm-water management, building code inspections and enforcement and MiNet services at levels no less than what were provided before reversion.
The city and county will change revenue sharing agreements on specific industrial properties, and Martinsville will forgo its right as a town to annex property in Henry County for a period of 10 years.
In the end, if approved, the special court will present City Council with a document of reversion offer, and for one final time, those five members will vote to dissolve the city.
The recent history of reversion for the city of Martinsville
The Martinsville City Council and the Henry County Board of Supervisors this week will have formal reviews and public hearing about the plans for the city to revert to being a town in Henry County. If you want to catch up on the reporting, the issues and commentary about this subject, we've put it together for you in this list.
Bill Wyatt, a reporter for the Martinsville Bulletin, contributed to this report. He can be reached at 276-638-8801, Ext. 236. Follow him @billdwyatt.