Henry County has joined its neighbors in Pittsylvania County in declaring an immediate ban on all outdoor burning.
Thursday afternoon Henry County Administrator Tim Hall issued the ban in a release that stated all outdoor burning is prohibited until further notice.
Exceptions to the ban include covered gas, electric or charcoal barbecue grills or smokers and manufactured outdoor wood furnaces.
Henry County Fire Marshal Lisa Garrett told the Martinsville Bulletin earlier on Thursday that her office had recommended Hall enact the ban.
"We recommend to the public to not have any open burning due to the dry conditions and no rain in sight," said Garrett.
Failing to comply with this ban may result in criminal charges, the release stated.
In the city, everyone is watching and waiting.
"We haven't implemented an open air burning ban, yet," said Fire Chief and Fire Marshall Ted Anderson. "We are monitoring the conditions in case we need to change our current status, which is any open air burning has to be done between 9 a.m. and 8 p.m. within the city of Martinsville."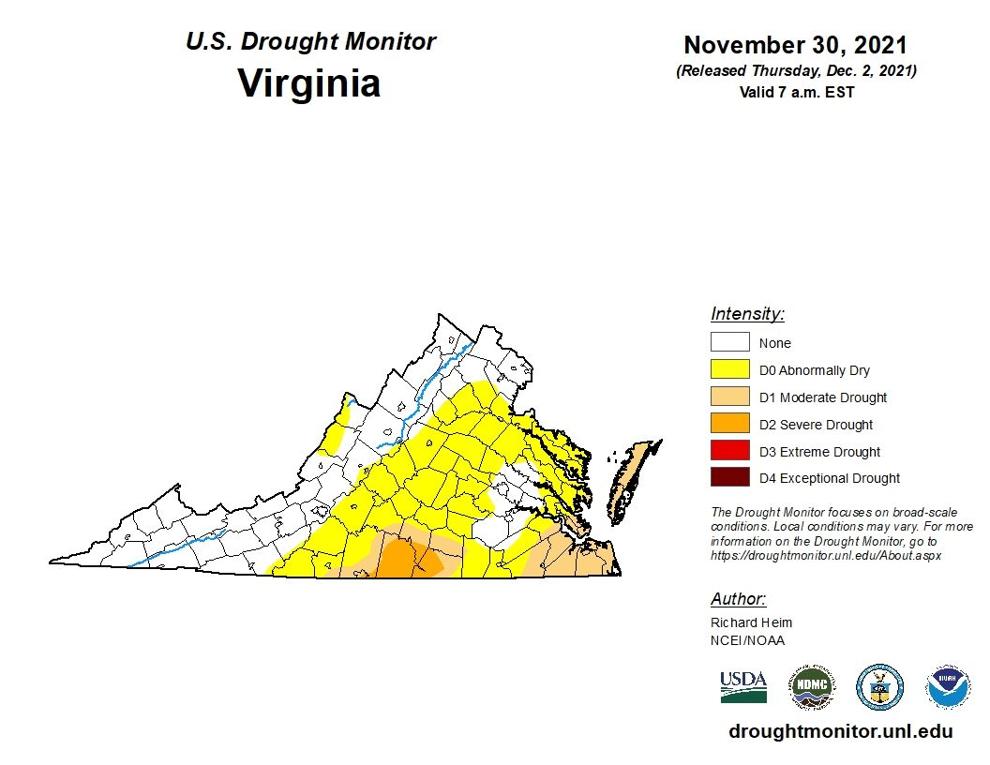 The National Weather Service in Blacksburg declared a severe drought in place for portions of Southside Virginia and the Northern North Carolina Piedmont during its briefing Thursday morning.
All of Martinsville and most of Henry County have been listed as abnormally dry, while the southeastern portion of Henry County has been elevated to moderately dry.
"Weather and foliage conditions are comparable to Pittsylvania County; however, the amount of foliage, woods and trees are quite a bit less than our neighbors," Anderson said. "This helps us when it comes to these conditions and decisions."
The Martinsville Fire Department maintains a paid staff around the clock and is prepared to deploy should the need arise.
"Even though we're not currently under a total burn ban, I recommend citizens to utilize the city's free leaf and brush pick up program by calling 276-403-5141," said Anderson. "If someone is determined to burn, I strongly encourage them to wait until the dry and windy conditions improve."
Anderson encouraged anyone with questions to call the department at 276-403-5325.
"If someone is burning and they feel it may be getting out of control, call 911 immediately," Anderson said. "It doesn't take long for it to grow into something significant."
No sooner had Anderson made the comment when radio traffic rang out calling for the Bassett Fire Department to respond to a fully involved house fire on Trent Hill Drive.
After firefighters began fighting the blaze the roof caved in and Patrick Henry Fire Department and Henry County Public Safety arrived to assist Bassett bring the fire under control.
Anderson said the fire began as a control burn and got away from the owner.
"A person can be held responsible for damages caused to someone else's property," said Anderson. "They can also be charged if they are burning outside any of the limitations."
In the city, burning is only permitted on private property, at least 300 feet from any occupied building, and must be attended at all times and only paper, cardboard, leaves, and tree, yard and garden trimmings may be burned.
The NWS has placed the entire region east of the Blue Ridge on notice that the area is expected to be at risk of fire for the next two weeks.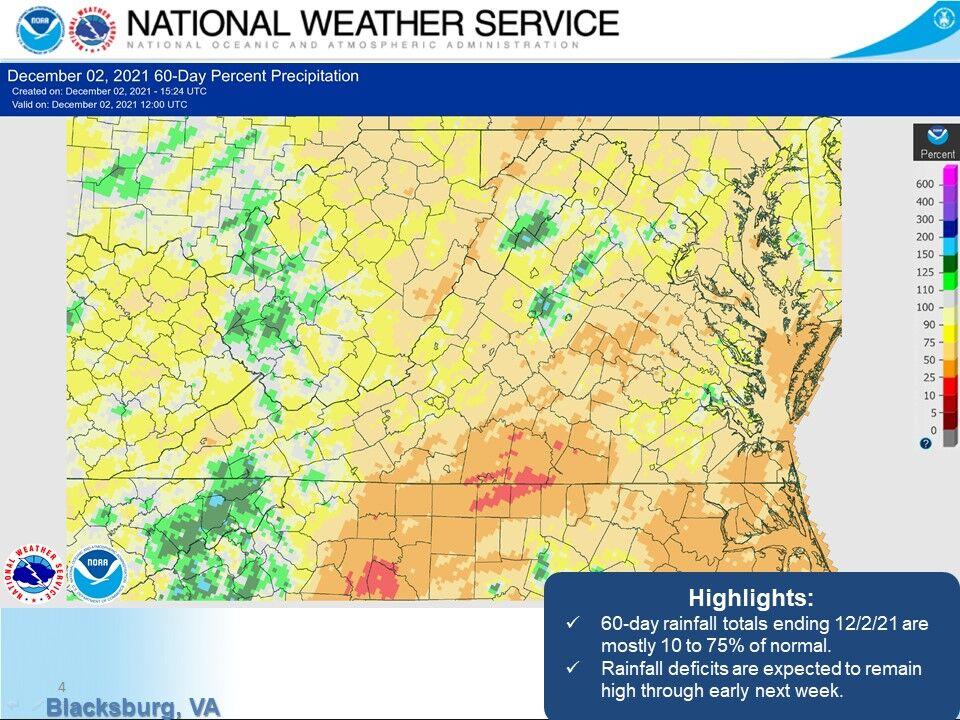 In the briefing it was stated the conditions have worsened as the 60-day rainfall totals are 10 to 75% below normal and expected to remain that way through early next week, and streamflow levels are also below normal and have fallen significantly over the past month.
Pilot Mountain is 50 miles from Martinsville. The area, much of it within Pilot Mountain State Park, has been on fire since Saturday, and Anderson was there earlier this week.
"It's a very eerie and humbling feeling seeing the pictures and then seeing the smoke firsthand," said Anderson. "I haven't heard the cause."
On Wednesday a release from the North Carolina Forestry Service said they had determined the fire originated from an "escaped campfire in an undesignated area."
Over 1,050 acres have burned, and 87 firefighters had 50% of the fire contained as of Thursday afternoon.
"Report any downed power lines or lines with limbs on them immediately," Anderson said. "Also, do not throw your cigarettes out of car windows, while walking into or out of businesses, walking down sidewalks, trails, et cetera."
Anderson said the burning end of a cigarette can reach over 1,000 degrees. "That, tied in with wind and dry foliage, is a recipe for disaster."
The forecast for Martinsville calls for mostly sunny days and clear nights through Tuesday with a 60% chance of rain and snow on Wednesday.