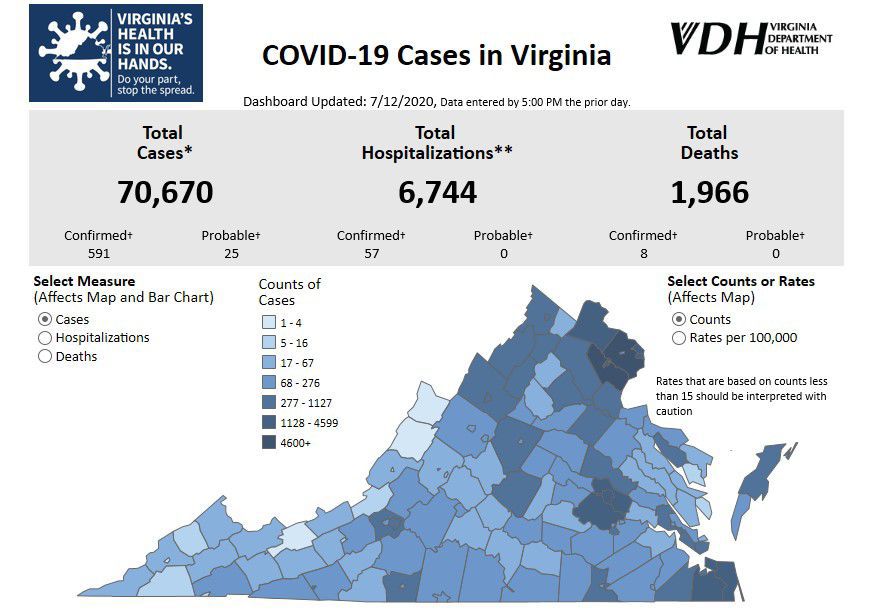 Another resident of Henry County has died because of COVID-19 on the same day that the number of cases in the county surpassed 300.
That information emerged Tuesday morning in the data released by the Virginia Department of Health. There were 28 new deaths recorded statewide.
This is the fifth death of a Henry County resident and the 10th in the West Piedmont Health District.
VDH classifies all deaths by the person's residence, regardless of whether that person died elsewhere or even was employed elsewhere.
Strict privacy rules forbid officials from answering any specifics, such as age, gender, whether the person was hospitalized and how the person might have contracted the novel coronavirus, although those details could help the public understand how the virus is spreading.
There also has been a recent trend in the district of cases spreading among younger people — even preschool ages through teens. District spokesperson Nancy Bell last week cited a public gatherings and a beach trip as causes for a recent surge in positive cases.
Bell only would say Tuesday that "that's the only information we can release at this time."
Kelly Fitzgerald, spokesperson at Sovah Hospital-Martinsville, said she couldn't release whether this person had died at Sovah.
A Henry County resident had been hospitalized last week, and Fitzgerald in the past had been able to confirm deaths at the hospital.
VDH reports its data each morning, and Bell typically releases specific cases in the district later in the day. The information is not necessarily synchronized.
As of Tuesday there had been 66,740 cases statewide, with 1,881 deaths, and 6,512 people have been hospitalized.
Henry County now has 301 cases, with 24 hospitalized and the five deaths.
Martinsville has 98 cases, 12 hospitalized and one death. Patrick County has 48 cases, and four have been hospitalized and two have died.
Franklin County's total is at 104, with six hospitalized and one death.
As of Tuesday evening Bell had not announced any new cases in the district, but she did fill in the gap of missing cases on Friday (when she was off duty).
Martinsville reported one case (a male in his 20s), and Henry County had five (two females in their 30s and three males in their 30s, 40s and 60s).
There were no new hospitalizations in the district.
Since July 1, West Piedmont Health District has grown by 59 cases, and all but a handful of cases have been found since May 1.
Concerned about COVID-19?
Sign up now to get the most recent coronavirus headlines and other important local and national news sent to your email inbox daily.