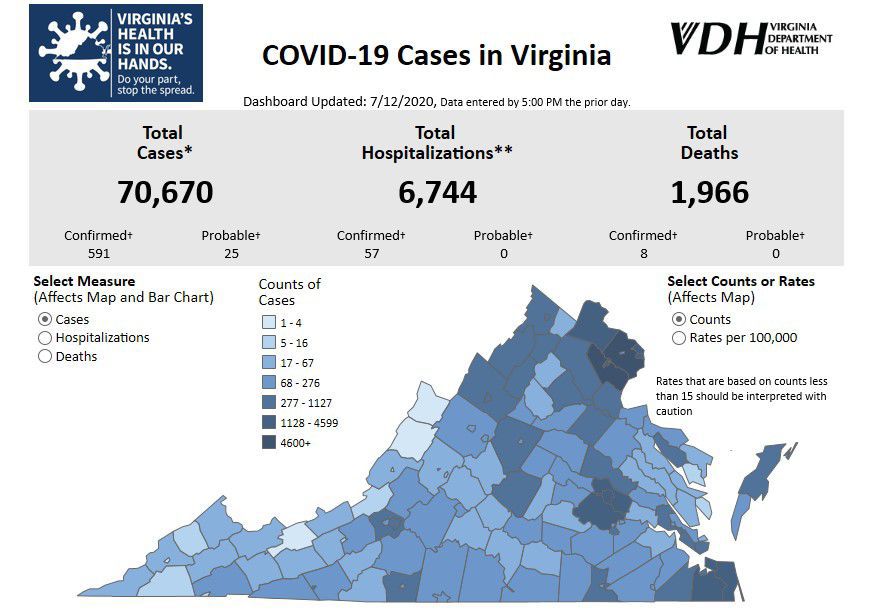 In the first nine days of July, the number of cases of COVID-19 has grown spectacularly fast in the West Piedmont Health District, with the virus spiking particularly in Henry County and Martinsville.
Henry County has seen a 27% increase in cases – from 260 on June 30 to 330 as of Thursday morning — based on data from the Virginia Department of Health. There were 15 more cases identified on Wednesday night alone.
Martinsville also has grown by 33% during that period, from 78 cases of the novel coronavirus to 104.
When you add in a 21% increase in Franklin County, the district now has identified 116 cases in nine days, up to 588, a spike of 25%.
And there were 74 additional cases in the five days before June 30.
By comparison, in the first nine days of July, statewide cases have grown by 5,211, to 67,998 as of Thursday – or by 8.3%.
The new data report on Thursday also noted four more patients in Henry County who have been hospitalized because of COVID-19.
District spokesperson Nancy Bell distributed on Wednesday night the latest breakdown of 21 new cases in the district that included the 15 in Henry County, and there continue to be a number of younger people listed.
Henry County: 15, including eight females and seven males, ranging in ages 10-14, 15-19, 20s, 30s, 40s, 50s and 70s.
Martinsville: three, all females in their 20s and 70s.
Franklin County: three, two males and one female, ages 50s and 60s).
Bell said some of the 15 cases in Henry County were related by association.
"Some of these cases are associated clusters among families and travel associates; also associated to recently identified cases (exposed to these cases)," she wrote in an email.
She also said the two new hospitalizations were associated with recently diagnosed cases. The district is limited in the information it can share about hospitalizations.
As to whether there were any new outbreaks in the district that caused this outburst, Bell said: "We continue to work with companies and long-term care facilities to identify any possible outbreaks."
She also reminded that this level of data is no longer going to be available on a daily basis.
"Due to caseload, we now have multiple case managers and a growing number of tracers, so I cannot count on a daily summary report, such as I have been providing," she wrote in an email.
Henry County now has 330 cases, with 29 hospitalized and five deaths. Martinsville has 104 cases, with 13 hospitalized and one death. Patrick County has 48 cases, with four hospitalized and two deaths. Franklin County has 106, with seven hospitalized and one death.
Statewide, out of the 67,988 cases, there have been 1,937 deaths and some 6,625 hospitalized.
Concerned about COVID-19?
Sign up now to get the most recent coronavirus headlines and other important local and national news sent to your email inbox daily.