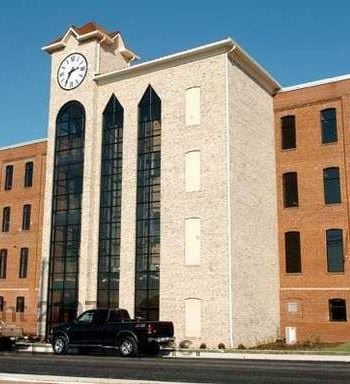 An outbreak of COVID-19 has hit a Martinsville call center that has had six positive cases and one death among its employees.
A spokesperson for the Virginia Department of Social Services confirmed via email that six employees of Young Williams Child Support Services, located in the Clocktower Building off Commonwealth Boulevard, have tested positive for the virus as of Wednesday morning.
Jennifer Horsley of Henry County, one of the employees who was diagnosed, reportedly died on Monday. This was according to Susan Blankenship, the first Young Williams employee to report being diagnosed with COVID-19. She has been in isolation at home since May 4.
In emails obtained by the Bulletin, Young Williams Project Manager Larren Hopkins notified Martinsville staff of Horsley's death on Monday afternoon, writing: "It is with great sadness that we inform you of the passing of Jennifer Horsley. Jennifer passed away earlier today, Monday, May 11, 2020. She had been a valued member of our team since July 2019 and will be greatly missed. Please keep Jennifer's family in your thoughts as they go through this difficult time."
After Young Williams management learned of Blankenship's diagnosis early last week, they notified employees and temporarily closed the office for deep cleaning and sanitation, according to DSS Public Affairs representative Cletisha Lovelace.
Since then, staff have also been given the option to work from home. Lovelace said only nine of the call center's 130 employees had chosen to remain in the office as of Wednesday.
Wednesday afternoon also brought news of Martinsville's third positive test and second hospitalization related to the virus.
Nancy Bell, spokesperson for the West Piedmont Health District, said the latest case is a female in her 90s with unknown exposure and no symptoms reported. She has been hospitalized, and her close contacts have been identified.
Bell isn't allowed by law to disclose where the person might be hospitalized or the severity of the case of COVID-19.
Henry County's number of positive cases stands at 28, with six hospitalized and two deaths. Patrick County has six cases, including Blankenship.
The Virginia Department of Health tracks cases based on where the person lives, not where they work, so the localities of the other Young Williams cases are not known.
The West Piedmont Health District, which also includes Franklin County, has seen a spike in positive tests and hospitalizations in the past week.
Franklin County has about the same infection rate as Henry County, but Danville/Pittsylvania County has higher rates.
Blankenship said one of her coworkers who tested positive is from Danville.
Bell said she could not comment on specific cases, but that the VDH generally defines an "outbreak" as two or more positives in the same location.
Speaking generally, Bell added, "Whenever there is an outbreak at a worksite, we encourage the employer to communicate this to employees and to the public, but we cannot compel them to do so.
"Our role is to offer guidance to employers and employees on how to avoid spread of the disease. ... We offer guidance to employers who have had an employee test positive as to next steps, and refer people to testing, as appropriate."
The health department interviews all people who test positive for COVID-19 to find out who their close contacts are then follows up with the identified contacts to share information on symptoms and ask them to self-isolate for 14 days, Bell said.
Kim Barto Meeks is a reporter for the Martinsville Bulletin. She can be reached at 276-638-8801.