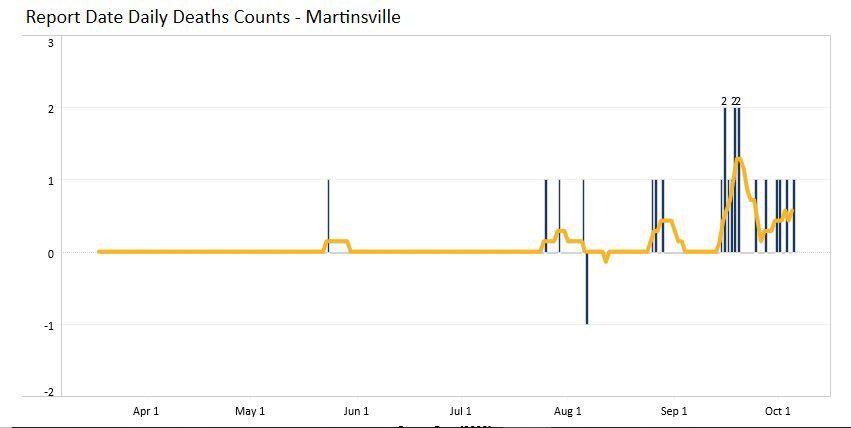 There were only three deaths from COVID-19 in Virginia announced Monday morning, and one of those was in Martinsville.
That's the 21st resident of the city — one of the last in the state to have had a positive test of the novel coronavirus – to have died from the disease caused by that virus, based on data released by the Virginia Department of Health.
VDH tracks deaths by the locality of residence and releases very little other information. Reports of deaths routinely lag by several days as investigators wait to check cause in death certificates issued by the state.
There have been 77 deaths in the West Piedmont Health District, with most of them in Henry and Patrick counties (26 apiece) counties.
More than half of them – 43 – have been reported dead since Aug. 31. That's about 1.3 per day. There also have been 254 hospitalizations, so the ratio of deaths per hospitalization is 30%, barely higher than the state's rate of (29%).
This latest death is a white woman in her 80s, which is the statistical trend across the district. VDH does not offer that data by locality.
News of the death was accompanied by another 2-day leap in positive cases that was led by the continuing dramatic surge in Franklin County.
There were 43 cases reported in the district during the past 48 hours, and Franklin County accounted for 23 of them. That's now 104 cases in that county since Sept. 25, a 31% increase in 10 days.
Henry County added 13 new cases, Martinsville had six and Patrick County, one. There were no new hospitalizations.
The West Piedmont Health District's updated cumulative totals since the pandemic began:
Henry County: 1,107 cases, 121 hospitalizations, 26 deaths.
Martinsville: 402, 62, 21.
Patrick County: 283, 52, 65.
Franklin County: 429, 19, 4.
By way of comparison, Danville has reported 958 cases, and Pittsylvania County has had 1,080. Danville had one of those two other deaths reported Monday, too.
VDH reported that there have been 152,557 cases and 3,276 deaths statewide — up by three from Sunday – and some 11,259 people have been hospitalized.
This news emerged as worldwide cases have exceeded 35 million and in the U.S. probably by Tuesday will surpass 7.5 million. About 210,000 in the U.S. have died from COVID-19.
Concerned about COVID-19?
Sign up now to get the most recent coronavirus headlines and other important local and national news sent to your email inbox daily.