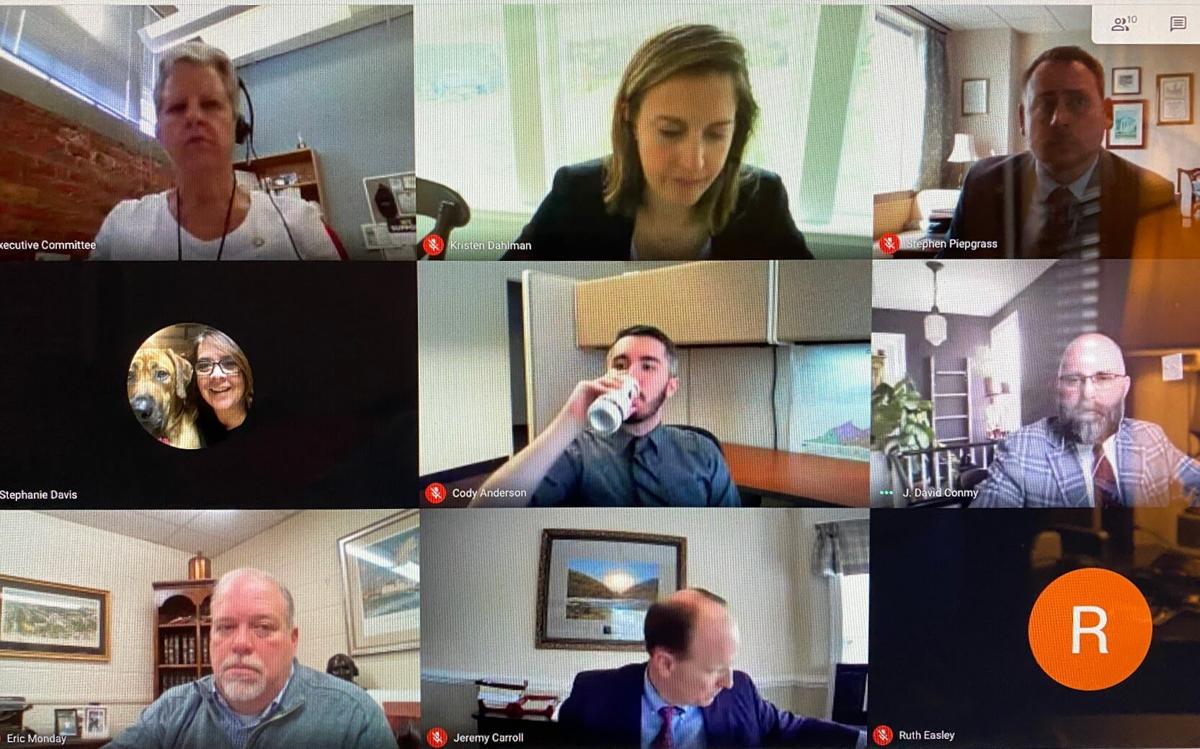 The members of the Commission on Local Government rearranged their schedules at a regular meeting on Thursday to accommodate a requested 84-day extension by Martinsville and Henry County as the two governments agreed to attempt to resolve their differences regarding reversion through mediation.
The joint request to pause the process was made in a letter dated Feb. 17 from Troutman, Pepper, Hamilton, and Sanders LLP in Richmond, counsel for the city of Martinsville, and Guynn, Waddell, Carroll and Lockaby, P.C. in Salem, counsel for Henry County.
David Conmy, policy administrator for the CLG, noted the two governments had agreed mutually to meet on April 28-29 for a mediated exchange to resolve their disputes regarding Martinsville's decision to revert from a city to a town in Henry County.
Reversion could affect schools, courts services, the tax base for individuals and businesses and myriad other factors. Since Martinsville City Council voted more than 15 months ago to pursue reversion, Henry County officials have questioned that decision and suggested this transition would be far costlier to the county than the city was suggesting.
Martinsville officials had been scheduled to go before the commission starting this week to present their case for reversion, but the request for a delay and mediation disrupted a timetable that could have culminated in 2022.
Depending on the outcome of the mediated sessions, more time might be needed, but if the "disagreements over proposed terms and conditions are reduced, then multiple days for oral presentations may be unnecessary," Conmy said.
Jeremy Carroll, counsel to Henry County, told the commission he was hopeful the scheduled mediation would be productive.
"We will mediate in late April and hopefully report a successful outcome," he said during CLG's meeting Thursday. "Both parties are going to move forward and attempt to resolve the disputes."
Stephen Piepgrass, counsel to Martinsville, indicated that he also was hopeful about the outcome of the mediation process.
Neither attorney discussed specific issues that might be considered in mediation.
The CLG had given both parties until March 5 to respond to a list of questions from the commission. The details of those questions has not been disclosed.
The lawyers for Martinsville and Henry County instead filed a request to delay, and the new date for the answers to those questions to be submitted was pushed to May 28.
The commission agreed to move the oral presentations that were scheduled for this week to June 14-16. A public hearing has also been set for June 16.
The commission also set aside time at its' regular meeting on June 17 to discuss Martinsville's reversion process.
A date for a special meeting in July was not firmed up at Thursday's meeting but likely will be scheduled near the end of the month, and a final special meeting may be held in August if necessary.
"There are two reviews scheduled because this is the largest reversion case that has come before this commission," Conmy said. "We may need a second special meeting for consideration and adoption of the report."
Conmy confirmed to the commission's members that there was a consensus on the rescheduled dates for June, but the dates after June "will remain fluid as we work with both parties."
Martinsville City Attorney and Assistant City Manager Eric Monday also attended the virtual meeting but did not speak.
Henry County Attorney George Lyle was not present.
Bill Wyatt is a reporter for the Martinsville Bulletin. He can be reached at 276-638-8801, Ext. 236. Follow him @billdwyatt.