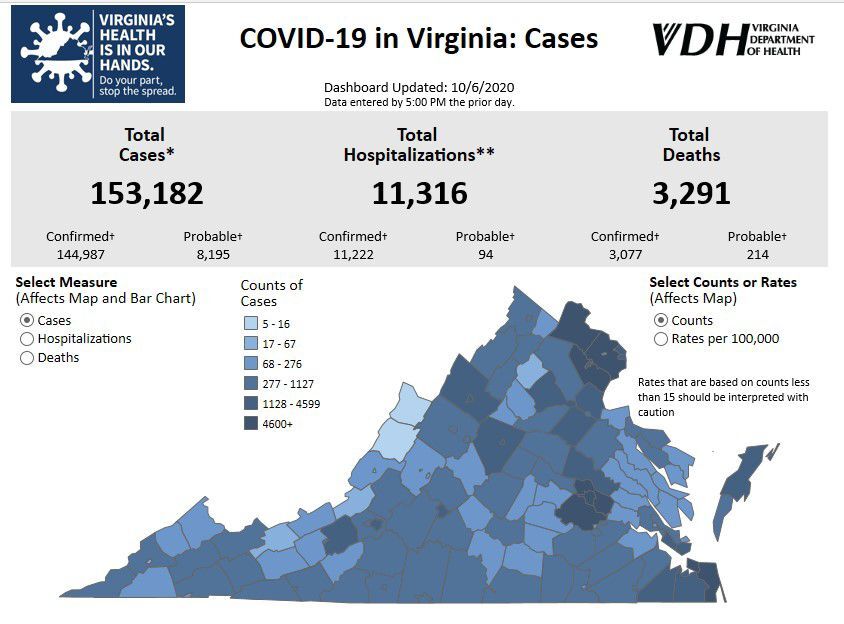 There was another death of a resident of Martinsville because of COVID-19 reported on Tuesday, the second in as many days and the 22nd overall.
But the data from the Virginia Department of Health showed the death toll in the West Piedmont Health District remained at 77 because the total for Henry County was lowered from 26 to 25.
"It was a statistical adjustment," district spokesperson Nancy Bell said without elaborating.
The most recent resident of Martinsville to die is a white woman who appears to be in her 80s. Because of the neutral data points for Tuesday that is difficult to determine.
Most of the district's deaths have been of people 70 or older (61), and none has been younger than 40. They are predominantly white (55) and female (43).
Meanwhile Stuart Elementary School in Patrick County has a confirmed case of COVID-19. The school system put out a note to families about the case and said it was being handled individually and carefully at the school.
"We will continue to work with our local health department and to monitor current health data. Please continue to follow the precautions outlined in the CDC guidance," the note from the school district said.
Free COVID-19 testing began Monday in Patrick County. Bell announced last week that Patrick County Urgent Care would provide tests at 8-10 a.m. Monday through Friday. No appointment is needed.
Since March, more than 20,700 people have been tested in the district, with 10.6% of them being positive. That's more than double the statewide positivity rate of 4.9%.
Tuesday's case was the only one reported for Patrick County among 11 new cases in the district. Henry County had six (along with the only new hospitalization) and Martinsville and Franklin County had two apiece.
The West Piedmont Health District's updated cumulative totals since the pandemic began:
Henry County: 1,113 cases, 122 hospitalizations, 26 deaths.
Martinsville: 404, 62, 22.
Patrick County: 284, 52, 26.
Franklin County: 429, 19, 4.
VDH reported that there have been 153,182 cases and 3,291 deaths statewide — up by 15 from Monday – and some 11,316 people have been hospitalized.
Concerned about COVID-19?
Sign up now to get the most recent coronavirus headlines and other important local and national news sent to your email inbox daily.