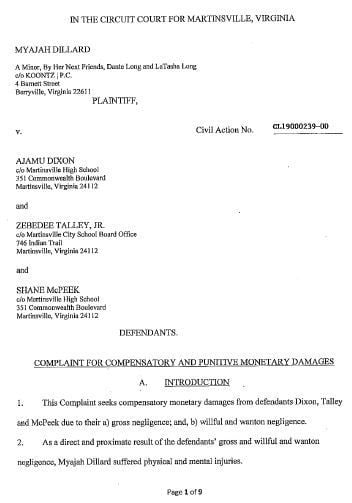 Martinsville City Public Schools officials being sued by a former student who said they didn't protect her from being beaten by another student are asking a judge to dismiss the lawsuit because there is no proof they were negligent.
Myajah Dillard, a sophomore last year at Martinsville High School, in July sued Superintendent Zebedee Talley Jr., Martinsville High School Principal Ajamu "Aji" Dixon and Shane McPeek, a member of the Martinsville Police Department who served as the resource officer for the high school, because she said they didn't respond adequately when they were informed she was being threatened by other students.
The lawsuit filed in Martinsville Circuit Court alleges Dillard was threatened by a group of female students and later beaten by one of them in early September 2018. She is the daughter of Dante and LaTasha Long. The lawsuit was filed by attorney Glen Franklin Koontz of Berryville.
She is seeking at least $1.25 million in compensatory and punitive damages plus legal fees and court costs.
The Martinsville Bulletin is using Dillard's name because the lawsuit names her as plaintiff. The others are juveniles who are accused and are being identified only with initials.
The lawsuit describes that about 11:30 p.m. on Sept. 1, 2018, Dillard received a Snapchat social media video sent by fellow MHS student KM. The video showed KM, SH, JR and another girl (T), all MHS students, "issuing vulgar, profane and violent threats against Myajah. Specifically, the students threatened to 'beat up' Myajah when all returned to school following the Labor Day holiday."
The lawsuit alleges that Dillard's family notified school division and school officials about the threat but that those officials they did not adequately protect her and that she ultimately was "brutally attacked and beaten" by SH at Martinsville High School on Sept. 6, 2018, the same morning that KM appeared in Henry County Juvenile and Domestic Relations Court on charge(s) relating to KM allegedly sending the Snapchat threat of violence to Myajah on Sept. 1, 2018.
The suit says Dillard was taken to the hospital emergency room and treated by for facial and scalp contusions and abrasions, that her face was grotesquely swollen as a result of the beating and that she had two black eyes and other bruises.
The suit also says that "she was absent from school for a period of three weeks … recuperating from her injuries. She suffered sleeplessness, severe headaches, nervousness, anxiety, and generally withdrew from human interaction. She lost interest in her normal activities. She had difficulty eating, and also suffered from a lack of appetite. She cried regularly, without any apparent reason other than her despair and humiliation suffered at the hands of her attacker."
She ultimately transferred to Magna Vista High School.
But in responding to the suit, the law firm representing Talley and Dixon — Daniel, Medley & Kirby of Martinsville – and the law firm another representing McPeek — Royer Law Firm in Roanoke – both argue that Dillard has failed to prove that her charges meet the definition of the court and in fact should be pursued as a criminal matter with the Henry County Sheriff's Office.
For example, attorney Jennifer D. Royer says that in the lawsuit against McPeek that Dillard has not provided sufficient evidence to establish a claim for gross negligence or willful and wanton negligence.
The suit said that McPeek is immune to being sued for ordinary negligence and that his relationship with Dillard was not a "special relationship" that would suggest "a duty to protect her from threats by the student who assaulted her."
Royer listed these reasons for why the suit shouldn't be prosecuted:
"McPeek was never made aware of any threat against Myajah Dillard posed by the student [SH] that assaulted her. Officer McPeek was only advised of the threat posed by [KM], which was resolved by school personnel and a Henry County Sheriff's Office deputy."
"The threat to Myajah Dillard by KM was made off-campus and outside of school hours to Dillard's home in Henry County. "When Ms. Long contacted Officer McPeek at his home on Sunday, September 2, 2019, to report the threat by [KM], he advised her to contact Henry County Sheriff's Office, which had jurisdiction in the matter, and directed her to a specific deputy there to handle her complaint. That deputy assisted Ms. Long and brought charges against [KM]. If any other student had threatened Ms. Dillard at the same time, the deputy would have had jurisdiction to bring charges against her as well."
"Officer McPeek did not have a special relationship with Ms. Dillard that would give rise to a duty to protect her from the student who assaulted her."
In a filing signed by Martha White Medley of the law firm Daniel, Medley & Kirby, Dixon and Talley say that they have sovereign immunity in the matter and that case should be dismissed. They also question that the facts support the filing.
"The actions of Dixon and Talley as school officials, under the circumstances, involved the exercise of judgment and discretion for which Virginia Courts recognize a qualified immunity," Medley's filing states.
Dillard's suit had stated that LaTasha Long contacted Talley on a holiday (Labor Day), that he spoke with her, and that on the very next morning, despite it being the beginning of the school year, Dixon and McPeek promptly met with Dante and Latasha Long to address their concerns. Dillard's lawsuit also says that Dixon spoke with the other students involved and telephoned Latasha Long to update her of this.
But Dixon and Talley's filing says that under Virginia law that gross negligence is defined as "the utter disregard of prudence amounting to complete neglect of the safety of another. It is the heedless and palpable violation of a legal duty respecting the rights of others which amounts to the absence of slight diligence, or the want of even scant care."
The response says that the scenario described in Dillard's suit prove that they haven't been grossly negligent.
According to court filings, Dixon and Talley also have objected to Myajah Dillard's lawyer's list of questions, to the documents they are asked to produce and to sitting for depositions.
Koontz did not immediately respond to a request for comment.
Medley and James Daniel were not immediately available.
When asked why one law firm is representing Dixon and Talley but a different law firm is representing McPeek, Martinsville City Attorney Eric Monday, who also represents the school board, said that "city schools has a different insurer from the City PD, who employs officer McPeek. Different insurers, different lawyers."
Virginia Municipal League is the insurer for the school system, and the Virginia Association of Counties insures the city and the police department. Those organizations hired the attorneys.
"Defense costs are included in insurance coverage." Monday said.
Medley's motion requests a court hearing on the response, but that has not been scheduled.
Paul Collins is a reporter for the Martinsville Bulletin. Contact him at 276-638-8801, ext. 236.
Paul Collins is a reporter for the Martinsville Bulletin. Contact him at 276-638-8801, ext. 236.
Get local news delivered to your inbox!
Subscribe to our Daily Headlines newsletter.