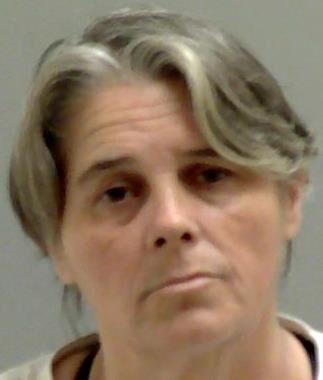 A 5-year-old girl found wandering on Roy Street in Martinsville last week landed her grandmother in Martinsville City Jail without bond while she is awaiting trial in an almost identical situation in Henry County.
Teresa Hill and Robert Underwood, grandparents of the child, were charged with felony child neglect after they were located on Friday, but that turned out to be only part of a longer and more troubling story.
It all started about 8 o'clock Friday morning when residents saw a little girl they didn't recognize, barefoot and in her pajamas, walking alone in the street.
Police were called, and apparently the girl was unable to tell them to whom she belonged.
Unable to find anyone responsible for the girl for five hours after she was located, the Martinsville Police Department appealed to the public by posting a picture of her on their Facebook page.
"If you recognize this child, please contact the Martinsville Police Department or the Department of Social Services as soon as possible," the post stated.
An update later that afternoon indicated some "good citizens of Martinsville and Henry County" provided police with the information they needed to identify the girl.
"After hours of searching the area, the MPD and the Child Protective Services Unit from the Department of Social Services were able to locate the family," a release later that day stated.
That's when Hill and Underwood were arrested, and social services workers took custody of the child.
But Hill is scheduled for trial in Henry County Circuit Court on Monday after being indicted by a Henry County Grand Jury in September for endangering the life of that same granddaughter.
Records on file in the Henry County Circuit Court Clerk's office provide more details of what happened just more than a year ago, when Hill lived in Fieldale and Henry County Sheriff's Deputy M.S. Strand was called to respond to the intersection of Recreation Street and Field Avenue, where a child was reported to be in the road.
"On March 12, 2020 … I encountered a three-year-old white female … and found out she was supposed to be at 101 Brook Court," Strand wrote in his criminal complaint. "The child was supposed to be watched by her grandmother, a Teresa Hill, who was in the house asleep when [the child] left the home."
On May 11, Hill was charged with abuse and neglect of a child and reckless disregard for life.
"While being a parent, guardian, or person responsible for a child under 18, commit a willful act or omission in the care of such child so gross and wanton as to show reckless disregard for human life," the arrest warrant stated.
It's unclear what the formal custody arrangement is for the child, whose name is not part of the record because of her age. There is no mention of her parents or why the grandparents might have been caring for the girl.
The court file in Henry County doesn't say whether Child Protective Services took custody of her then or how she might have to come to be under the care of her grandmother again.
The checklist for bail determination showed Hill to be 50 years old, have $22 in her pocket, $600 in a checking account and to be living off of a $900 monthly disability check.
Her prior criminal record revealed five misdemeanor animal cruelty convictions, two drunk-in-public convictions and a conviction for possession of a controlled substance.
Hill had been released from the Henry County Jail after posting a $2,500 bond on the child-neglect charges, and as of Jan. 4 her new address was listed as 803 Roy St. in Martinsville.
There are only six houses on Roy Street, a narrow paved road about 400 feet long that ends at the gated entrance to a building owned by Innovative Yarns Inc.
Hill's granddaughter was found on the road by herself, and the few residents who live on the street apparently did not know that Hill and Underwood had a grandchild.
Even though Underwood was charged the same as Hill, he was granted a $3,000 secured bond.
Records show Underwood was convicted of his fourth DUI in February 2014 in Henry County Circuit Court and was sentenced to 5 years in prison, with 4 years suspended. He is on supervised probation for the rest of his life, and his operator's license has been suspended indefinitely.
Bill Wyatt is a reporter for the Martinsville Bulletin. He can be reached at 276-638-8801, Ext. 236. Follow him @billdwyatt.