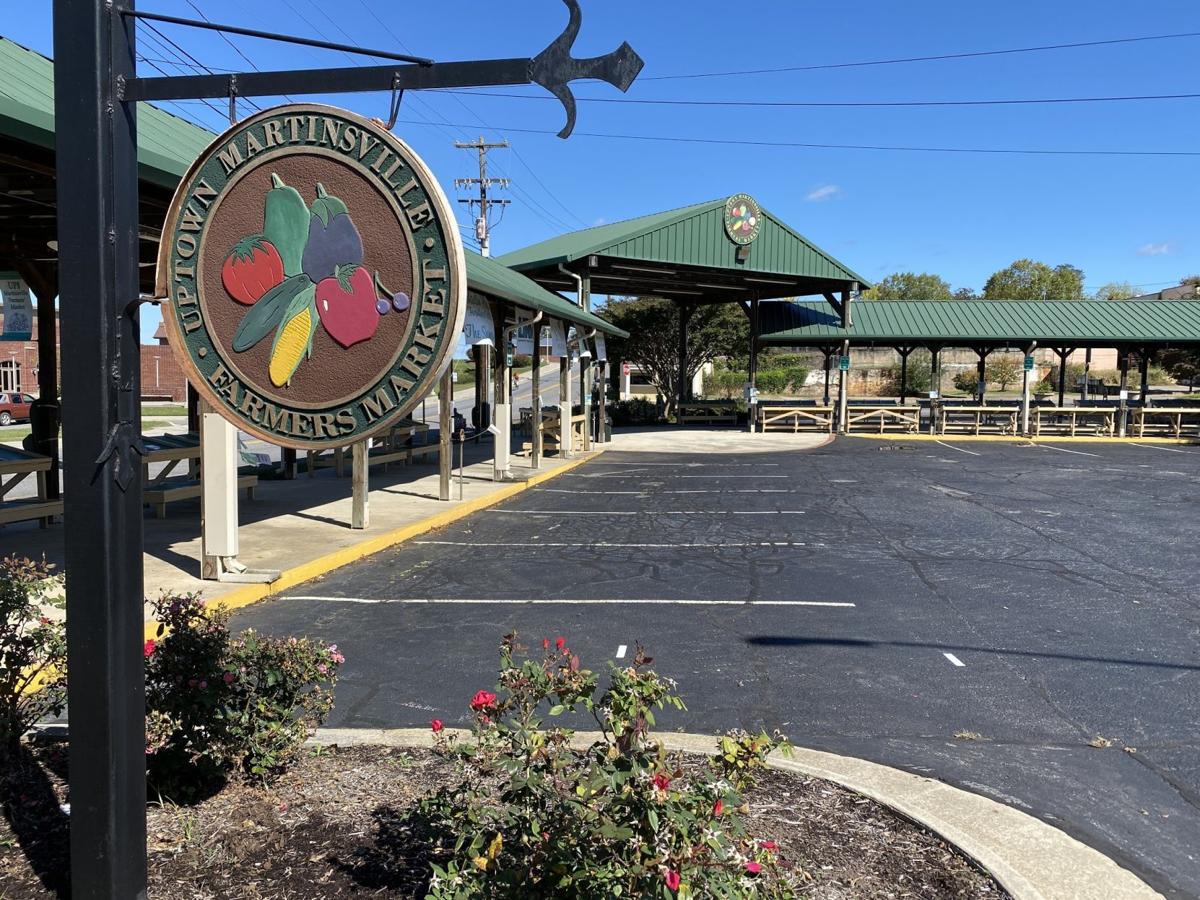 The Uptown Martinsville Farmers Market this week ended its hours on Wednesdays, but no vendors or customers were to be found onsite on the last weekday of the season.
The market is located at 65 W. Main Street in Uptown Martinsville and will continue to be open on Saturdays through Nov. 14.
COVID-19 disrupted the normal routine for local farmers and consumers this year. The season began in April with onsite shopping closed to the public and pre-ordering required.
Customers would order ahead of time and then park apart from one another in the parking lot while vendors would deliver orders to the vehicles.
Midway through the season, onsite shopping resumed with social-distancing and face-covering rules in effect.
The Uptown Farmers' Market is managed by Martinsville Uptown Revitalization Association's Entrepreneurial Development Manager Kimberly Keller.
"It's been a different season, but the customers and vendors adjusted," Keller said. "We started with nobody shopping on-site and progressed to pretty much a normal season."
Keller said despite the challenges of the pandemic, business at the market was vibrant.
"Business has been very, very good," Keller said. From a financial standpoint this year has been "very comparable to a normal season."
MURA's website states this year's market featured a "large variety of local goods" and "a vast variety of local fruits and vegetables for sale" including baked goods, farm eggs, assortment of jams and jellies, salsas, local honey, beautiful flowers and plants, soaps, crafts, sweets and more.
The market also accepts EBT and SNAP cards. Keller said the program was temporally on hold due to an unexpected issue with the equipment, but new equipment has been installed and "the program is back up and running."
More than 25 sellers are listed on MURA's website as vendors accepting pre-orders.
Keller said vendors have promised to provide many of their customer's favorites, including coffee, baked goods, fresh fruits and vegetables, masks, soaps and knife-sharpening from 8 a.m until noon each Saturday through Nov. 14.
Once the pandemic is ended, some of the changes this year to the farmers' market will remain.
"With the help of the Harvest Foundation, we developed at virtual farmers' market online, which has helped greatly," Keller said. "We will continue using it in the future, even if it's just for the convenience."
The next event sponsored by MURA had been set for this Saturday before being canceled because of COVID-19.
Octoberfest is a family-friendly event that was started by the Martinsville Jaycees and has been staged for 41 consecutive years.
This year there will be no music, crafts, food vendors, beer garden or children's activities Uptown. The festive event is slated to return on Oct. 2, 2021.
MURA also sponsors Uptown Martinsville Trick-or-Treat, from 4 p.m. to 6 p.m. on Halloween night, when many of the Uptown businesses decorate, dress up and handout treats to children.
This year's trick-or-treat event slated for Oct. 31 has also been canceled because of COVID-19.
"We had to cancel both Octoberfest and Halloween night because we want to ensure the safety of everyone, but we will be ready to lock and load when the time comes," Keller said.
Bill Wyatt is a reporter for the Martinsville Bulletin. He can be reached at 276-638-8801, Ext. 236. Follow him @billdwyatt
Bill Wyatt is a reporter for the Martinsville Bulletin. He can be reached at 276-638-8801, Ext. 236. Follow him @billdwyatt
Get local news delivered to your inbox!
Subscribe to our Daily Headlines newsletter.