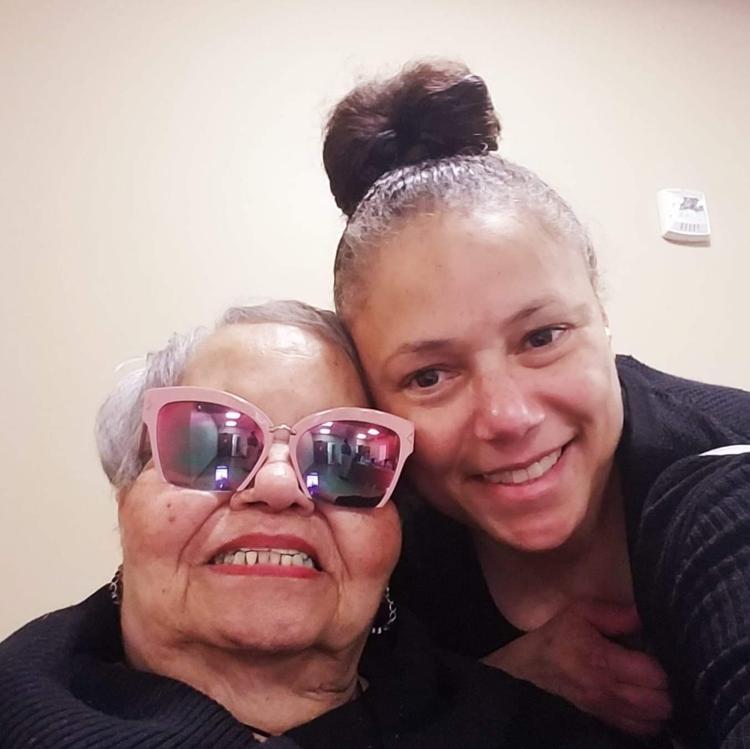 Angela Hairston's brother is living in isolation at a hotel, separated from his 81-year-old mother at their home in Henry County. He is listed statistically as a "confirmed COVID-19 male, 56 years old," along with five of his coworkers at Monogram Snacks in Martinsville.
But Hairston's brother not only contracted the coronavirus, he also continued to work after being tested because he said he feared loss of income or being fired by Monogram if he didn't.
That situation has led the Hairstons to seek help and file complaints with the Occupational Safety and Health Administration, reflecting a mounting anxiety that not enough is being done at Monogram to ensure the safety of its employees, which is the focus of a second investigation by state officials.
"My sister contacted the governor's office on April 30 to report concerns regarding the current working conditions at Monogram Snacks," Angela Hairston said. "My brother works at Monogram Snacks and prior to COVID-19, I filed a complaint with OSHA on behalf of my brother because of the hazardous working conditions there."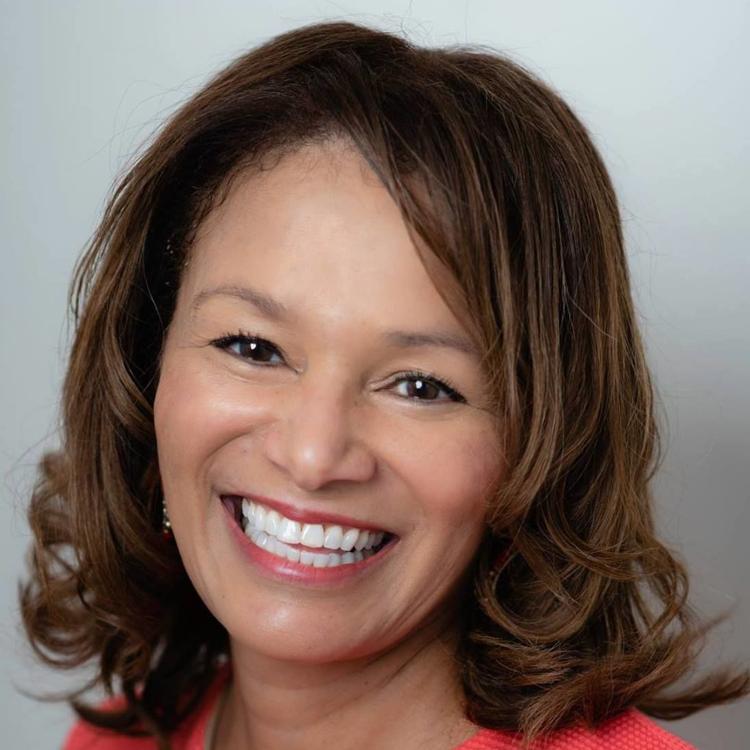 Hairston lives in Northern Virginia, but she is from this area, and her family still lives here. She asked OSHA and the Bulletin not to reveal the name of her brother because of his concern of possible reprisals against him by the company.
The Bulletin obtained a copy of the complaint alleging "unsafe work practices and a lack of appropriate safeguards to prevent employee injuries."
The complaint also alleges several employees, including Hairston's brother, have been injured on the job and that "workers are reluctant to raise concerns about conditions and procedures that they consider to be potentially hazardous with supervisors because of a fear of retaliation due to the overall company culture."
Said Hairston: "OSHA did not appear to address those concerns, and the conditions … deteriorated further in the midst of COVID-19. My brother lives with my mother, who is 81 years old and has a number of chronic health issues. Due to her age and underlying medical conditions, she is in the high-risk category for severe illness from COVID-19 … and the virus … could be deadly given her underlying health issues."
Monogram Foods Communications Coordinator Sally Vaughan released a statement late Tuesday in which she praised the management and employees.
"To date, our leaders and team members at our Martinsville, Virginia plant have done an incredible job preventing the spread of COVID-19 by implementing and executing our practices and protocols and providing constant oversight on risk reduction and mitigation," Vaughan said. "Less than 1% of our nearly 650 team members at Martinsville have tested positive for COVID-19 during the pandemic."
Monogram Foods employs 630 people in three manufacturing centers on a 54-acre site at the Patriot Centre Industrial Park in Henry County. The company produces prepackaged snacks.
The state's probe
The Bulletin obtained a copy of a letter dated May 1 from the Virginia Occupational Safety and Health (VOSH) in which Monogram Snacks was placed on notice that a COVID-19 complaint had been lodged against them, alleging the company was not following the CDC and OSHA guidelines for meat and poultry processing facilities.
Examples listed include "not ensuring workers are a least six feet apart, not ensuring that face masks are properly laundered and sanitized and employees are retaliated against for bringing up safety and health concerns."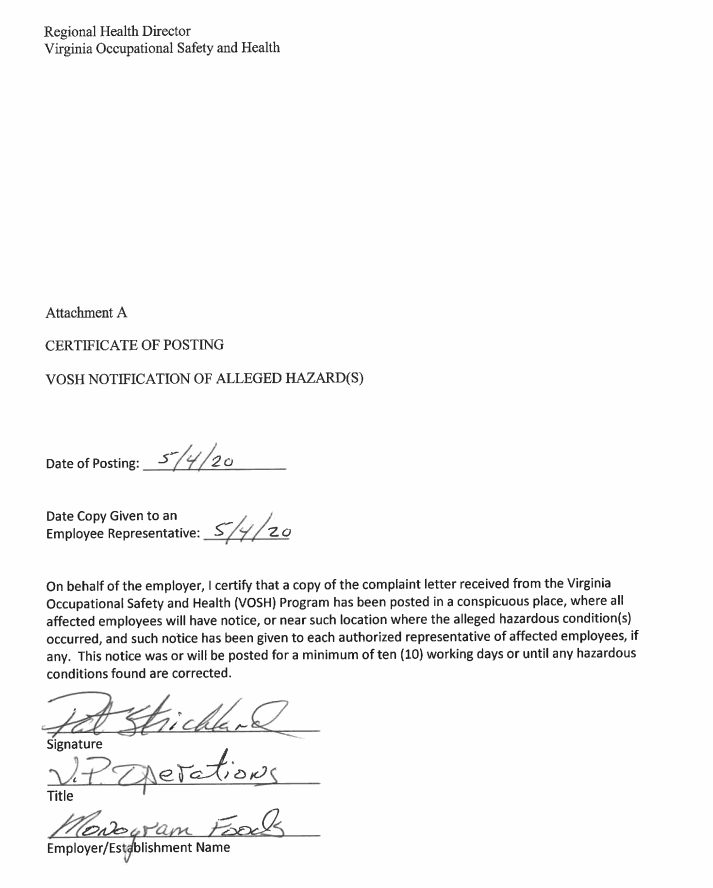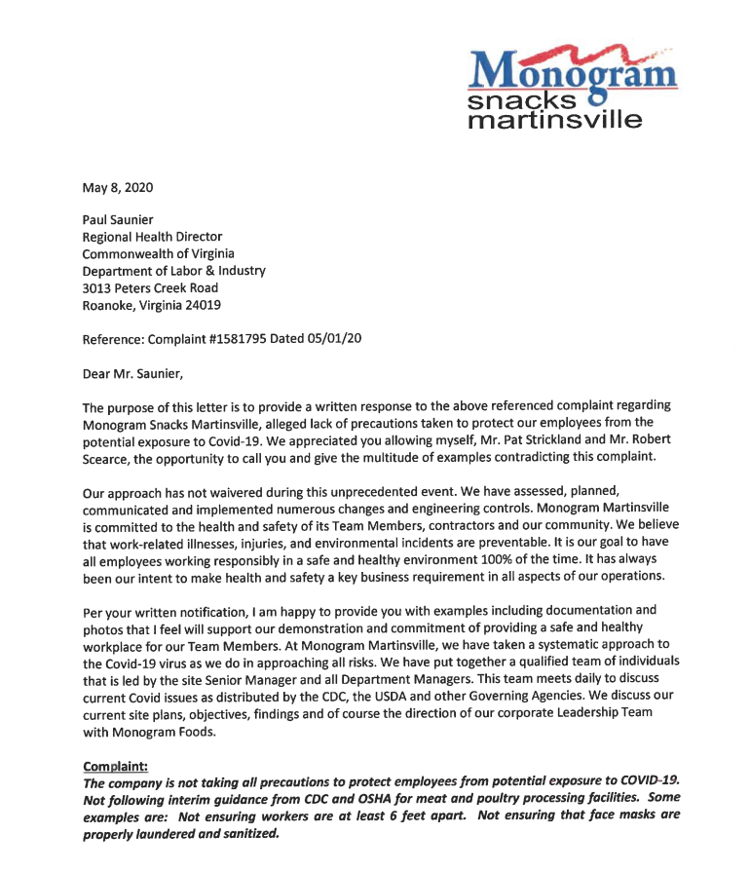 The letter admits that "VOSH is not currently conducting inspections or issuing citations and penalties in response to complaints of COVID-19 exposure at work" and "there is currently no Virginia law … designed to address the COVID-19 virus."
Regardless, the letter instructed Monogram Snacks officials to post a notification of the alleged hazards for at least 10 days, investigate the complaints and report back to VOSH with their findings and proof of remedy if they found themselves not in compliance with the guidelines
One week later, Michael Luffman, Monongram Foods' environmental health and safety manager, returned a 6-page response in which the company denied the allegations and provided examples of compliance.
On May 12, Roanoke Regional Health Director Paul Saunier notified Hairston by letter of the findings by VOSH.
"Based on the employer's investigation results and the documentation the employer has provided to our agency, the employer is operating in accordance with the Governor's Executive Orders and is implementing appropriate preventive measures," Saunier wrote. "VOSH has determined that the investigation can now be closed."
Hairston wrote back to Saunier that she was appalled that VOSH would accept statements made by Luffman without verifying them, so she took her concerns to her Facebook page.
On May 19, Saunier notifed Hairston that VOSH had opened a second investigation on Monogram Snacks.
"A friend who works for the Danville Health Department informed me on May 19 that three workers at Monogram Snacks tested positive for COVID-19, and the company closed the plant the day before to deep clean," Hairston said. "My brother began feeling ill on May 11 but continued to report to work because Monogram Snacks assigns demerit penalty points to workers who call in sick."
Test results
Hairston said that, despite her brother having chills and body aches for three days, he was unable to find a doctor in Martinsville to administer a COVID-19 test because he did not have a fever.
"My sister recommended that he go to the urgent care center after work, and they administered the test and informed him that it was necessary to quarantine until he received the test results," Hairston said. "He immediately notified Monogram Snacks, but the company told my brother he would continue to receive demerit penalty points until Monogram had a copy of the test results."
The results came back on May 15 and were negative.
"Over the weekend he began feeling worse and developed a temperature," Hairston said. "My sister took him to the emergency room Sunday night [May 17, at UNC Rockingham Health Care in Eden, N.C.], and the doctor recommended that he be retested, but the hospital could not administer the test at that time because the testing lab was closed."
Her brother's temperature at the emergency room was 101.5. He was given an order and appointment for a second COVID-19 test the following day and released.
Hairston's brother now exhibited all of the common symptoms for COVID-19, and the family decided taking him back to the home he shared with his mother lives was not an option.
"My sister took him to the emergency room at Duke [University] Hospital, and he tested positive for COVID-19" she said.
Scared for
his situation
Hairston wrote to West Piedmont District Population Health Manager Nancy Bell on May 21.
"Please advise, we don't know what to do," Hairston wrote. "I'm scared not only for my brother, but also for my mother who is 81 years old with serious health issues.
"I believe Monogram Snacks needs to be held accountable!
"There will likely be additional cases of Monogram employees who test positive because I believe the company did not implement adequate COVID-19 safety measures to protect its workers."
Bell wrote back to Hairston, assuring her that the Health Department was on top of it.
"We are working with the company, employees who are sick and close contacts of every sick person," Bell wrote. "If your brother hasn't already, he should hear from our staff … since he now has tested positive."
Hairston's brother was released from the hospital with instructions to quarantine at home.
"Our family made the extremely difficult decision to quarantine my brother in a hotel due to concerns about my mother," said Hairston. "My cousin told me that her nephew, who is a butcher at Monogram Snacks, also tested positive for COVID-19."
'Employees are afraid'
On Friday Hairston told Bell an employee at Monogram Snack's told her that the company announced it would be testing all of its employees this Friday, would give each employee a thermometer and will supply them with new face masks and face shields.
"The company will be doing a deep disinfection treatment," Bell wrote in her response to Hairston.
Hairston said the day before her brother was tested positive, he went to the barbershop and may have gone to the grocery store. He was in communicable contact with two of his mother's caregivers and two of his sisters.
The Rev. Tyler Millner of the Morning Star Holy Church in Martinsville said he had received several calls about the Monogram Snacks matter and notified Gov. Ralph Northam's office.
"Employees should not be put in the position of making a choice between having a job and finances and their health, including losing their life," Millner wrote. "It is not right, and it is immoral.
"The Monogram Company should shut down until they can test and receive test results."
Martinsville Vice-Mayor Chad Martin said he talked with Monogram Snacks employees and to the company's managers.
"Employees are afraid," Martin said. "The representative I talked to said they do regular cleanings.
"I talked to OSHA, and they said they are well aware and have had almost 50 people call in about worrying about their safety working there."
West Piedmont Health District Director Kerry Gateley says his department conducts a case investigation and contact tracing with every confirmed case.
"Obviously in a workplace setting, part of the contact identification involves coworkers," Gateley said. "Often in such situations, Health Department staff will review environmental conditions and infection control measures that are already in place, so we will be advising cases, contacts and management all at the same time."
Gateley said the Virginia Department of Health would not order a temporary shutdown of a business on its own.
Monogram's response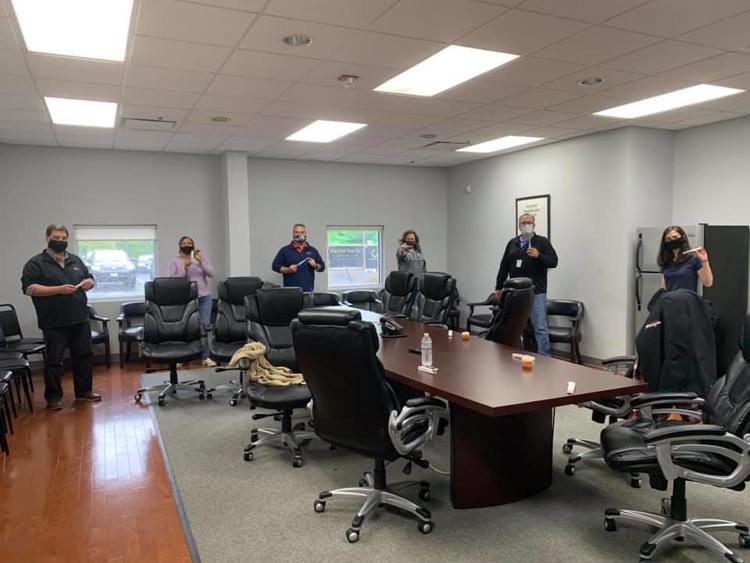 Vaughan said the company would be testing all employees in Martinsville this week and ask everyone to remain home for 48 to 72 hours until the test results are back.
"Any team member testing positive will be notified as well as any appropriate contact tracking notifications," she said. "Local health departments will also be notified of any positive test cases."
Once the testing is complete, Vaughan said the company will perform a "deep sanitation process on all operating areas and common areas."
"This process, which normally takes 24 hours, will be complete before team members are allowed to return to work."
'Open investigation'
Hairston asked Saunier for an update on Tuesday.
"It's still an open investigation," Saunier wrote. "Some of the steps being taken by the company include closing this Friday to conduct plant-wide testing."
Saunier wrote the testing could take two to three days, and in the meantime Monogram promised to increase the "frequency, scope and methods of sanitizing, reduce the number of employees on lines and slowing the line down."
Screens and barriers between employees are being installed in certain areas and improved face masks and face shields are being provided to all employees.
"My brother is quarantined away from my mom until June 1," Hairston said. "Nine days elapsed between the onset of my brother's symptoms and his first positive test result.
"My mom could hear him in his room moaning and groaning. It got so bad, he said he thought he was going to die."
Vaughan said Hairston's brother along with his coworkers deserve recognition for what they do.
"We are very thankful for our team members who are heroes just like health workers and first responders," she said.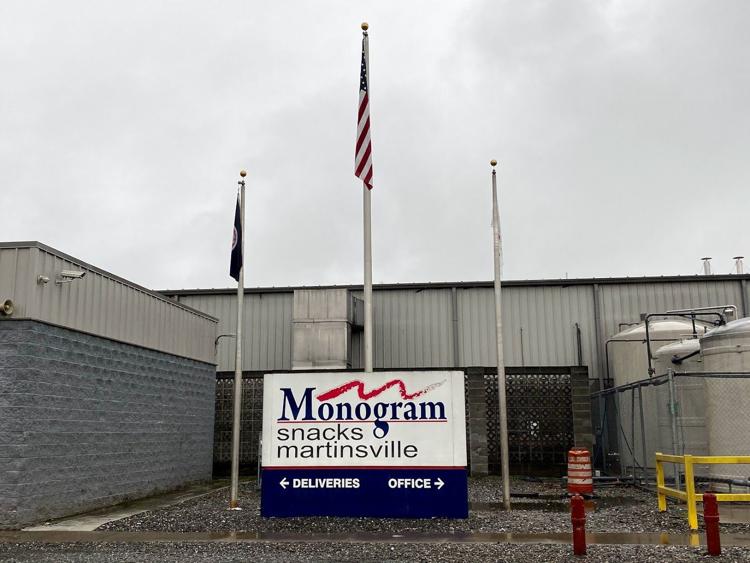 Bill Wyatt is a reporter for the Martinsville Bulletin. He can be reached at 276-638-8801, Ext. 236. Follow him @billdwyatt
Get local news delivered to your inbox!
Subscribe to our Daily Headlines newsletter.