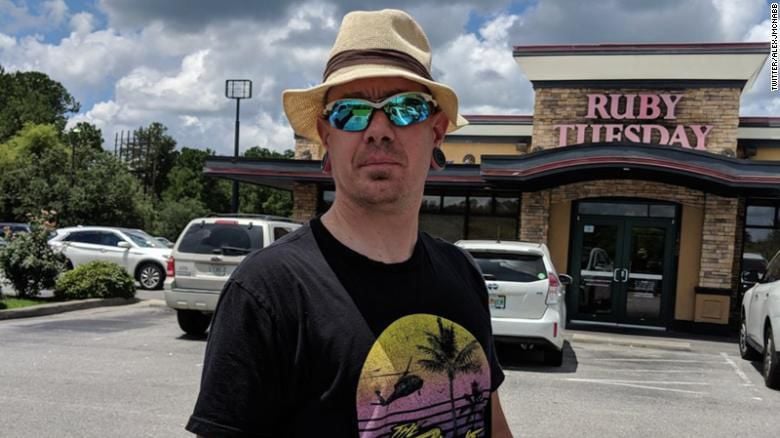 Alex  McNabb, the emergency management technician in Patrick County who had been suspended while state officials investigated sensitive comments he made in a podcast, is a bit closer to returning to active duty.
The Virginia Department of Health's Office of Emergency Medical Services has found no substantial evidence to support allegations that McNabb, a part-time EMT for the JEB Stuart Rescue Squad, violated EMS regulations prohibiting discrimination in provision of care.
The investigation began after The Huffington Post published an article on Dec. 8 alleging that McNabb, 35, is a frequent co-host of "The Daily Shoah," a neo-Nazi podcast on which he regularly tells stories about being an EMT, often referring to patients by racist slurs and comparing black patients to animals.
The rescue squad had placed McNabb on unpaid leave, pending the results of the investigation.
Paul Fleenor, a Virginia EMS program representative, wrote in a letter to McNabb dated Feb. 25 that "there is no substantial evidence to support any violation of the EMS regulations. The Office of EMS considers this case closed and no further investigation into this matter will be conducted."
Wren Williams, a squad board member, wrote in an email Friday that McNabb remains on unpaid leave and that the board is scheduled to meet at 4 p.m. March 10 to discuss the next steps.
McNabb responded to an email on Friday by saying he had declined to speak to CNN but might issue a statement.
According to the summary of its investigation, on Nov. 26, 2018, the Virginia Office of EMS received an anonymous online complaint that McNabb's "'far right-wing views' on social media should render him unable to perform as an EMT in Virginia. This was soon followed by national media coverage and multiple other complaints concerning the same issue."
An investigation was initiated see if there had been any violations of EMS regulations, but this was not an investigation of McNabb's opinions, viewpoints or freedom of speech, the department said.
McNabb adamantly denied ever discriminating in his care of patients.An audit showed that none of the 39 patient care reports that were initiated and/or completed by McNabb during the past year indicated discrimination or inappropriate patient care. They included cases involving minority and non-minority patients with similar or same chief complaints. "The care rendered by Alex McNabb of all these patients was compared, to identify any differences in treatment and/or transport decisions; to which no differences were identified and care delivered to all patients was consistent between groups," the investigation report said.Jason Edsall, McNabb's operational medical director, said he had not received complaints of discrimination or inappropriate patient care.Coworkers of McNabb's at JEB Stuart Rescue Squad said they had never witnessed any discrimination or inappropriate patient care, and they consistently said they were shocked to find out that McNabb even had these viewpoints.JEB Stuart Rescue Squad Capt. Derek Wagner, Patrick County Emergency Services Coordinator Steve Allen and Patrick County Sheriff Dan Smith said they had never received complaints against McNabb.
The Huffington Post's article had alleged that in one episode of a podcast, in which McNabb assumes the persona of "Dr. Narcan," he told a story of an "unruly young African-American male child running around" an emergency room.
The child was there to get blood drawn, "so guess who volunteered to take his blood? … Dr. Narcan enjoyed great, immense satisfaction as he terrorized this youngster with a needle and stabbed him thusly in the arm with a large-gauge IV catheter."
McNabb has described his podcast statements as constitutionally protected satire. In a previous email to the Martinsville Bulletin, he wrote that, while on-duty with the rescue squad, "my professional conduct is 100 percent dedicated to serving all patients equally, and there are, to my knowledge, no reports of misconduct or dereliction of duty over the nine years that I have had EMS certifications."
Patrick County Supervisor Dr. Lock Boyce had made a motion at a supervisors meeting in December to cut off funding for the JEB Stuart Rescue Squad until it fired NcNabb, but that motion failed, 4-1. Boyce then made a motion for the board to state that racism and neo-Nazism will not be tolerated in county employees or in any entity supported by Patrick County funding. That motion passed unanimously.
"I'm disappointed in that decision," Boyce said Friday, adding that he has received threatening messages from neo-Nazi, white supremacist and far-right groups.