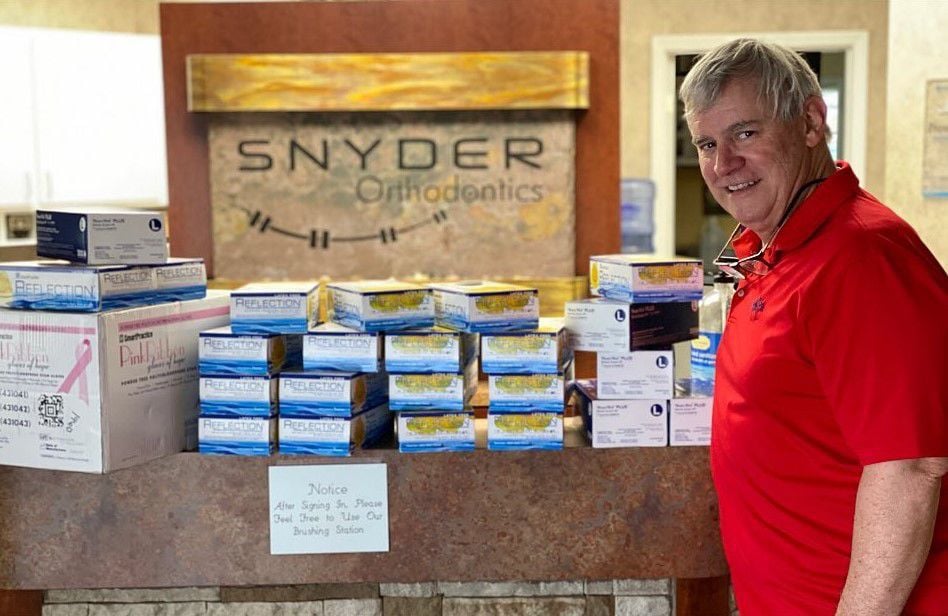 Sovah Health-Martinsville remains mum on its level of preparation for a potential COVID-19 crisis, but professionals in the area are stepping in to help outfit the hospital with needed supplies.
Meanwhile, the West Piedmont Health District of the Virginia Department of Health has distributed most of its supplies to other area health providers.
Snyder Orthodontics donated 500 face masks and 1,000 pairs of gloves to Sovah-Martinsville, and Patrick Henry Community College's Fab Lab is making hundreds of face shields to donate.
"We've just been seeing how the medical offices are in dire need of supplies, so Dr. [Edward 'Chopper'] Snyder asked that we go through everything we had," Snyder Orthodontics Office Manager Tara Hughes said.
Like other area dental and orthodontic practices, Snyder Orthodontics is closed temporarily, except for emergencies. The practice donated all but "a very limited supply" of masks and gloves to be used in emergency care, Hughes said.
"At this time, you can't even order gloves or masks or get anything in," Hughes said. "We're thankful for our medical staff taking care of us" and want to help them with supplies.
"Anybody that could do the same, it would be very helpful to the hospitals."
Meanwhile, PHCC's Fab Lab is working at full capacity to make clear face shields attached to headpieces, which health care providers could wear over face masks for additional protection from splatter which may carry the COVID-19 virus.
The hospital is "asking for whatever we can do, and that's what our goal is – at least 150" by producing at full capacity over about two weeks, PHCC Coordinator of Community Development Programs Matthew Ratliff said.
"We are extremely appreciative of the outpouring of support Sovah Health has received from individuals and community partners," hospital spokesperson Kelly Fitzgerald wrote in an email when asked about the donations. "It makes us so proud and grateful to be a part of Martinsville & Henry County."
The health department has said that "a national shortage of Personal Protective Equipment (PPE) is feared as the COVID-19 virus spreads."
Virginia Department of Health Local Health Emergency Planner Jeanette Losee said in the department's release that she kept about 10 % of the health department's supplies for use by the health departments in the district, but everything else is going straight to free clinics, home health care givers and other health care providers.
The health department's donated equipment went to Bassett Family Practice, Bernard Health Care Center, Caring Hearts Free Clinic, PATHS, Patrick County Family Care, Patrick County Urgent Care, Team Nurse and Tri-Area Health Center.
The health department does not provide hands-on patient care but rather helps to identify outbreaks and collect and curate data to help health professionals make informed decisions.
"Hospitals across our nation are bracing for shortages of medical and protective equipment, and supplies such as disposable masks, gowns, gloves and shoe covers," Fitzgerald wrote in her email. "These are essential in protecting our staff on the front lines of caring for patients. And while we have adequate supplies today, we are doing our part to conserve and stock up on supplies the best we can."
When asked Wednesday morning how well stocked the hospital was with necessary supplies, Fitzgerald replied at 8 p.m. by email: "At this time we are not experiencing a shortage of supplies or PPE. However, we are prepared for impending shortages of medical supplies and protective equipment and have taken the precautionary steps to conserve PPE in accordance with CDC guidance. We continue to work with our national and international suppliers and are seeking alternate sources to ensure an adequate stock of supplies."
When asked how many COVID-19 patients the hospital is prepared to care for, she replied, "It's too soon to tell, and we wouldn't want to speculate; however, we have the ability to expand capacity, if needed."
The Bulletin requested to speak with a hospital administrator or medical professional about COVID-19 preparations, but Fitzgerald didn't arrange that interview and replied that "I will let you know if and when this changes."
On Thursday Fitzgerald in an email said that anyone who has medical-grade supplies and equipment should consider donating them to regional hospitals. Potential donors may call Karen Hall at 276-666-7601 to arrange delivery.
Holly Kozelsky is a writer for the Martinsville Bulletin; contact her at 276-638-8801 ext. 243.
Holly Kozelsky is a writer for the Martinsville Bulletin; contact her at 276-638-8801 ext. 243.