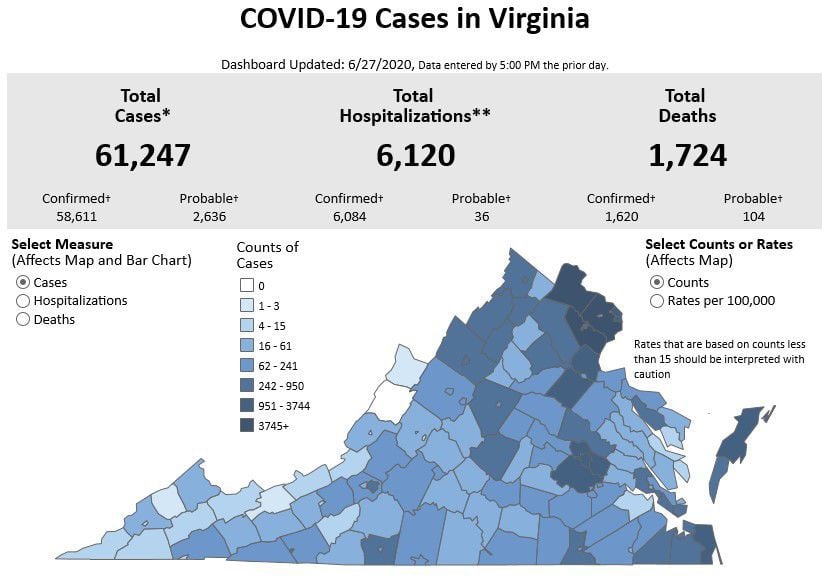 The biggest one-day list of positive coronavirus cases in a couple of weeks was released Friday by the West Piedmont Health District, and it trended young.
There were 14 cases — mostly in Henry and Franklin counties — in the list that Nancy Bell, district spokesperson, distributed. She did not supply a list early on Saturday.
The spikes you see nationally in states such as Florida and Texas have been dominated by younger people, and this new list showed some of the same tendencies.
The new cases in Henry County included three males and three females, and four of the six — two of each gender — were in their teens. One female was in her 30s, and one male was in his 40s.
The one case in Martinsville was a male in his 30s, and Patrick County, which earlier this week had its first two deaths of COVID-19, had a male in his 40s.
Franklin County also had six cases — a male and female in thier teens, two females in their 20s and two in their 40s.
Bell also on Thursday reported five new cases in Henry County, most of them young patients. They were a male in his teens and one in his 40s and three females, two in their teens and one in her 20s.
The Virginia Department of Health reported Saturday morning that there have been 243 positive cases in Henry County — all but two of those since May 1 — including 22 who were hospitalized and four deaths.
Martinsville has 70 cases, with nine hospitalized and one death. Patrick County has 41 cases, with two hospitalized and the two deaths. Franklin County now is up to 60, with five hospitalized and one death.
The statewide trend in cases continues to be positive, unlike what you see across much of the South.
But the total in Virginia has surpassed 60,000 (61,247 as of Saturday morning), and hospitalizations are more than 6,000 (6,120). The number of deaths surpassed 1,700 (to 1,724).
The spike in cases in most states — four on Saturday again had new daily highs — have pushed national total past 2.5 million as of Saturday evening. Johns Hopkins University's tracking site had 2,500,419 cases and 125,434 deaths across the country. Worldwide there are 9,891,727 cases and 495,993 deaths.
Concerned about COVID-19?
Sign up now to get the most recent coronavirus headlines and other important local and national news sent to your email inbox daily.