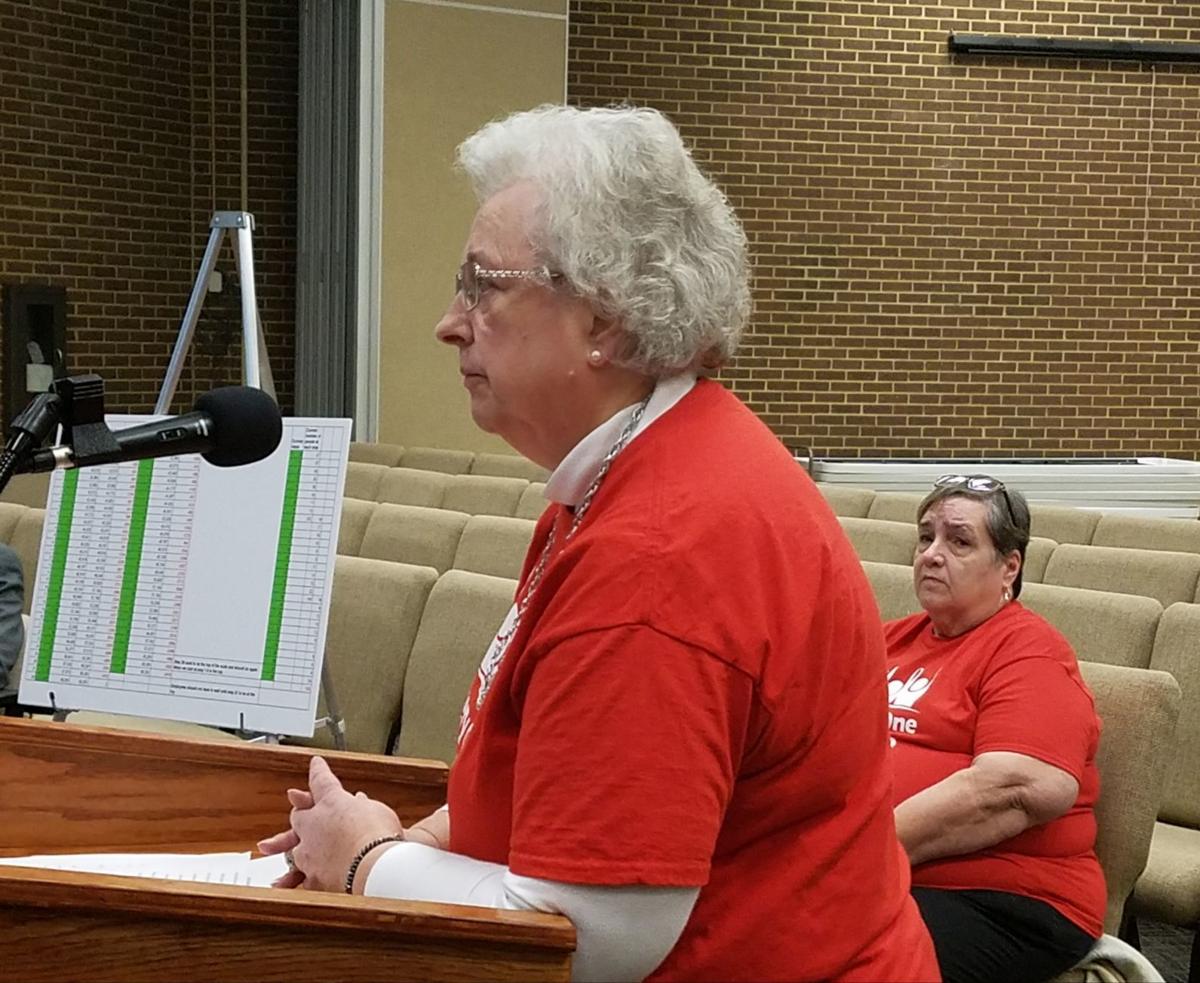 Officials from Henry County Schools and leaders of the Henry County Education Association both say they want to see teacher pay increased.
However, they seem to differ on the scope of the problem, and when and how these raises should take place.
Two teachers representing the HCEA were the only speakers at a public hearing on school budget priorities held Thursday evening. Following a presentation on the budget outlook for next year, the Henry County School Board heard from HCEA President Dorothy Carter and Vice President Sybil Landreth who urged board members to correct what they say are mistakes in the salary scales for teachers and other division employees.
In their budget presentation, district administrators said increasing compensation for all employees is a priority as long as funding is available. However, without extra money from the state, it could cost the district in the millions of dollars.
The public hearing was sparsely attended, with four other women in the audience who did not address the board. Three wore red shirts in support of the HCEA.
Carter, an English teacher, has spoken on the topic of teacher pay at every school board meeting since August. At the public hearing, she and Landreth presented figures showing the district salary scale and the amount of wages lost when teachers have not received "step increases," which are pay raises based on length of service.
The county pay scale starts at $41,902 for new teachers without any years of experience and goes up to $60,291 at 31 years of experience or more. The HCEA maintains that level of pay should be reached sooner, at year 28.
Because of prior years in which the district did not give step increases due to budget constraints, Carter and Landreth said, teachers are still behind in their pay by as much as three steps. This means, for example, someone with 10 years of experience gets paid at step seven. This results in annual pay losses ranging from $1,000 for teachers in the first 10 years of their careers, to $3,890 less for those at the top of the salary scale, they said.
"How many of you would stay in a position that withholds this much annually from your salary year after year?" Carter asked the board.
School district officials say they have been working on addressing this issue.
"When we've been able to make up multiple steps, we do that," said David Scott, assistant superintendent.
The district used $1.5 million from the state to give a step increase last year, which "didn't close the gap, but didn't allow the gap to grow."
"There were years that we did not give people step increases. There's some truth to that," Scott said. "We don't run from the fact that the step scale is not a one-to-one alignment in years of service."
The problem, however, is funding. The governor's proposed state budget does not include funding for raises until fiscal year 2022, which starts in July 2021. This means any pay increases for next year would have to be completely locally funded, Scott said.
It costs the school division at least half a million dollars to give a step increase to all teachers, Scott said. That's roughly $400,000 for salaries, plus benefits add another $100,000 or more.
"That's a tall order to make up that much ground in one budget year when there's not state money coming in," he said.
In addition, the proposed 3% raise in fiscal year 2022 only covers employees funded by the state. Henry County Schools, like other public school divisions in Virginia, receives the majority of its funding in the form of "basic aid" from the state, which is based on student enrollment. The state funds a certain minimum level of staffing to meet what are called the "standards of quality," or SOQs, and any staffing beyond those levels must be funded by the locality. Most school systems in Virginia staff above these minimum requirements.
"We are staffed beyond what the SOQs require us to do. So, when they give funding for SOQ positions, it doesn't necessarily include all the staff, especially support staff. That still leaves a lot of lifting to cover what the state does not," Scott said.
Carter included classified and support staff in her appeal to the school board for wage increases. "Why on earth are we paying our superintendent less than the last one?" she asked the board. "Administrators deserve competitive salaries. And teachers, paraprofessionals, clerical staff, cafeteria staff and bus drivers deserve competitive salaries that acknowledge years of loyal service."
In Landreth's remarks, she criticized the school division for taking on large projects, such as Warrior Tech and Bengal Tech, in years when teachers did not receive a full step increase.
"By holding back teachers on the salary scale, HCPS benefited in order to complete projects they wanted to do while dishonoring the salary expectations under which teachers were hired," Landreth said.
The school budget will not be finalized until state funding is approved by the General Assembly. The state legislature is in session now through March. Before the school board approves the final budget this spring, Strayer has meetings scheduled with students, parents, support staff, and teachers to get their input on the budget.
"We are still hopeful that we will be able to use the funding that we do have to take care of our teachers and some of our unsung heroes," such as support staff, Scott told the board during his presentation. "I'd be remiss if I left the podium here without saying that our number-one priority is to make sure we're taking care of our employees."
Kim Barto Meeks is a reporter for the Martinsville Bulletin. She can be reached at 276-638-8801.
Get local news delivered to your inbox!
Subscribe to our Daily Headlines newsletter.