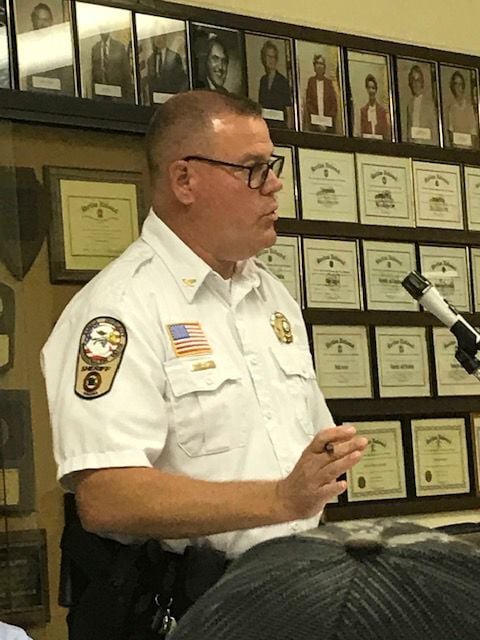 Two inmates in the Henry County Jail and an unspecified number of employees of the Henry County Sheriff's Office have tested positive for the novel coronavirus.
"We have a very small number of employees who have tested positive for the coronavirus" during the past week and a half or so, Henry County Sheriff Lane Perry said.
"We are taking appropriate measures" to prevent the spread of the disease, he said.
The sheriff's office has "done some other testing," Perry said. "We do have a place that we have been quarantining people, and we are to the point that we are monitoring the situation, making sure that adequate care is being given and any preventative measures that we can" take are being done.
One inmate's positive case of the coronavirus was confirmed on Monday, according to a document provided to the Bulletin. That inmate is being quarantined in an isolation cell, and all protocols outlined by the Centers for Disease Control and Prevention are being followed, the document stated.
All deputies who deal with the inmate wear N-95 masks, gowns, gloves and face shields, according to the document.
On Tuesday, the Department of Public Safety tested the 16 inmates who had been housed in the same pod as the infected inmate, according to the document.
"Everybody that could have been exposed have been tested, and we are still waiting on results," Perry said.
Meanwhile, there have not been any positive test results among inmates or staff members at the Martinsville City Jail, Maj. Laura Hopkins said.
However, one city sheriff's office employee had tested positive for the coronavirus, she said. That employee was quarantined at home, then returned to work after he or she had improved plus had a negative result on a follow-up test.
The city sheriff's office tests for the virus occasionally, such as when an employee has traveled, particularly to the beach, she said.
Holly Kozelsky is a writer for the Martinsville Bulletin; contact her at 276-638-8801 ext. 243.
Concerned about COVID-19?
Sign up now to get the most recent coronavirus headlines and other important local and national news sent to your email inbox daily.