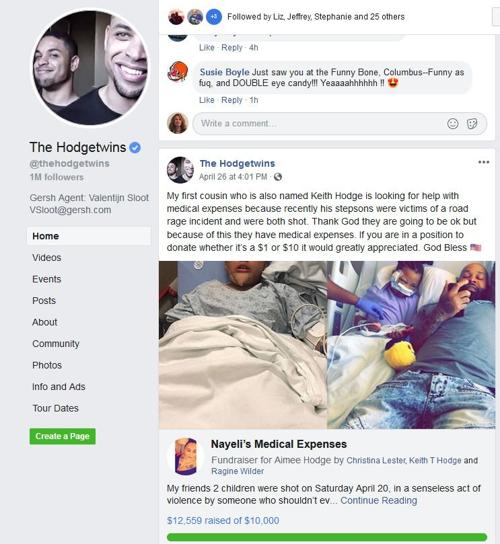 The Leatherwood children who were shot in a  "road rage" incident in North Carolina are back home from the hospital — and an appeal from famous relatives has brought in donations from around the world to help with their medical expenses.
Nayeli Sheff, 7, Prince Sheff, 9, were shot on April 20 in Mount Airy. They are the children of Aimee and Keith Hodge of Leatherwood and Graig Sheff of North Carolina and were visiting Graig Sheff when they were shot.
Prince was released from the hospital first, and Nayeli was home by Monday, after surgery, according to Facebook posts by Keith Hodge.
Byron Donnell Green, 41, of East Poplar Street in Mount Airy, was charged with two counts of assault with a deadly weapon with intent to kill, inflicting serious injury; one count of discharge a weapon into occupied property causing serious bodily injury; and one count of assault by pointing a gun. He is being held on $600,000 bond and is scheduled to appear in court on June 11.
Christina Lester, their mother's coworker at Results in Stuart, started a Facebook fundraiser for the children's medical expenses on April 22. As shares of the fundraiser were spread locally on social media, about $3,000 had been donated by Friday.
At 4:01 p.m. Friday the post was shared on "The Hodgetwins'" Facebook page — and donations immediately started pouring in. The total as of Thursday was nearly $13,000 raised by 547 donors from around the world.
"The HodgeTwins" are Martinsville natives and Texas residents Keith and Kevin Hodge, who are cousins of the children's stepfather, also named Keith Hodge. They are known for fitness and comedy videos, advice and products, and they have more than 3 million subscribers over three YouTube channels and more than 1 million followers on Facebook.
Some of the donors told the Martinsville Bulletin via chat messages how they got involved with this effort.
Matt Jauernig of College Station, Texas, said he knows Keith Hodge and Kevin Hodge. "I donated because I just felt in my heart that I needed to," he said. "I wish them all the best of luck."
Justin Michael Gurczynski of New Jersey said he couldn't recall where he saw the story, but he follows "a lot of right-leaning social media groups. I tend to donate a little if the story seems legitimate and if children are involved."
Christoffer Kihlberg of Stockholm, Sweden, wrote, "I've always found their brand of entertainment both refreshing and fun." He donated 200 kronor, which is about $21 in U.S. money. "It's not much, since I'm not a wealthy man, but … it's something and it's a way to give back to a community that's been great from the start."
James MacKenzie of Scotland, Michael Dove of Arkansas and Alicia Mumm of Jacksonville, Fla., wrote that they follow the Hodge Twins and simply responded to the request for support.
Yvette Murray of Salem, Ore., wrote the same, adding that the Hodge Twins "are hilarious and they love our president."
Michael Bailey of Arizona said he follows the twins' stand-up comedy and recently attended their show in Phoenix.
He wrote, "I have come to respect and cherish their views both politically and comically, so naturally I felt a desire to help, even if it was a small $20 donation. The HodgeTwins have allowed us to be a part of their family through their public service, and comedy, and the amount of support they have received so far is a direct reflection of what they mean to us, and how much compassion the world still has!"
Get local news delivered to your inbox!
Subscribe to our Daily Headlines newsletter.