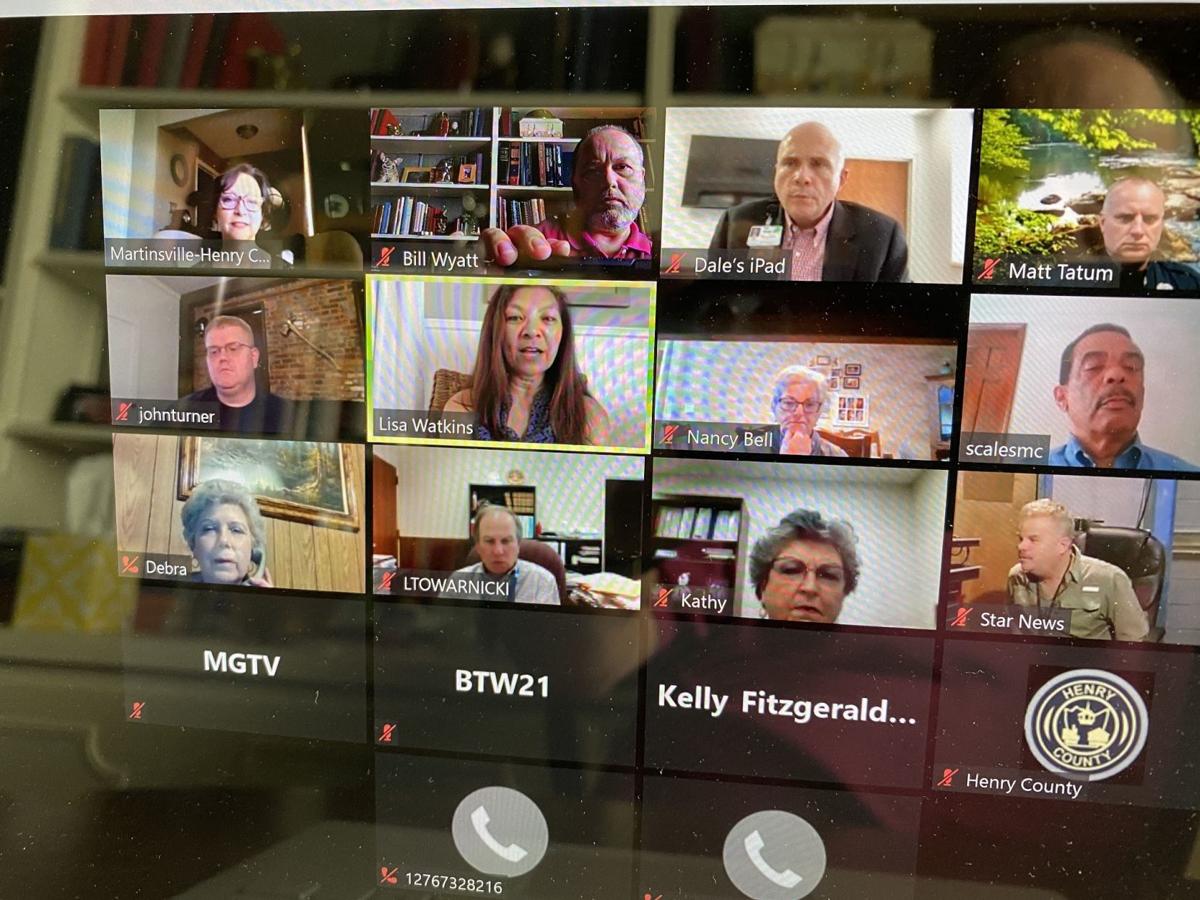 United Way Executive Director Philip Wenkstern said a grant from The Harvest Foundation will allow the Henry County Food Pantry to distribute food to families who sometimes don't know where they will get their next meal and are limited by the COVID-19 pandemic.
He said the $146,000 from Harvest would allow United Way to establish pick-up sites throughout the community where families can receive boxes of food monthly.
"We have five [sites] right now," Wenkstern said.
This information came during a briefing Thursday afternoon by community leaders, the second since the pandemic and its public isolation began.
This time most of the participants stayed home thanks to the technology of the Zoom conference platform that has become the popular replacement for face-to-face meetings during the pandemic.
Wenkstern said United Way plans to serve more than 1,200 with 35-pound boxes that will be distributed each week from the food pantry in Bassett, Grace Network and the Salvation Army in Martinsville, Rich Acres Christian Church in the Rich Acres community and Community Fellowship in Collinsville.
"People will stay in their car, and each family will be eligible for one box per month," Wenkstern said.
Wenkstern said he hoped if the need is great that the one-box rule might be changed. Martinsville and Henry County rank among the state's worst for food insecurity.
A start date has not been set, but Wenkstern says if anyone needs immediate assistance to call Grace Network at 276-638-8500, and anyone who would like to volunteer to help with the distribution should call 276-403-4226.
"We hope this will alleviate some of the challenges we've been hearing about recently," he said.
Other leaders offered brief rundowns and new information about how the region is dealing with the pandemic.
Health Department spokesperson Nancy Bell said the death toll because of COVID-19 had risen to 109 in Virginia, with more than 4,000 active cases.
"We have five confirmed cases in Henry County, and we expect more," Bell said. "We tested 15 [people] at the new test site [Martinsville Speedway] on Wednesday."
The test site will be open again Friday, from noon until 4 p.m., and Bell said she anticipated more people would be tested than on Wednesday.
"An employer went to the test site yesterday, and she asked if she should tell one of her employees to get tested," Bell said. "The employee had started isolating, but it's important to let other employees know of a potential positive.
"There was a case at Lowe's that was in the newspaper — we contacted Lowe's and communicated to the other employees. We try to be as transparent as we can without violating HIPPA laws."
Bell thanked the local media for not sensationalizing the pandemic.
"The media has been very cooperative through this," Bell said. "They want people to know the facts."
Martinsville Mayor Kathy Lawson said the city was still open even though the doors to City Hall are closed.
"The city has prepared a resource card, an important document with websites and phone numbers for people," Lawson said. "And if you haven't heard, the police are going door-to-door to check on everyone to make sure everyone is doing all right." Lawson said the city is waiving all late fees on utility bills even though the most recent bills have late fees on them.
Sovah-Martinsville CEO Dale Alward said he want to assure people the hospital was a safe place for people even though no one is allowed to visit.
"We are focused on this pandemic, but we don't want to lose sight of folks not a part of this [COVID-19] that are coming to us for care," he said. "We are absolutely safe. We do not want you staying home — if you need care, you need to come.
"We are taking every measure we can to make it safe." Alward said Sovah-Martinsville had begun the "handmaid happiness project" and encouraged children home from school to visit the hospital website or Facebook page to learn more about it.
"We are asking the community to take a look and get children involved in doing some artsy things for our patients," he said. And he thanked the community for the "significant outpouring" of supplies, food, protective gear, masks and gloves.
"Every bit helps," he said.
Horsepasture District Supervisor Debra Buchanan encouraged everyone to be patient.
"We're all in this together, so we need to remain vigilant," she said. "It's difficult because there are a lot of unknowns, but we're resilient, and with tenacity we'll get through this."
Bill Wyatt is a reporter for the Martinsville Bulletin. He can be reached at 276-638-8801, Ext. 236. Follow him @billdwyatt
Bill Wyatt is a reporter for the Martinsville Bulletin. He can be reached at 276-638-8801, Ext. 236. Follow him @billdwyatt