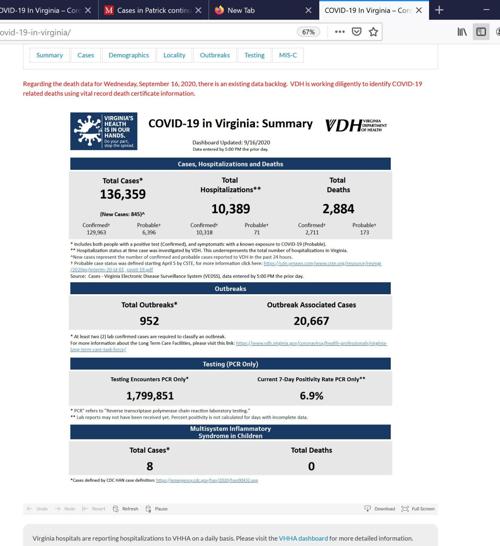 The statistical accounting of the deadly disease COVID-19 finally is catching up to its reality.
The latest numbers from the Virginia Department of Health are showing an explosion of COVID-19 deaths in the West Piedmont Health District, which covers Martinsville and the counties of Henry, Patrick and Franklin.
In Patrick County alone, five new deaths were reported Wednesday and four on Tuesday. Another resident of Martinsville also was reported to have died.
There have been 17 deaths reported in the district just this week, but that doesn't mean that those 17 people only just died. Their deaths from earlier in the month, or even from August, finally may have been added to the VDH's COVID-19 report.
It also means that other deaths, including from this week, might not have made their way to the daily statistics report yet – so the numbers probably will continue to shoot up.
Lately, the "COVID-19 in Virginia: Summary" statistics posted daily on the VDH's website states in red letters above: "There is an existing data backlog. VDH is working diligently to identify COVID-19 related deaths using vital record death certificate information."
VDH spokesperson Nancy Bell sent the explanation by email:
"The seven-day average in the deaths by date reported is correct (from a pure math perspective). However, this spike in cases is due to a backlog of approximately two weeks in reported deaths. While deaths were still being reported to VDH from local health districts, death reports from VDH's central office -- which independently verifies death certificates and matches them with disease data -- were not reaching the epidemiological team. This backlog was caused by a system error that has since been addressed and will be regularly reviewed going forward. Due to the normal delay in the death certification process (before this backlog) we expect these individuals died over the past three to four weeks. That's why you don't see this spike when you look at deaths by date of death (as opposed to date reported)."
She did not specify where the deaths were or any information about the ages or genders of those who have died but wrote, "The deaths in Patrick County are attributed to this readjustment."
Since the pandemic began there now have been 54 deaths in the district.
Patrick County, which was one of the last counties in the state without a positive test for the novel coronavirus, how has recorded 23 deaths and has surpassed Henry County (18) for the most in the district.
The major outbreak in Patrick County was attributed to a long-term care facility. Messages through phone calls and emails on Tuesday morning to administrator Anthony Brunicardi of Blue Ridge Therapy Connection and to Joy Hairston, the administrator of its sister facility The Landmark Center, have drawn no response.
The latest figures known have been from July 30, when Blue Ridge Therapy Connection had 55 cases (out of Patrick County's then 106 cases). Since then, no one from that facility has responded to any calls or emails. At that time The Landmark Center, located just next door to Blue Ridge, reported having no cases.
Patrick County Public Schools officials and board members have been paying careful attention to the COVID-19 numbers in Patrick County and its effect on the ability to hold classes in person.
"Of course, we are always concerned with the number of cases we have in our county and how that could potentially impact the school division," Superintendent Dean Gilbert wrote in an email. "Since we just started back with our hybrid plan and now have students in the buildings four days a week, it is a concern that students may come into the buildings with the coronavirus and may not know it if they are asymptomatic."
He added that he does "not have any idea" about where in the community those newly reported deaths are coming from.
"We do not have any known cases affecting the school system at the time of this email," he wrote.
In Tuesday's statistics, the district saw 19 new cases (eight in Henry County, five in Patrick County, two in Martinsville and four in Franklin County).
Senior-care facilities in Martinsville and Henry County have been ordered to test their employees and residents twice a week to stop outbreaks and spreads of the coronavirus. Martinsville City Public Schools will wait until after the first nine weeks to discuss a potential return to the classroom.
In its biweekly COVID-19 Update issued Wednesday, Sovah Health said it "has approximately 30 patients across both campuses, with the less than 20 located in Danville and less than 10 in Martinsville, who have tested positive for COVID-19 in our hospitals."
That's about the same as was reported in its Sept. 2 update. The hospital has "adequate capacity to meet patient needs, including in critical care and intensive care," the report states.
Given a slight decrease in COVID-19 cases, Sovah Health now allows one well visitor into its emergency department. Visitors are not allowed to the inpatient area, which remains under a limited visitation policy. The hospital encourages friends and families of patients to keep in touch with "phone calls, FaceTime or other technologies."