The Federal Trade Commission has issued notice: COVID-related scams are rampant, and the number of reports are beginning to resemble the rise in cases of COVID-19.
Almost 219,000 Americans have lost nearly $157 million to COVID-related scams since the pandemic began in March, but those COVID-specific scams don't appear to have gotten a toehold in the area.
"I have checked within the office and to our knowledge, we do no have any scams that used the premise of COVID-19," Henry County Sheriff Lane Perry said. "Unfortunately, this summer we had a couple of incidents of scams that led to people sending money, but the suspects used the same ruse as they have been using for years."
Martinsville Police Lt. Sandy Hines queried the department's Reports Management System looking for COVID-19 scams within the city and said he couldn't find any.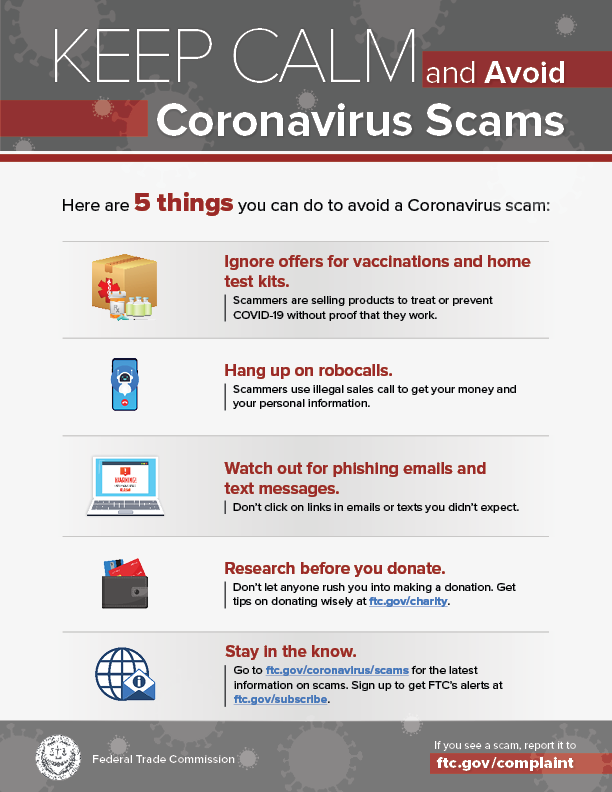 There have been 4,467 reports in Virginia, accounting for a loss of $2.33 million according to the FTC.
The top fraud loss report in the commonwealth involves online shopping, with 864 incidents. Others include 671 travel and vacation scams, 181 credit-card incidents, 148 credit-bureau reports and 141 scams involving banks, savings and loans and credit unions.
The median fraud loss per incident in Virginia is $275 compared to $301 across the country.
When it comes to COVID-related scams, fake contact tracers are common. If someone contacts you about possible exposure to COVID and asks for your Social Security, Medicare, Medicaid, or insurance policy numbers they are not legitimate, says the FTC.
Contact tracers working for the state health department may contact you by phone or text, but will only require your name, address, date of birth, symptoms related to COVID and where you were on certain dates. They will also provide you their name, the agency they are with and a phone number for you to verify their legitimacy.
A fake contact tracer will likely attempt to obtain your financial information and ask for payment.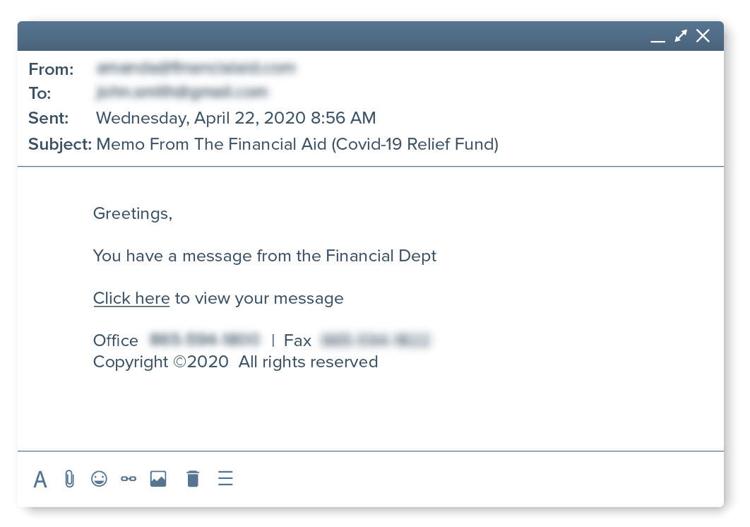 Robocalls are the most prevalent means of scamming the public. Despite the existence of donotcall.gov, a program provided by the FTC, most people are subjected to several of these calls everyday and many people are duped into being scammed as a result.
A recent survey shows as many a one in five robocalls currently involve COVID.
A prerecorded message will typically identify the call as coming from a government agency like the state health department and offer treatment, testing or financial assistance related to COVID.
At the conclusion of the recorded message, the person on the receiving end is usually directed to press "1" on their phone in order to be transferred to a live scammer.
Oftentimes these calls are from the same caller who might even call using different phone numbers.
On average, a phone owner today receives three or four robocalls everyday and 87% of phone owners say the problem has only worsened since the pandemic.
Texts are becoming more popular among scammers utilizing a embedded links that may allow them to access your personal information including user names and passwords.
Police refer to this type of scam as "smishing."
The FTC warns everyone to ignore offers for vaccinations and home test kits, do not respond to texts, emails or calls about checks from the government, hang up on robocalls and don't click on links from sources you don't know.
They also suggest you also do your homework when it comes to donations and never donate in cash, by gift card, or by wiring money.
"We remind people once again to not answer calls from numbers they are unfamiliar with and to not buy into high pressure or urgent schemes," Perry said. "And before acting on any type of call that is even remotely questionable, call our office and let us help sort out what it taking place."
Bill Wyatt is a reporter for the Martinsville Bulletin. He can be reached at 276-638-8801, Ext. 236. Follow him @billdwyatt
Get local news delivered to your inbox!
Subscribe to our Daily Headlines newsletter.