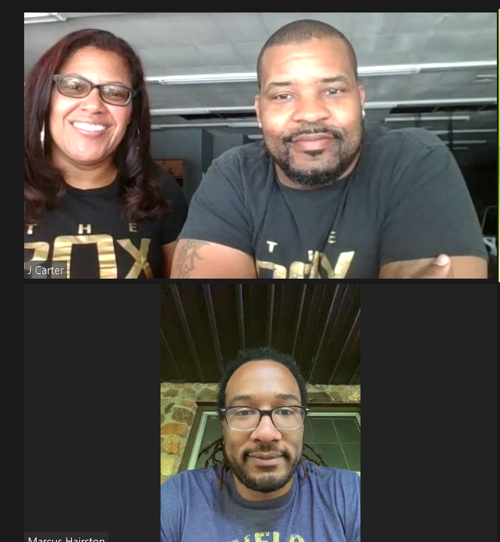 The owners of CrossFit 276 in Martinsville say their members are part of a diverse, tight-knit group brought together by a desire to improve their health.
"We are a community," said certified trainer Jerelle Carter, who runs the facility with partners LaDonna Hairston and Marcus Hairston.
Since opening their gym (or "box," as it's called in CrossFit parlance) in Martinsville in 2014, the facility has attracted people of all different backgrounds: "Black, white, Asian, Muslim, atheists," Carter said. "We all get along. It's all love."
However, the three have not been feeling any love from the national headquarters lately. CrossFit founder and CEO Greg Glassman recently stepped down from the company after making a series of offensive comments about race and the Black Lives Matter movement in the wake of the killing of George Floyd.
That's why the owners of CrossFit 276, who are African-American, have decided not to renew their affiliation with CrossFit when it expires in August, LaDonna Hairston said. The gym will remain open as an independent facility with a new name.
And they are not alone -- national news reports show more than 1,200 gym owners so far have announced plans to abandon the brand because of the controversy.
"For him [Glassman] to make those comments, it was hurtful," LaDonna Hairston said. "It just seemed so insensitive, and my immediate reaction was to be upset about it. I really was floored."
Marcus Hairston called the response from Glassman and the company "disheartening," especially because CrossFit has supported a variety of different causes over the years.
"I feel like as a whole the company missed the boat by not answering the call for this national crisis, and it hurt as a Black-owned business," he said.
Controversial comments
This is not the first time CrossFit has faced controversy since Glassman and his then-wife founded the fitness empire in 2000.
CrossFit is based on a philosophy of high-intensity, functional movement, often paired with the low-carb Paleo diet. According to its website, CrossFit licenses its name to more than 14,000 gyms worldwide, including 6,000 in the U.S., for a $3,000 annual fee.
After Floyd's death, many in the CrossFit community expressed frustration with the company for its silence on the issue. Dozens of other companies immediately came out with public anti-racist statements in support of Black Lives Matter.
"It was a chance for CrossFit to rise to the occasion" -- but they didn't, LaDonna Hairston said.
Glassman's response to one affiliate gym owner in Seattle caused additional outcry when it came to light on the gym's blog on June 5. Allysa Royce, co-owner of what used to be called Rocket CrossFit, wrote to corporate leadership saying they would be changing their name to Rocket Community Fitness and ending their affiliation over CrossFit's refusal to take a public stand.
Glassman replied with an email and called Royce "delusional" and accused her of trying "to brand us as racist and you know it's bulls***." He also used an expletive to describe her.
Further missteps occurred when Glassman spoke to a small group of gym owners on a Zoom call the next day, saying he and his staff were not mourning for George Floyd and questioning why they should. Hours later, he responded to a Twitter post that called racism a public health issue with a couple of controversial tweets that appeared to make light of Floyd's death and compared it to the coronavirus.
A few days later, Glassman announced his retirement, though he will retain full ownership of the company. Dave Castro, director of the CrossFit Games and co-director of training, will take over as CEO.
In a statement on the corporate website, Glassman wrote, "On Saturday I created a rift in the CrossFit community and unintentionally hurt many of its members."
Corporate leadership then addressed its silence on Black Lives Matter and apologized for Glassman's comments in a blog post.
"We cannot change what has happened, but we ask for forgiveness while we thoroughly examine ourselves," the company wrote. "Greg's statements were incredibly insensitive and hurtful. Please accept our deepest apology for contributing to the pain and confusion permeating our community."
By that time, however, the damage was done. Many CrossFit affiliate gyms and athletes distanced themselves from the brand. Reebok also said it would sever its brand partnership with CrossFit, which includes a line of athletic apparel and sponsorship of The CrossFit Games competitions.
"It was disheartening reading the emails. It was like he has no care or anything about the black community," Carter said.
As a Black business owner, LaDonna Hairston said, "You felt like you weren't included, like you weren't important."
Marcus Hairston said he has heard similar reactions from other CrossFit affiliate owners in their network, but "that wasn't a determining factor for us. It was just the decision that was best for us."
Life after CrossFit
Local gym members have been informed of the decision to leave CrossFit, and they have responded with "total support," LaDonna Hairston said. "They believe in the services that we provide. They are just with us all the way."
Members will not see any changes to their workouts or the services offered after the CrossFit affiliation ends. In spite of Glassman's comments, CrossFit 276's owners agree the program is beneficial.
"We love CrossFit. Greg Glassman started a great thing," LaDonna Hairston said. After they leave the brand, she added, "We'll have the same service, the same one-on-one coaching. The only thing that I can see that will change is we will get better."
For now, she said, their main concern is "keeping members safe" as the business has reopened on a limited basis during Virginia's Phase 2 of the coronavirus response. 
This means keeping 10 feet of distance between people and doing extra cleaning and sanitizing. Clients are not required to wear face masks while working out, but the trainers and coaches do. 
"We have hand sanitizer before they come in. We're wiping off bars constantly," LaDonna Hairston said. "I thought we would get a lot of flak, but the members were just so glad to be back."
Talking about race
The CrossFit controversy has opened an opportunity to have honest discussions about racism. While teaching a recent women's boot camp class, LaDonna Hairston said, "I explained as a minority some things that I've experienced. It was like their eyes had opened up. I think it's been a good opportunity for us to share some things you face as a Black-owned business."
She added that police brutality does not seem to be a problem locally, "but it does happen in other places."
"Locally, I feel like we have great officers. We see them, day in and day out, patrolling and making sure we're okay," LaDonna Hairston said.
Carter agreed that they have a positive relationship with local law enforcement. However, when traveling outside the area, he said officers have pointed guns at him many times while pulling him over for speeding or minor traffic infractions. He said honest conversations about race are a start to making things better.
"Until we start having these conversations with each other, it will always seem like racism doesn't exist to our counterparts," Carter said.
LaDonna Hairston said she has had some positive conversations about "solutions to bring about change" and "learning the differences and embracing the differences that we have.
"It doesn't matter what your religion is, your orientation is, we're coming in here working out together and encouraging each other to be the best we can be."
Kim Barto Meeks is a reporter for the Martinsville Bulletin. She can be reached at 276-638-8801.
Get local news delivered to your inbox!
Subscribe to our Daily Headlines newsletter.