Patrick County continues to be among the state's lowest vaccine rates, despite having been hit heavily by COVID-19 and increasingly vulnerable to the variants that are increasing the spread of the novel coronavirus.
Hundreds have been infected with COVID-19. Dozens have been hospitalized, and 45 have given their lives — including two more revealed just this past week.
But only about a third of Patrick County residents have received at least one dose of the vaccine, compared to more than half of Virginians.
Cases have begun to rise rapidly in communities with lower vaccination rates, a New York Time report shows and the Centers for Disease Control & Prevention reports. Data show that communities with Patrick County's rate of vaccination get 4.3 new cases per 100,000 daily, nearly double that in areas with the state's average of about half – 2.7 new cases.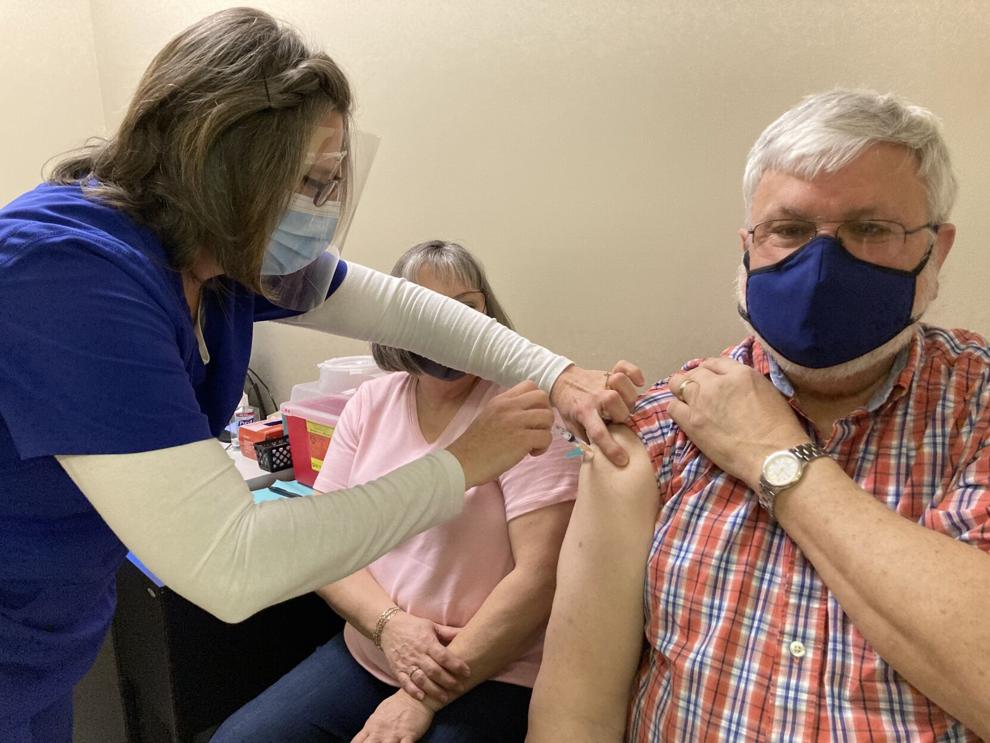 But Patrick County residents who have not take a shot of Pfizer or Moderna or Johnson & Johnson vaccines don't want t talk about why they haven't.
A couple of dozen residents said privately — not wanting to be quoted for the record — that they were leery of the vaccines. Across the board, they consistently said that they did not trust media to portray their reasons and feelings accurately.
Some did say that the vaccines are so new that they had not been fully approved by the Federal Drug Administration so may not have been proven safe and that their long-terms effects are not yet know.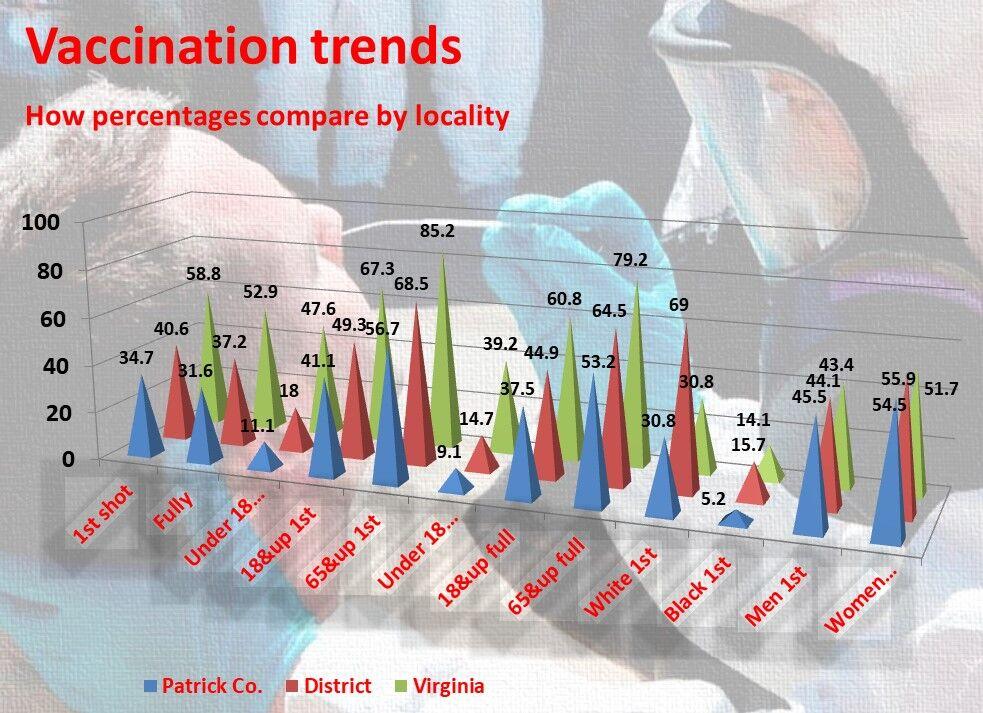 But elected leaders in the county did shed a little more light on why only 34.7% of residents have had one shot and 31.6% are fully vaccinated, trailing only neighboring Carroll and far-west Lee counties for the worst rate in Virginia and. Patrick County has by far the worst in the West Piedmont Health District, which also includes Henry and Franklin counties and the city of Martinsville.
Crystal Harris, chair of the Patrick County Board of Supervisors, said in an email that residents have been telling her "that they never took a flu shot, and there is a high mortality rate for the flu as well, they don't see the need in taking the Covid vaccine either. While others have said there is not enough information about the vaccine."
Supervisor Clyde DeLoach, who said he got his vaccine "as soon as possible," wrote by email that some residents "have real health concerns about the vaccine," but most "who refuse seem to do so because they do not accept that the vaccine is efficacious or that the virus is a real threat."
Supervisor Denise Stirewalt: "In conversations with some of the citizens, they just chose not to take it. It's a choice. I'm curious, what are the vaccination rates for the flu?"
Supervisor Jean Fulk said she hasn't really heard much talk about it. She speculated that perhaps people see it as optional like the flu vaccine, or that people still "have that stay-at-home attitude" and "are not getting out still, even to get a vaccine."
Supervisor Clayton Kendrick Jr. could not be reached for comment by either phone or email.
Patrick County attorney Wren Williams, the Republican candidate for the 9th House District, didn't respond to requests for comment, but his opponent, Democrat Bridgette Craighead of Rocky Mount, wrote by email that the low numbers may be because of lack of access and information.
"Online sign-ups require access to the internet and the computer skills to get on the list," she wrote. "Others may not think they can get vaccinated because they don't have health insurance. Then there is the misinformation, anti-vax rhetoric, and general fear that will keep some from taking the jab.
"This vaccine is so important for the health and safety of our communities and I encourage everyone to get vaccinated so we can put this pandemic in the rear view," she wrote.
Hesitancy
Patrick County was one of the last counties in Virginia to have a diagnosed case of COVID-19, recording that on April 22, 2020.
At the Stuart farmers market on a recent Friday, some shoppers and vendors declined to talk about the vaccine. However, Tom Bishop and John Morehead, who sell birdhouses and other tiny wildlife houses at the farmers market, cheerfully said they got the vaccine as soon as it was available to them, driving to Danville and to Dobson, N.C., respectively.
"I'm hearing a lot of the young people are not doing it," Bishop said, speculating that "maybe their parents aren't" allowing them to.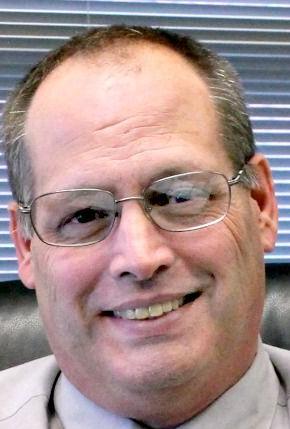 The Pfizer vaccine has been approved for anyone 12 and older, and Moderna and Johnson & Johnson are available to everyone 18 and older. Pfizer and Moderna require two shots three weeks apart for full vaccination, and Johnson & Johnson requires only one shot.
The vaccines can cause short-term reactions in some people, and there have been rare serious issues.
No residents registered to send their teenagers to a clinic the VDH planned to set up through Patrick County Schools, Patrick County Public Schools Superintendent Dean Gilbert said, and no new clinic has been scheduled.
A few weeks ago the school system sent out an interest survey to parents, but it did not result in enough interest to schedule a vaccine clinic with the health department, Gilbert said.
"As of last count, we had about 50% of staff members vaccinated," Gilbert wrote by email.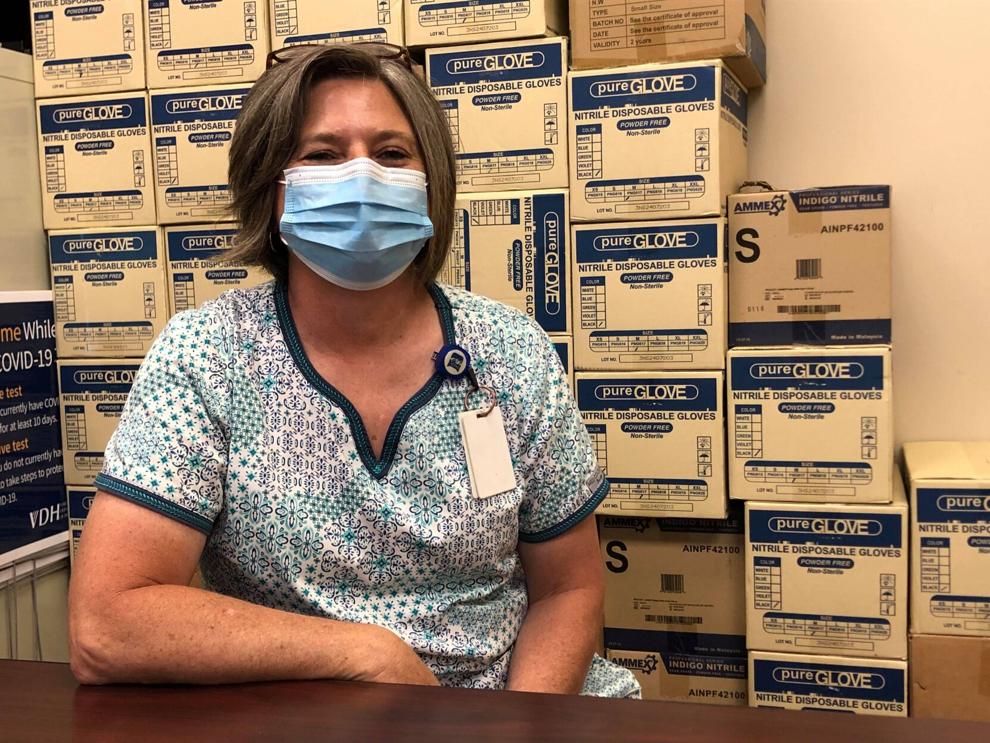 Pam Rorrer is a public health nurse at the health department in Stuart.
Vaccine rates "started off really well in January and February, but we've seen it drop off tremendously here," she said.
However, vaccines also are available at local doctors' offices and pharmacies, and she doesn't have figures on how many people were vaccinated through those means, Rorrer said.
The Virginia Department of Health daily updates its dashboard for vaccination totals and rates, and an analysis of those reports shows that vaccination rates in the West Piedmont Health District has seen a drop off from nearly 1,100 shots per day in March to just less than than 300 in June and only 87 for the first two weeks of July.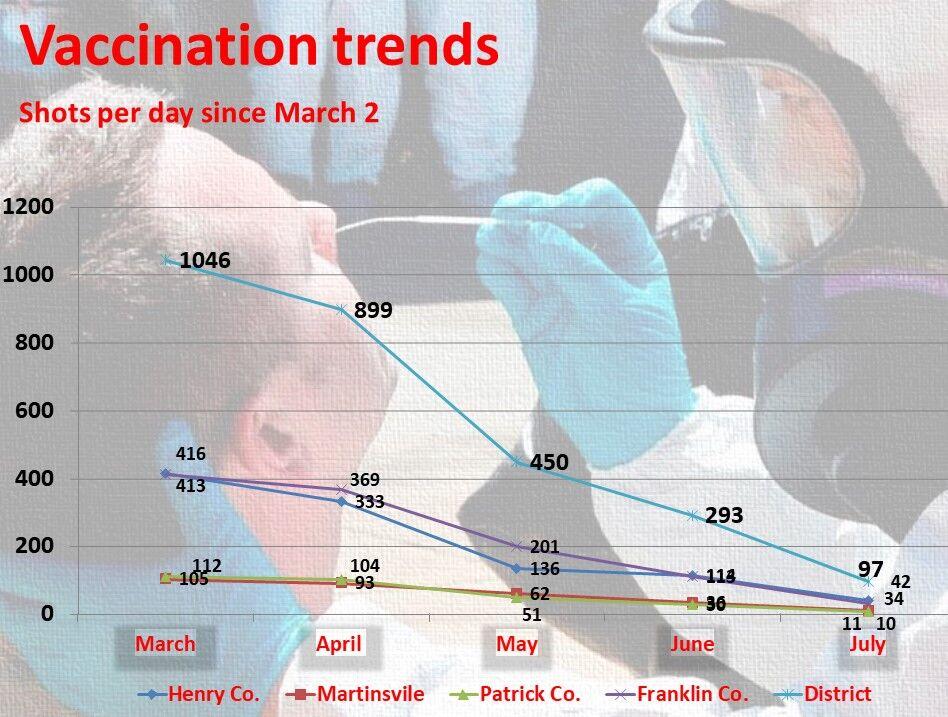 In Patrick County, only 164 shots have been distributed this month, about 10 a day, an alarming trend that has continued since the vaccine first became widely available in Patrick County. In March, though, only 112 shots per day were being administered, only slightly more than the 105 in Martinsville, which has about 50% fewer residents.
About 150 people, including educators, first responders and other essential personnel, attended each of the several vaccine clinics held in February in Patrick County. They were sponsored by the VDH, West Piedmont Health District spokesperson Nancy Bell said.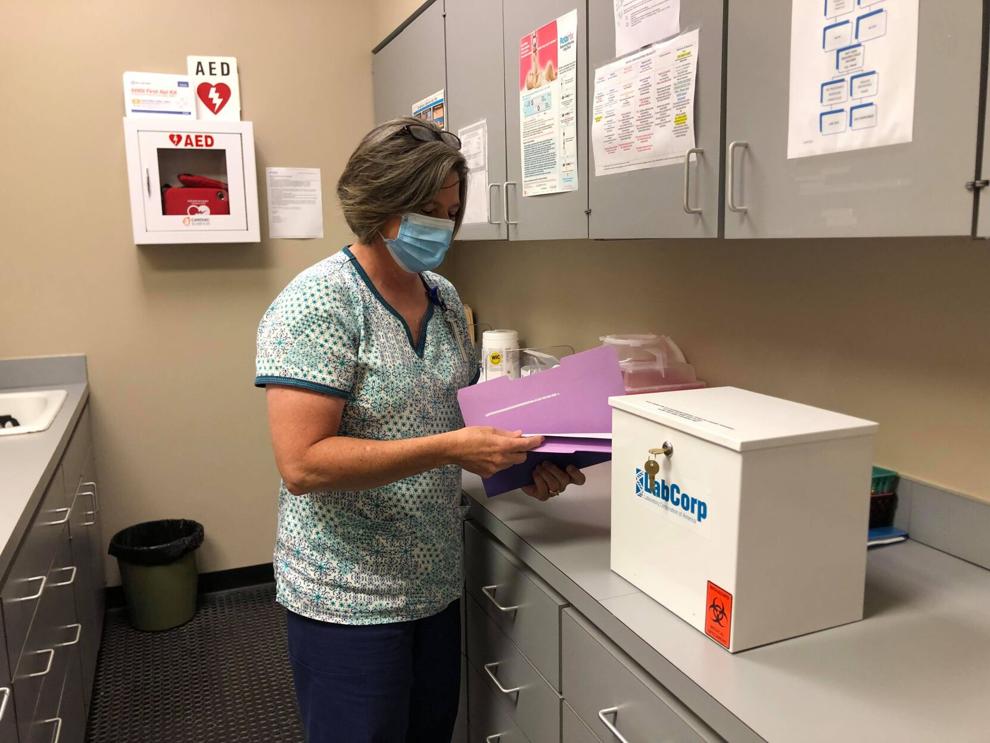 Vaccine clinics at the health department are open to the public every Monday, and adults of all ages and demographics have been coming to them, Rorrer said. "We don't have Pfizer, so we can't see anyone under 18. We do have local pharmacies that have Pfizer, so they may see the younger people."
Vaccines are available in Patrick County at pharmacies, Patrick County Family Practice, and urgent care, Bell said.
"VDH, VDEM (Va. Dept of Emergency Management), the National Guard, and public safety have hosted 'clinics' in the county, but fewer and fewer participants are attending. At this point, most of those interested in receiving the vaccine have. (BTW: Anyone who would like to schedule an appointment can visit vaccines.gov to find a time and place convenient to them by simply entering their zip code.)," Bell wrote by email.
"Vaccination rates have slowed down considerably with only a few vaccines being given daily and some days no vaccinations are given," Bell wrote. "The data seem to illustrate that those who want to be vaccinated have done so.
"We still consider vaccination as the most effective way to protect oneself and others from the COVID-19 virus and acknowledge that until more people are vaccinated, the COVID-19 infection rate may once again increase."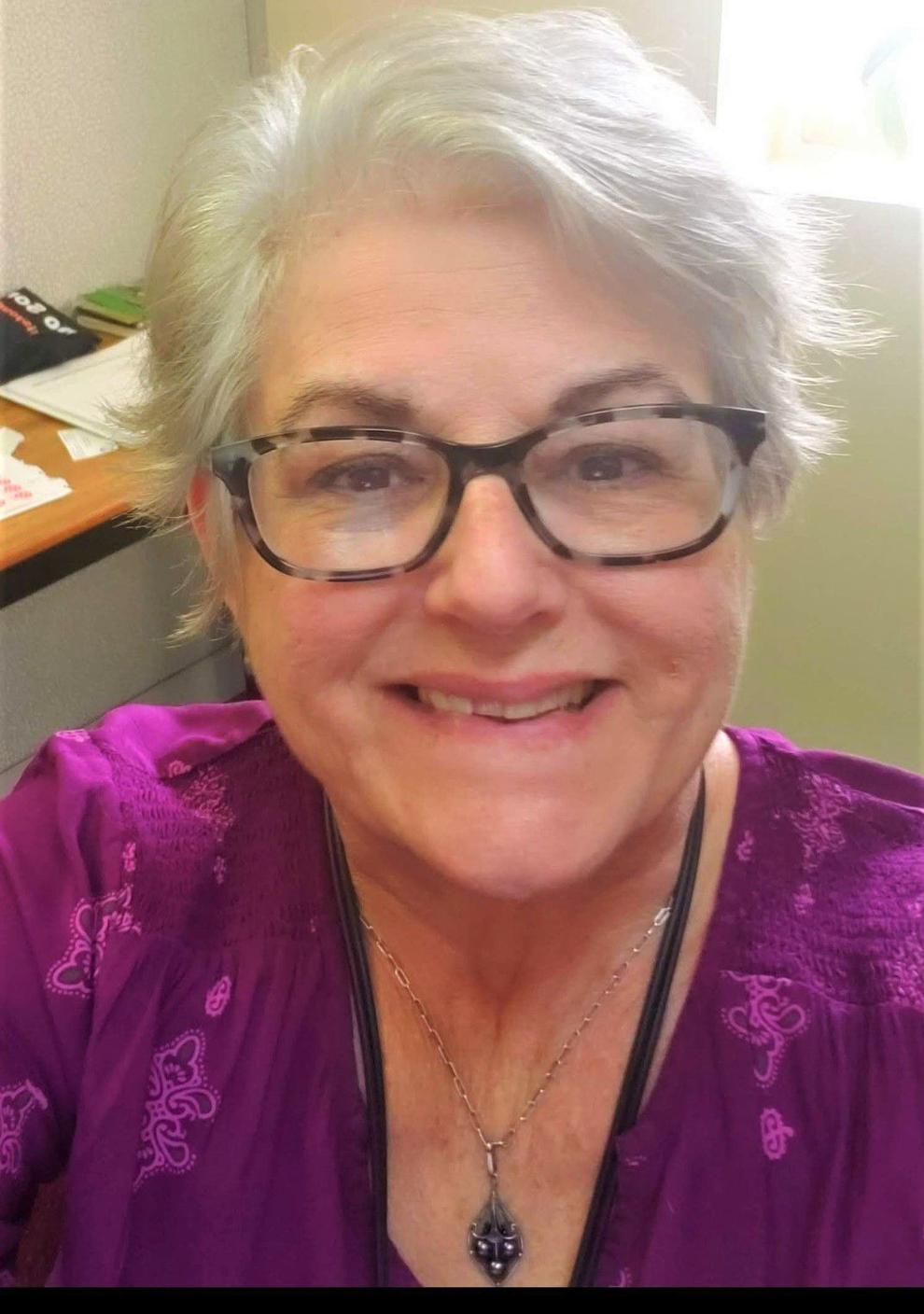 WPHD is working a program "to address vaccine hesitation," backed by "significant funding," Bell said. The funding also covers educational outreach.
"Working with partners, we hope to employ community health workers who will spend their time listening to people, identifying their concerns, removing barriers to vaccination, and ensuring that everyone who wants a vaccine is able to receive one," she wrote.
The health district's health equity team is targeting people who have not been vaccinated "with educational outreach activities using contract personnel and marketing materials developed for us by professionals — bilingual door hangers, for example.
"It is not our intention to force anyone to be vaccinated, rather to ensure that they have the correct information about the vaccine and why it is important — and to make it available to them if they wish to proceed," Bell wrote.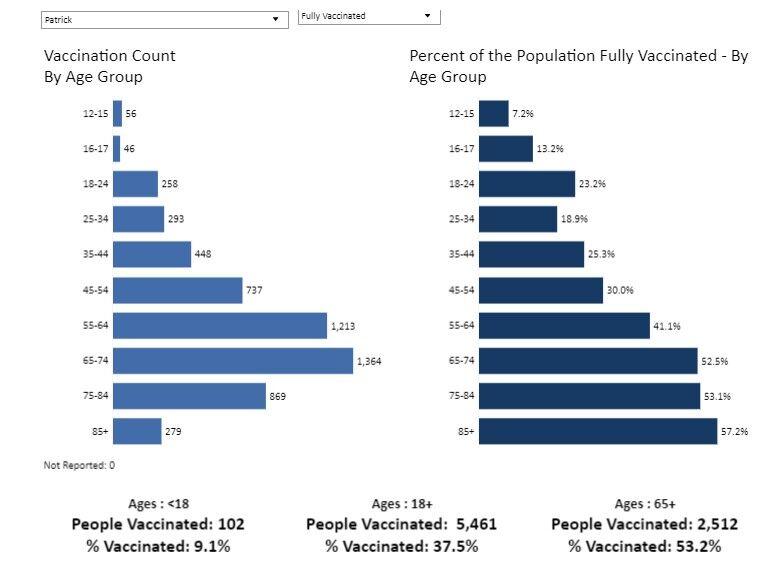 Demographically, the highest rate of vaccination in Patrick County is among people in their 60s, followed by those in their 70s and 50s. Figures are a quarter of those rates for people in their 20s and 30s.
Almost a third of white and Black residents, 29% of Latino and Native American residents and nearly half of people of Asian or Pacific Islander origin are reported as having been vaccinated.
Proportionately, Henry County and Martinsville statistics follow the trends, with higher figures but matched proportionately across categories.
In Henry County, by comparison, rates are 39% for Black people, 37 for white, 74% for Native American, 27% for Latino and 78% for Asian or Pacific Islander. Women are vaccinated at 45% and men at 37%.
Approximately 37.5% of females and 31.5% of males in Patrick County have received at least one dose. Statewide, it's 61% and 69.4%, respectively.
When asked why Patrick County has a lower vaccination rate than the state average, WPHD Director Dr. Kerry Gately said, "Rather than guessing at what is going on, we need actionable information — which hopefully we'll get as we move forward with the grant funding."
Delta variant
Four variants of the COVID-19 virus have been causing concern: alpha, beta, gamma and delta.
The delta variant is believed to spread more easily and quickly than the other variants, according to the VDH website. It is thought to be 40% to 60% more transmissible than Alpha and now is the most common variant.
As of Friday, VDH reported that there have been 56 cases of the variants in the health district, six more than a week ago, with 17 hospitalizations and now two deaths, the second reported just this week.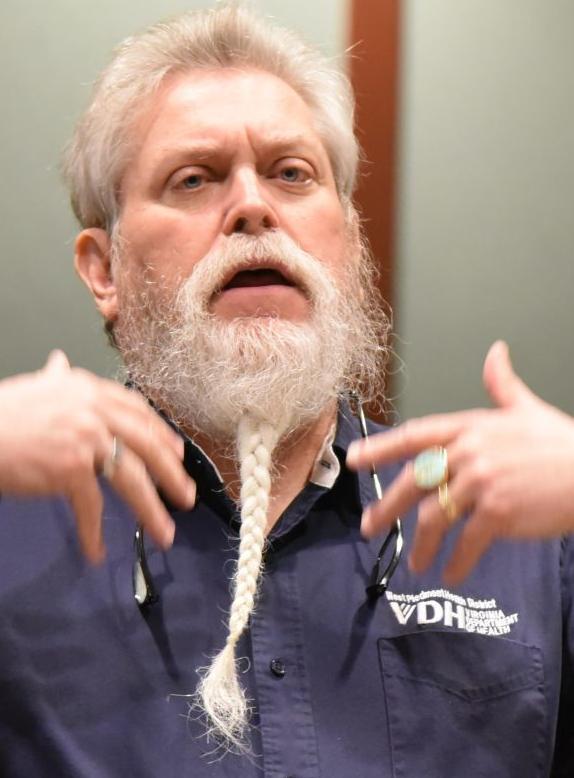 VDH said earlier this past week that delta had caused no causes in the WPHD, but it has caused 158 cases, 13 hospitalizations and three deaths across the state. All variants have infected 3,381, with 200 hospitalizations and 48 deaths.
Delta is even more frightening than the basic coronavirus, as early evidence suggests it may cause more serious illness or death, but this is being monitored, the website states. Immune protection by vaccination or natural infection also may be reduced, but this, also, is being monitored.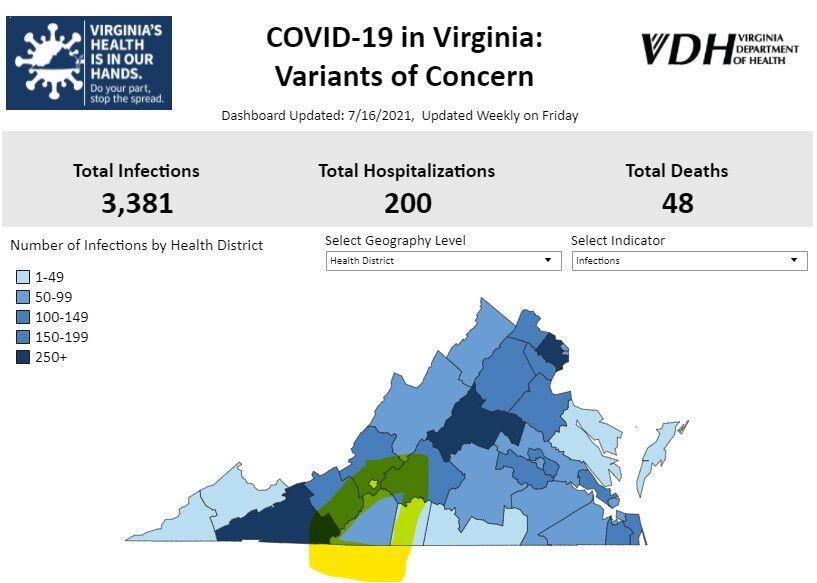 Gateley said that as long as people gather in groups and do not observe mask-wearing or vaccine recommendations, outbreaks of COVID-19 remain possible.
"We are concerned about a potential spread of the delta variant and all strains of COVID-19," Gately said. "Wherever there are susceptible populations, spread is possible. This includes the unvaccinated and those who are not yet eligible for the vaccine, like young children."