Even as the number of new cases of COVID-19 in the West Piedmont Health District continues to plummet, the death count still rises.
There were 14 new cases in the district reported Sunday by the Virginia Department of Health – the third-lowest daily total since Oct. 1 – as the number of people infected continues to drop precipitously from January's post-holiday surge.
But then there are the deaths. Four more were reported Sunday by VDH – there were an unusually high 134 statewide – and that's now six in the past two days in the health district and 207 since the pandemic began, even as the nation is about to surpass a half-million lost to the disease caused by the novel coronavirus.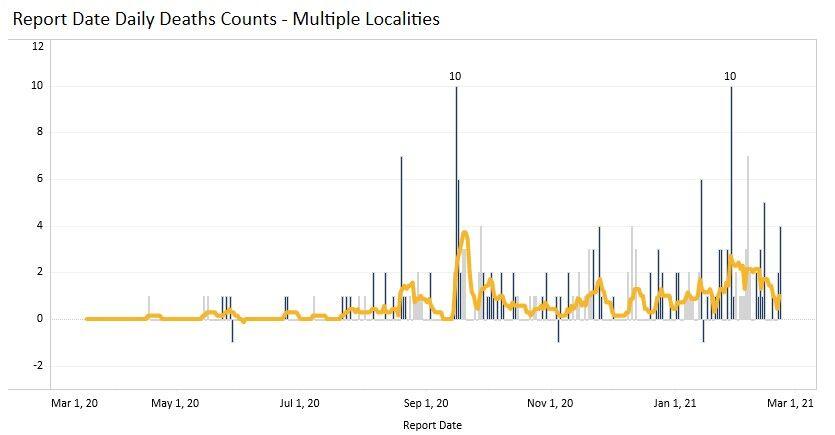 January was the deadliest month in the district, with 42 residents having been reported dead from COVID-19, but February now has recorded 32 in its first three weeks. Deaths always lag case count, and January was a record month for that, too (2,723).
Here's where we introduce the boiler-plate caveats: We don't know exactly when these deaths might have occurred — perhaps weeks ago — because VDH verifies cause before including them. We know little about the victims, but all data are tracked by a person's residence.
Two of these deaths were residents of Patrick County, making six deaths in that county in the past three weeks after having had none for more than two months. There have been 34 overall.
The other two were residents of Martinsville (No. 45) and Franklin County (No. 43).
Beyond that, here's what we can determine about them from basic data tracked by VDH:
Three were at least 80 years old, as most victims tend to be (107), but one was between 50 and 59, the 14th person in that age bracket. All but 50 of the victims have been at least 70.
There were two men and two women, and two were white, as most victims in the district have been (142), one was Black and one was Latino (the fourth).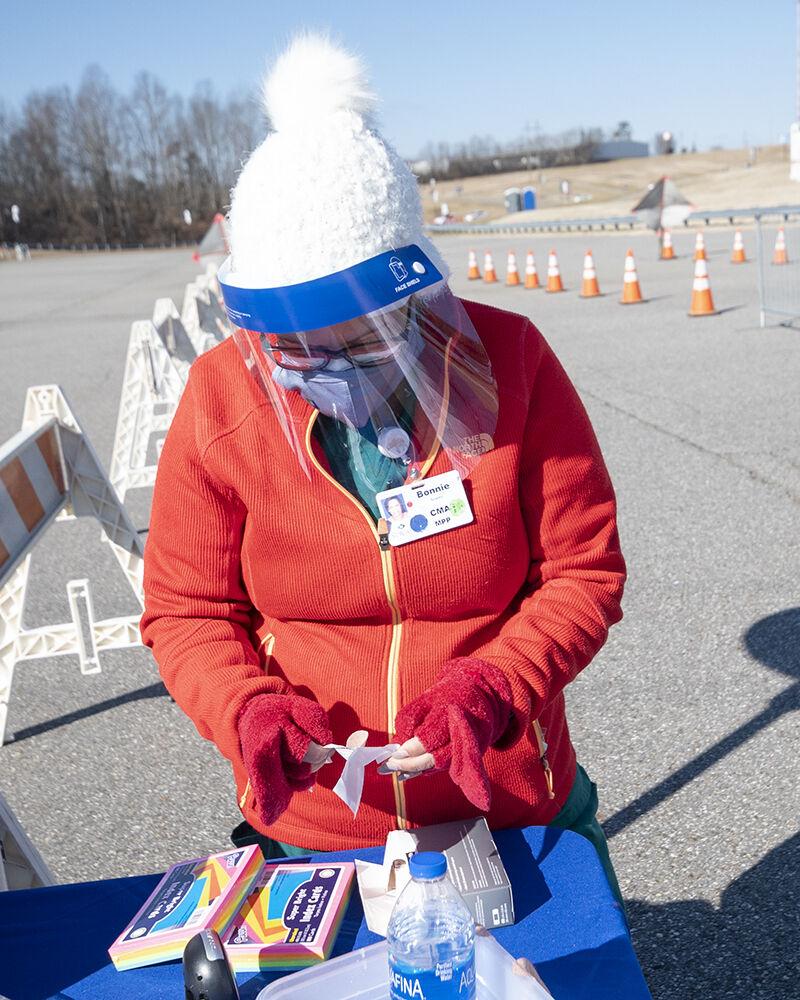 We probably won't know until Monday if any of these are associated with the three ongoing outbreaks at long-term-care facilities that are being tracked by VDH.
The outbreaks at the Mulberry Creek Nursing & Rehab in Martinsville, Martinsville Health & Rehab and (most recently added) the King's Grant Retirement Facility in Henry County account for 225 cases (as of Friday's update to the separate tracking database) and about 15 deaths.
There are 10 deaths at Mulberry Creek, and the totals for the other two facilities are not listed because they have not reached the threshold of five that VDH maintains in an effort to protect privacy.
Case averages fall
But the decline in cases is really positive news and follows the state and national trends as more people are getting vaccinated (about 13% of the population in the district, state and nation as of Sunday).
The 14 new cases pushed the 7-day rolling average in the district down to 25, the lowest that has been since Sept. 25.
Franklin County had six of the new cases, and Henry County and Martinsville had four each. Patrick County, despite two deaths, had none.
Since the pandemic began, that's now 10,424 cases, 612 hospitalizations and 207 deaths in the district. Here's how those break down:
Henry County: 4,115 cases, 273 hospitalizations, 85 deaths.
Martinsville: 1,484, 125, 45.
Patrick County: 1,171, 89, 34.
Franklin County: 3,654, 125, 43.
By way of comparison, Danville has reported 4,218 cases (97 deaths), and Pittsylvania County has had 4,669 (56 deaths).
VDH statewide on Sunday reported 564,115, with 7,331 deaths — up by 134 since Saturday – and 23,481 hospitalizations.
Vaccines increasing
On the vaccination front, Saturday's clinic at the Martinsville Speedway, in which Sovah Health spokesperson Kelly Fitzgerald reports more than 550 were vaccinated through appointed, was the largest staged in the district.
But it follows several recent clinics reported in a newsletter from Nancy Bell, spokesperson for the district.
Bell wrote that second doses were given in two clinics in Franklin County, that there was a 65+ clinic at Stuart's Rotary Field and that inmates at the Henry County and Martinsville jails had been vaccinated.
Before Saturday's event, 18,105 (about 13.2% of the population) had received at least one dose of either the Pfizer or Moderna vaccines, and 4,151 (3%) were fully vaccinated.
COVID-19 rapid and antigen testing is available in many locations in the West Piedmont Healt…
REGISTRATION LINKS: Go to www.vaccinate.virginia.gov and follow the process to get your appo…
Steven Doyle is editor of the Martinsville Bulletin and the Danville Register & Bee. He can be reached at 276-638-8801, ext. 245.