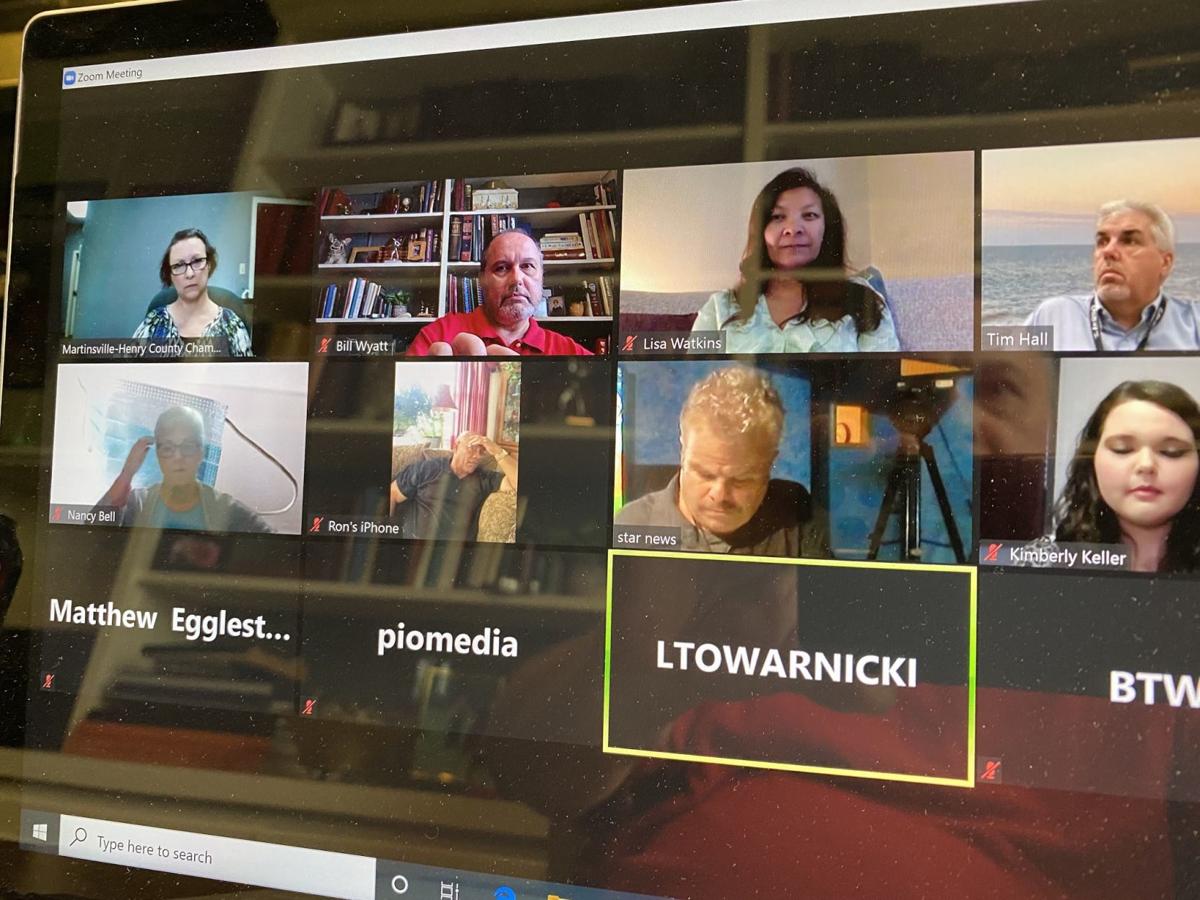 Community leaders unmasked their concerns Thursday about Gov. Ralph Northam's order for everyone in public to wear face coverings starting Friday.
"The municipal building is a public place, and anyone that comes in will be required to wear a mask," Martinsville City Manager Leon Towarnicki. "Our next public meeting is a budget work session, so we're working through that."
Henry County Administrator Tim Hall is asking for kindness.
"We will adhere to the mask rule," Hall said. "There will not be anyone at the door to see if you have a mask - we will not be confrontational - it's important to be kind."
They were speaking during a weekly COVID-19 briefing via the Zoom platform. And nearly everyone participating expressed some trepidation, about the directive, which includes businesses as well as public facilities.
West Piedmont Health District spokesperson Nancy Bell suggested that businesses have disposable masks available for customers who don't have them.
"We need to wear our masks and keep social distancing," Bell said. "Commonsense measures is all we're recommending."
Those present also talked about federal money related to COVID-19 that is expected to arrive in early June for local governments. Towarnicki said the city will receive $1.1 million, and Hall said Henry County will get more than $4 million.
"It has to be used for COVID-related issues," Hall said. "We will have a committee to come up with ideas, maybe enhance broadband in the county.
"You have to have it spent by Dec. 30. It's not easy to spend $4 million in six months."
Towarnicki said officials are being deliberate about how to use the money correctly.
"We working through that process to see how we can use that funding," he said. "Maybe some of that we can allocate to small businesses as they reopen."
Testing site to relocate
The COVID-19 testing site at the Martinsville Speedway will have to move to make room for NASCAR when it comes to town for the Blue-Emu Maximum Pain Relief 500 on June 10.
"We will be moving to a building right across the street," Bell sad. "Beginning Friday we will be at the Ridgeway Family Medicine parking lot."
Bell asked that everyone be respectful of the other businesses in the shopping plaza, because there is limited parking.
"They [members of the public] should not show up at the site without an appointment," Bell said.
More than 400 tests have been done at the drive-thru, Bell said, and 30% of those tested have been confirmed positive. Bell said 75 people are scheduled to be tested on Friday.
Mustangs baseball
Towarnicki said it will be a different ballgame, but baseball is coming to Martinsville this summer.
"There will be changes at Hooker Field," he said. "We will have limited seating, capacity restrictions and rules about handling concessions and restrooms."
Players are expected to arrive next month, and games will begin July 1 in a shortened season that will end in August.
"The Coastal Plain League is spread out over four states - four different governors - four different schemes of how to do things," Towarnicki said. "There is a lot of work going on behind the scenes."
Bill Wyatt is a reporter for the Martinsville Bulletin. He can be reached at 276-638-8801, Ext. 236. Follow him @billdwyatt
Get local news delivered to your inbox!
Subscribe to our Daily Headlines newsletter.