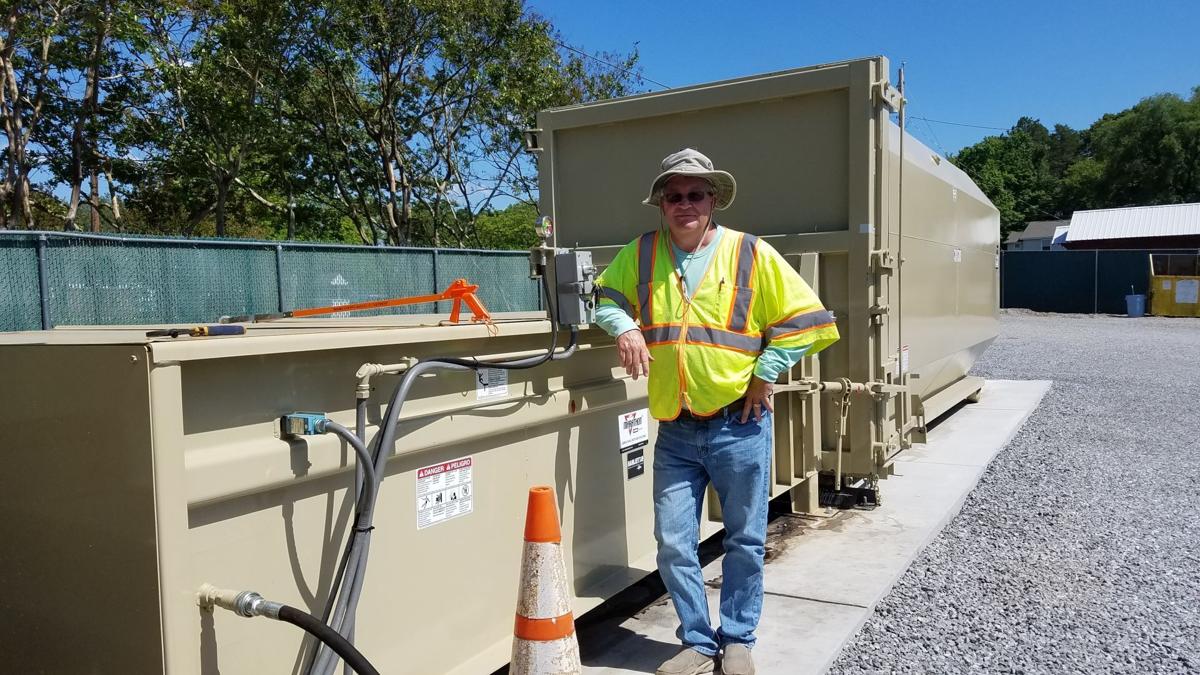 Henry County residents seem to be doing more spring cleaning while stuck at home during the pandemic: Officials say they've seen an influx of household trash at the county's waste collection sites in March and April.
"It was almost like it was Christmas every day," and not in a good way, Henry County Refuse Department Director Mike Amos said.
The winter holidays are typically a peak time for garbage disposal. Now, there has been a similar spike in volume as schools have closed, more people have been laid off or are working from home.
"In the past couple months, we have seen a big increase in our trash intake, which also leads to having higher bills," Amos said.
Henry County operates seven sites, known as convenience centers, where residents can drop off bagged garbage and certain recyclables. These are not landfills, Amos said. The county is a client of First Piedmont Corp. and must pay to dispose of garbage in the company's landfill in Roxboro, N.C. Construction debris goes to First Piedmont's site in Pittsylvania County.
Amos said his March bill for trash disposal was $8,000 higher than normal, and April was almost $10,000 more.
"With that trend, I'll run out of money in my budget if that were to continue," he said. "Hopefully, when people go back to work, it'll taper down."
Henry County budgets about $1.5 million a year for the refuse department and normally spends about $80,000 to $90,000 disposing of trash, Amos said.
"Trash is expensive to get rid of," he said.
New compactors installed at two county sites are helping with the problem, officials said. Before the coronavirus outbreak decimated local budgets, the county was on track to replace the "green box" dumpsters at five of its convenience centers with compactors, which officials say are more cost-efficient.
"It's the best way to manage waste flow, and it allows us to save on costs regarding dumping of boxes, trips to the transfer station, etc.," Henry County Administrator Tim Hall said.
The first two compactors were installed at the Axton Road site about five months ago, and two more debuted at the Ridgeway center at the beginning of May. The new equipment cost about $80,000 for each site, Amos said, but compactors can handle more trash and avoid the use of expensive, front-loading garbage trucks needed to transport it.
"It makes a big difference," he said. "A front-loader truck new today would cost about $300,000 and gets 3.6 miles [of gas] to the gallon. The truck that picks up the compactor unit costs $158,000 and gets 8 to 9 miles to the gallon. It don't take long before it pays for itself."
Compactors also mean fewer trips to First Piedmont's transfer station are needed, he said.
"A lot of times it took me two trips a day with the front loaders, whereas with the compactor
Axton, it's once every three days. It makes a big difference," Amos said.
Another advantage is that the compactors are "a dry system," he said. This ensures the county is not charged for the extra weight of rainwater getting into the bins.
"Let's say it's been raining all night. They come pick up the green boxes, they're soaking wet, so I'm paying for water," he said.
Amos, who recently marked 39 years with Henry County, said it is his goal to outfit three more sites with compactors before he retires. For the upcoming fiscal year, which begins July 1, the county had originally budgeted $185,000 to install two compactors at the Red Oak Road convenience center and one each at Stoney Mountain Road in Axton and Country Road in Bassett.
However, because of the financial fallout from the pandemic, officials have recommended freezing this and 16 other capital improvement projects until at least January 2021.
"That will give staff ample time to see where finances and expenses are after six months," Hall wrote in budget documents submitted to the county's Board of Supervisors.
Meanwhile, customers are adjusting to using the compactors at the Ridgeway site. Feedback has been positive so far, officials said.
"It takes about a month to get everybody that uses that site trained. It's getting better and better already. Once everybody learns, it's a lot less work on my site monitors as well," he said.
Kim Barto Meeks is a reporter for the Martinsville Bulletin. She can be reached at 276-638-8801.
Concerned about COVID-19?
Sign up now to get the most recent coronavirus headlines and other important local and national news sent to your email inbox daily.