Marcus Stone is the new executive director of the Martinsville Henry County Coalition for Health and Wellness, succeeding Barbara Jackman, the coalition's founder, who is retiring.
The coalition was founded in 2005 to promote health, reduce health risk factors and increase access to medical services, primarily for the uninsured and underserved in the MHC area. Initial funding came from The Harvest Foundation.
The coalition operates two Federally Qualified Health Centers: Bassett Family Practice, opened in 2008, and Ridgeway Family Health, opened in 2017. It also has held community outreach events such as free exercise classes and classes on topics such as nutrition and diabetes care, until public events were cancelled at the start of the pandemic.
"We provide health care to the community on a large spectrum, from people who have no resources or income to people who have insurance," Stone said. "We provide care to all of them and make it available to them to keep our community healthy."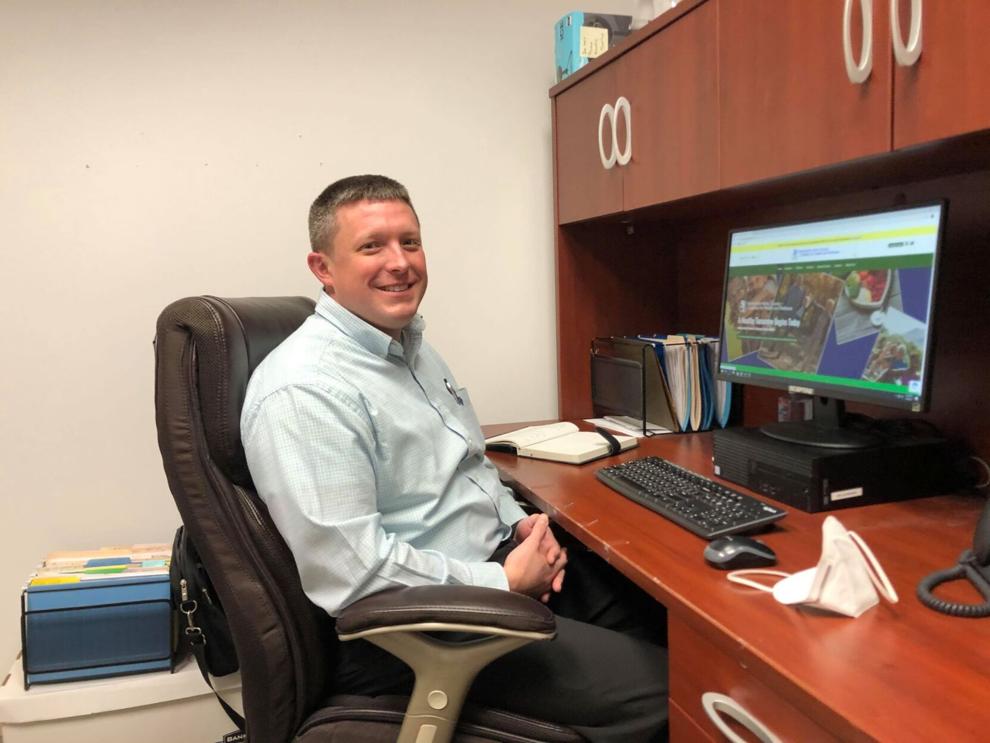 The clinics can see patients whether or not they have insurance, and fees are based on household income by sliding scale.
After 13 years working at the hospital and as a volunteer EMT with Bassett Rescue Squad and Martinsville Fire & EMS, "I was very interested in and had a lot of passion about serving the community and working to improve the health of the community in any way I could," Stone said.
"The coalition offers a different perspective" from that of the hospital setting "because it truly is working to help the underserved of the community," he said. The coalition's ability to serve people who otherwise would not have access to health care "inspired me and really hit home with me. It's the heart of what I want to do – the heart of the community."
Stone had worked for Memorial Hospital, and then Sovah Health, for 13 years, as director of Emergency Services and Cardiovascular Services, director of Nursing Strategic Operations and Education and, most recently, Market Director of Education.
He described his most recent position there as overseeing "a lot of nursing function and development of processes and education to improve quality" of health care.
He on the boards of directors of the Bassett Rescue Squad, Henry County Public Service Authority and United Way of MHC.
Although he started officially in his new post on Monday, he worked alongside Jackman for a couple of weeks before that to get a good orientation, he said.
Pandemic adaptations
The coalition employs 44 full-time staff members in its clinics and four in the office, which is at the West Piedmont Business Development Center.
As director, Stone said, he will focus on continuing to "offer access and building access to care for vulnerable populations in the community, ensuring they have access and resources needed to maintain their health.
"We don't want to just focus on sick care – we want to focus on well care and maintenance," he said.
Also important, he said, is meeting the specific needs of this community, which include a high percentage of people with diabetes and hypertension.
Community outreach programs the coalition provided before the pandemic canceled classroom-style gatherings now are handled on more of an individual basis through phone calls, Stone said. The coordinators now are based out of the clinics and call people individually to share information on topics such as healthy living, detection and screening of cancer, help with diabetes care.
Coalition staff also help people navigate through the various aspects of the health care system, he said.
"After the pandemic, our goal is going to be to do a lot more in person," he said. "We have no idea what it's going to look like yet. We're really going to work to get back in the community."
Another change brought about by the pandemic has been in telehealth becoming common. Patients had more than 600 telehealth visits to the coalition's clinics in 2020, Stone said.
The year of the pandemic has brought about "a lot of virtual health care and interesting ways we've learned to deliver things. Who would have thought, two years ago, that you would drive up to a test site – and be vaccinated in your car, and register on your phone?"
The coalition "is just as vibrant and engaged in health care as we ever have been," on top of those changes, he said.
"The future for health care is particularly interesting," Stone said. "Health care has change in a way that doesn't always mean there's going to be somebody at your bedside in person."
Vaccines
The coalition has been administering the COVID-19 vaccines for the past few months at the Ridgeway clinic, at the rate of 100 a week.
"While it's limited, it's a continuous process, steady and constant," he said. Most of the people being vaccinated have been 65 years old and older.
The coalition's allotment of vaccines just has been increased, and the coalition may hire more staff to help with the vaccination process, Stone said.
"Vaccines are the only way we can overcome this pandemic," he said. "It's not necessarily about each individual's protection or not about them personally — it's about the good of the whole, and we have to be focused on being able to protect the members of society that are the most vulnerable: friends, neighbors, colleagues, children."

Stone, a 2004 graduate of Bassett High School, earned a bachelor's degree in biology from Bridgewater College in 2007 and an associate degree in nursing from Patrick Henry Community College in 2009. He earned an MBA from Liberty University in 2017.
He and his wife, Brittany, have a 5-year-old son, Lucas, and a 3-year-old daughter, Lily.
Coalition board chair James Hyler called Stone "a very talented young man.
"He knows the health care business. He happens to be local — meaning that he knows the health care needs of the people in our area — and he understands the challenges they face in getting good health care. He knows what the health care issues are here."
Stone also is on top of technology and will be able to keep the coalition up to date with the latest developments, Hyler said.
He "is a very talented leader. He's very smart. He learns quickly."