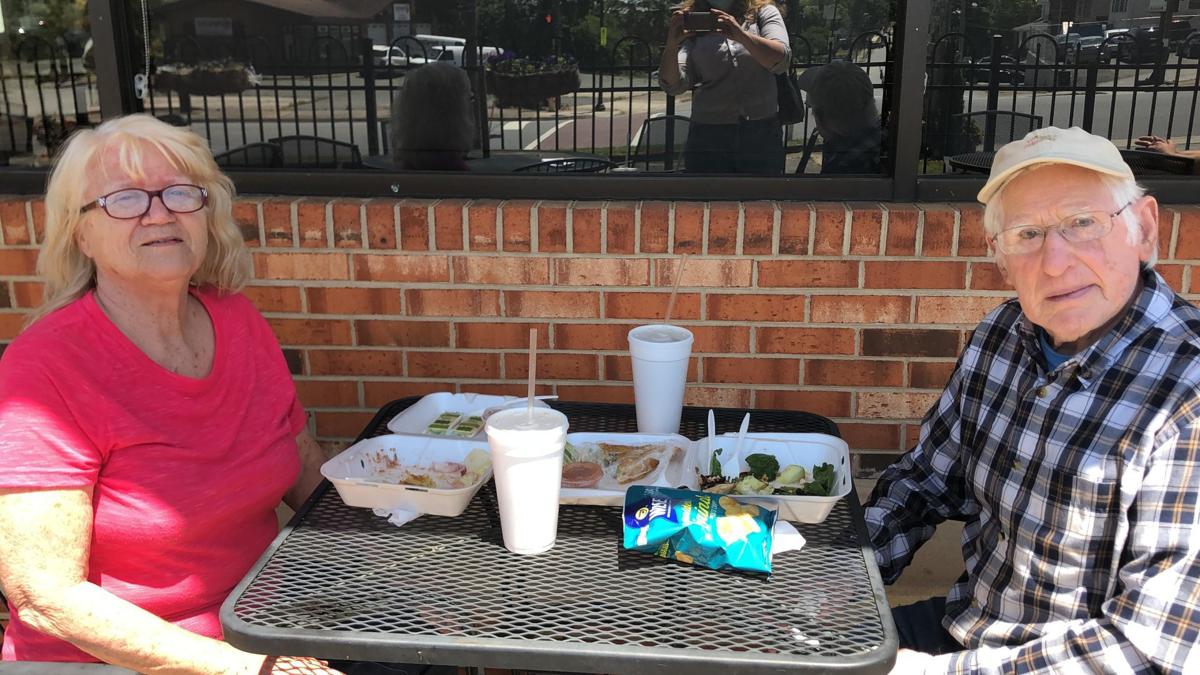 Martinsville has been slow to jump on board with the governor's loosening of lockdown restrictions. People aren't going out in droves to shop or eat – but they are getting their hair done.
Hair stylists say people have been going crazy over the limited appointments that are available, and restaurateurs are saying they hope people will start taking advantage of the relatively new ability to go back out to eat.
On May 9, Virginia Gov. Ralph Northam signed Executive Order 61, which allowed Phase One of the lifting of public health restrictions throughout the commonwealth, except for hard-hit Northern Virginia, that were imposed to stem the deadly spread of the novel coronavirus.
Phase One allows retail establishments to open at 50% capacity -- based on the facility's occupational license -- restaurants to have outdoor dining at 50% capacity, personal grooming with one patron per service provider, fitness centers to have outdoor exercise services and campgrounds to take reservations for short-term stays. Churches can have services inside at 50% capacity.
In all cases, recommendations continue for social distancing, wearing face coverings and working from home if possible.
Kim Williams, the general manager and a hairdresser at Reflections, wouldn't let anyone in the door Friday unless it was his or her time for an appointment, but she came outdoors – wearing a mask – to talk about reopening day.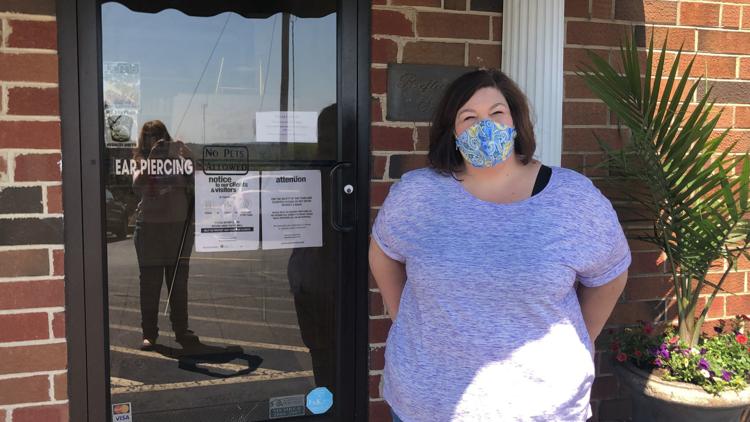 "We're doing good," she said.
Clients wait in their cars for their appointments. "We're only taking one client at a time, and we're leaving time in between, so we can sanitize," she said.
People "have been calling for weeks" to get appointments, she said laughing. "The phones have been nonstop since 8 o'clock this morning, and we already had 15 messages before 8 a.m."
Next door, Brandon Eggleston arrived at Gym 24 for an appointment to have a workout. "The gym opened back up today, and I'm glad to be back," he said.
At Brown's Anointed Touch Barber & Beauty Salon, owner Stacey Brown said, "We were kind of prepared before this even happened," by already having dividers around stations and working by appointment only.
"For the most part everything's been running smooth … the phone has been blowing up for two or three weeks now," with "people asking when" restrictions would be lifted, Brown said.
A drive around town showed several other salons and beauty shops still closed on Friday, with no signs of cars outside nor people inside.
At restaurants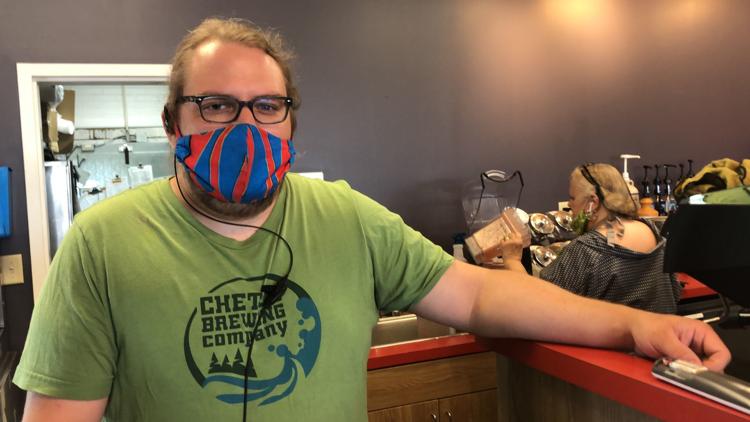 Samantha Martin and her husband, George Hobbs, haven't gotten around yet to moving the picnic tables to outside the front of MeeMaw's in Figsboro, but they should do it soon, she said – that group of guys from the motorsports garage would appreciate a place to sit down.
That group of guys, ranging between three to 10 a day, have been loyal and supportive customers throughout the lockdown, she said. They order every day and eat in their trucks. Soon, they'll be able to sit at the picnic tables.
Although restaurant owners in the city were twiddling their thumbs waiting on people to take the outside tables, many said that the take-out business in recent weeks has been good and has brought numbers of new customers to their establishments.
"When it all started, there was a lot of reduction in customers, but it's gradually opened up more and more," said Danny Heiss of Daily Grind.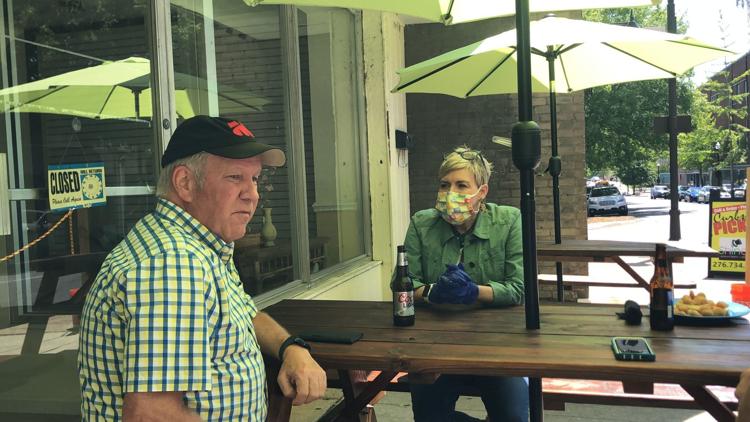 "In an odd way the pandemic has helped us as in people are becoming more knowledgeable. We've had a whole slew of new customers we've never had before, and I think they're going to stay," he said.
"We believe it's opened up Wild Magnolia and Shindig to a whole new audience we've never had before, primarily through delivery and curbside pickup," said Shindig owner Tammy Pearson, who is married to Wild Magnolia owner Will Pearson.
"We've went out as far as Bassett, all the way to Philpott Dam. We went down to Ridgeway, almost to Eden. We've had people who come for curbside pickup say they haven't been to uptown Martinsville in years, and now they're coming back, and hopefully they're going to continue to revisit us when this is over," she said.
Shindig just set up a roped-off area with picnic tables so customers could eat outside. Tammy Pearson said she pored carefully through the directives to be sure she set it up right.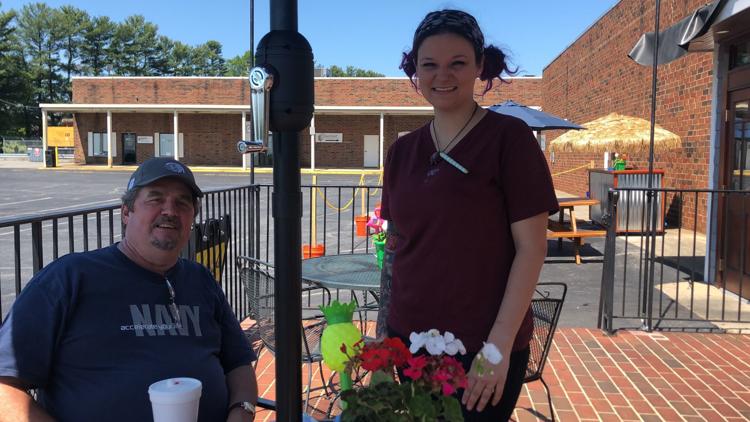 Ron Gower came straight to have a burger and fries on the patio at Wild Magnolia's – right before his long-anticipated appointment for a haircut by Shelia Vipperman (where City Council member Danny Turner, who was eating at Shindig, had been for a haircut already).
"I think it's great, especially for the small businesses," Gower said.
He's careful with safety measures, he said, such as wearing a mask, washing his hands often and always carrying hand sanitizer with him.
At Wild Magnolia, Will Pearson added an additional three large picnic tables to the area left of the restaurant's entrance, plus a tiki bar for serving drinks. That's in addition to the metal tables and chair that always had been on the patio to the right of the entrance.
Jerry and Marcelene Baker of King's Grant said they've been enjoying having takeout from Daily Grind. Friday they had lunch on the patio.
Regarding the reopening, "I think it's great. We didn't even know about" until Heiss told them about it when they came to order, Marcelene Baker said.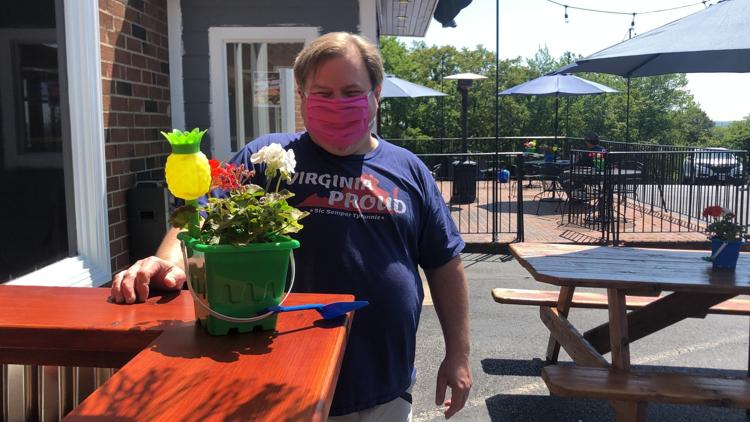 Both the Pearsons said Turner has been a tremendous support to local businesses throughout the lockdown.
She showed a bag of cloth masks made at Mollie's Originals that Turner had given them. All their employees have their own masks already, she said, but these offered a change.
He was instrumental in getting her small business loan moving through as well, she said, and he has been a good customer during the lockdown.
Shopping
Women were wearing masks as they strolled far apart from each other through the clothing racks at Ariel's -- yet they managed to keep up a friendly chatter.
Other clothing stores in the area were empty, and some did not appear to be open.
Ben Rippe of Rippe's Apparel, Furs, Shoes said the reopening "was very nice. It was just lovely to have customers. They come in two at a time every 30 minutes or every 15 minutes, a nice variety of people."
The staff began marking everything in the store down in price about two weeks ago, he said, "because we wanted to be sure" that customers came in and bought.
He had expected a slow start, he said, but ended up with more customers than he had expected.
Rippe's had been open by appointment only for the previous eight days, he said. It will continue to open by appointment only before and after its 11 a.m.-to-5 p.m. general hours for people who would feel more comfortable shopping alone.
The store requires customers to wear masks and announces that it will sell a pretty one or give a plain one for free. Staff sanitize and clean often -- hand sanitizer is readily available throughout the store -- and staff inconspicuously keep track of clothes and shoes that have been tried on and steam-clean them afterward, he said.
Holly Kozelsky is a writer for the Martinsville Bulletin; contact her at 276-638-8801 ext. 243.
Concerned about COVID-19?
Sign up now to get the most recent coronavirus headlines and other important local and national news sent to your email inbox daily.