Landmark country stores live on mostly in the memories of residents – and in Ronnie Clark's outbuilding.
Clark, who lives in Ridgeway, has been constructing miniature recreations of community stores for about two years, he said.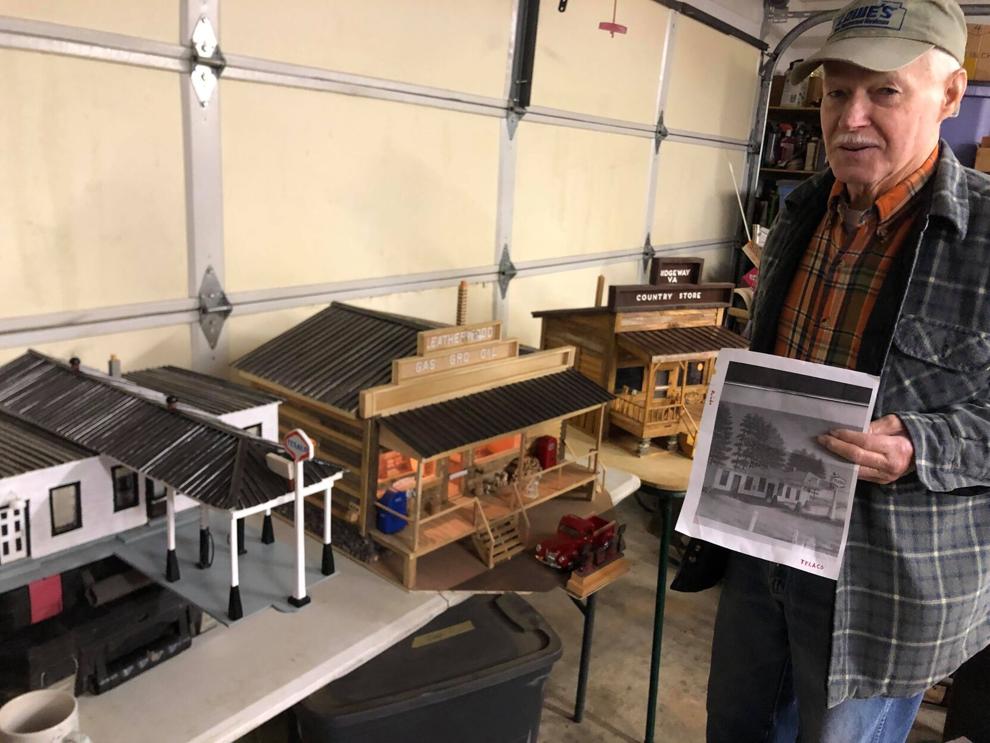 His first model was Ridgeway Country Store, which he never had seen, he said, but the late Ed Mountz of Ridgeway and Mountz's wife described it well to him.
The second is Leatherwood Grocery, the only store portrayed in his collection that's still open, on Chatham Road in Leatherwood. Whenever Clark, a retired carpenter, had worked out that way, he would stop at the store to shop.
The third is Old Liberty Grocery, which was on the corner of Spruce Street Extension and Old Liberty Road. That store has been demolished, but Clark worked off a picture of it his daughter had printed off for him.
After he had retired, Clark had been buying and reselling things in the flea market in Hillsville until it closed because of the pandemic.
He and his wife, Evelyn Clark, have three daughters, Melissa Bolt of Ridgeway, Linda Eason of Martinsville and Lori Perkins of near Chatham. The couple have four grandsons.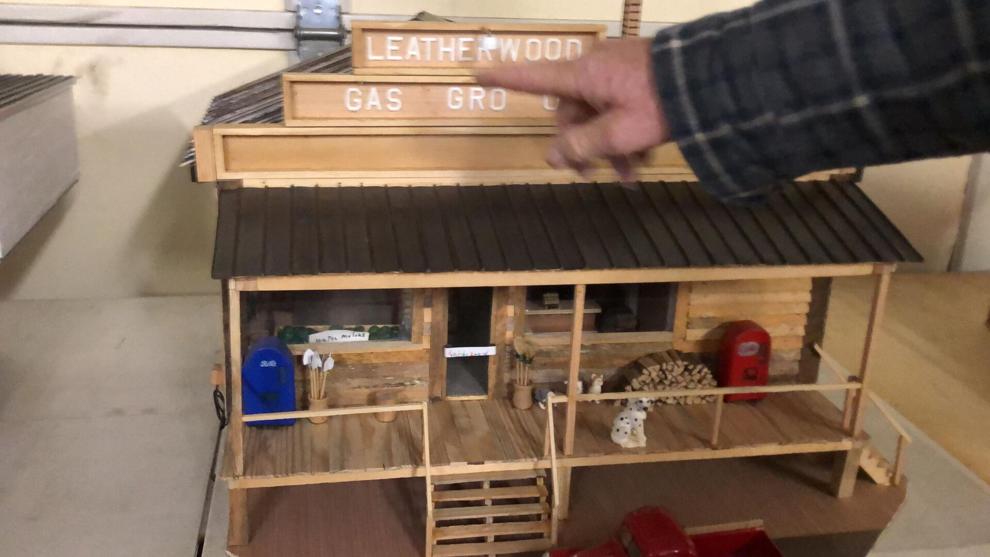 He builds his model in an outbuilding that's divided into two parts. One room is his workshop, and the other, larger space, is where the models are stored, plus it is full of the merchandise he's waiting to sell again in Hillsville.
Each of the model stores is topped with a tin roof, recreated from large sheets of metal Clark cuts to size and then meticulously hand-crimps to form parallel ridges at even intervals.
"The standing seam tin is what took so long," he said.
He said he remembers the siding of the Old Liberty Grocery to be of asbestos, so he recreated that look with popsicle sticks painted white. The siding of the other two model stores was made from 1-by-6 wood scraps from Max Kendall Lumber & Tin on Mountain Valley Road, a few miles down from the Leatherwood Grocery.
The screen doors on the models have "Rainbow Bread" painted on their tiny handles – something that was common to see years ago, he said.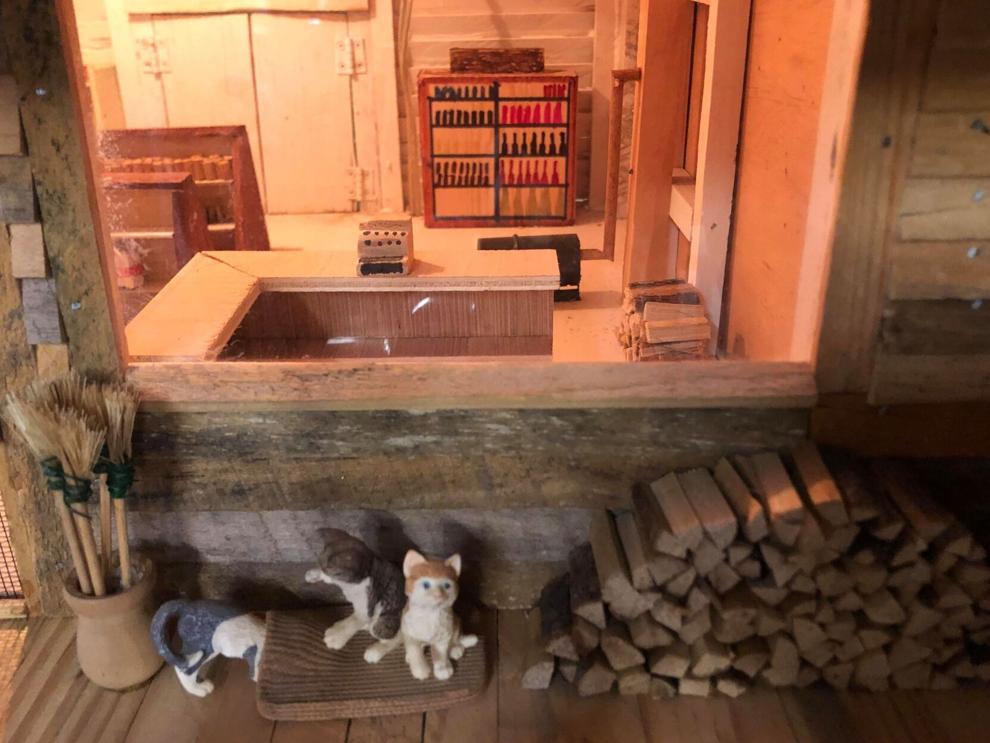 Teensy-tiny shovels and brooms he made by hand are displayed in miniature barrels on the stores' porches. Also on the porches are Pepsi and Coca-Cola machines. He made them from actual miniature drink machines but changed their rectangular shapes to having domed tops in the style common way back when.
Tiny dogs and cats sit on the front porches of the Ridgeway and Leatherwood stores. He made "old-timey gas pumps," with marked glass globes on top, for the Old Liberty Store. He's about to make the stack of tiny firewood for outside the store, like the other models have.
Screwhead covers are light fixtures when painted white and vent covers when painted black.
He painted BBs to make the peaches on one of the shelves and painted pinto beans to create the watermelons on another. The tiny store shelves also hold miniature food packages he formed and painted. There are bottles painted onto tiny wood-block coolers, and little old-timey cash registers are carved from wood and painted.
"It's amazing, all the time it takes fooling with them," he said, waving his hands toward the models.
One of his grandsons, Alston Perkins, took Clark to his barber, Scott "Rupe" Dalton of Axton, for a haircut. Dalton also is a renowned painter whose art has taken many top prizes, such as Piedmont Arts' Expressions exhibits.
"We just hit it off," Dalton said. "Then I found out why: He was an artist that had the same drive that I do. ... The knowledge he had of carpentry blew my mind."
Dalton said he was amazed when he saw the models: "I was like, 'People need to see these, Mr. Clark.' At first he blew it off because he said it was just a hobby.
"Then he showed me this bedroom suite he made. I'm like, 'Mr. Clark, this is crazy. It looks like something out of a dream."
However, Clark brushed off any talk about his models to redirect conversations toward Dalton's artwork.
"That's when I knew we are the same in our craft," Dalton said. "It comes easy when you have perfected your craft. To us, it's no big deal, but everyone else is in awe. Go figure."
Clark said he intends to sell the models and already has someone with strong ties to the Leatherwood community who has expressed interest in the Leatherwood Grocery model, he said.
The Ridgeway store model took a bit of a beating when he had it one day on display at the Hillsville flea market.
"Kids broke off the porch rails. I seen them pulling on the dog, and they broke the door handle, seeing if it would open," he said, but laughing, at the antics of boys.
"I've always liked the old store buildings," he said. If he makes another, he said it would be the old store on Horsepasture-Price Road near the state line.