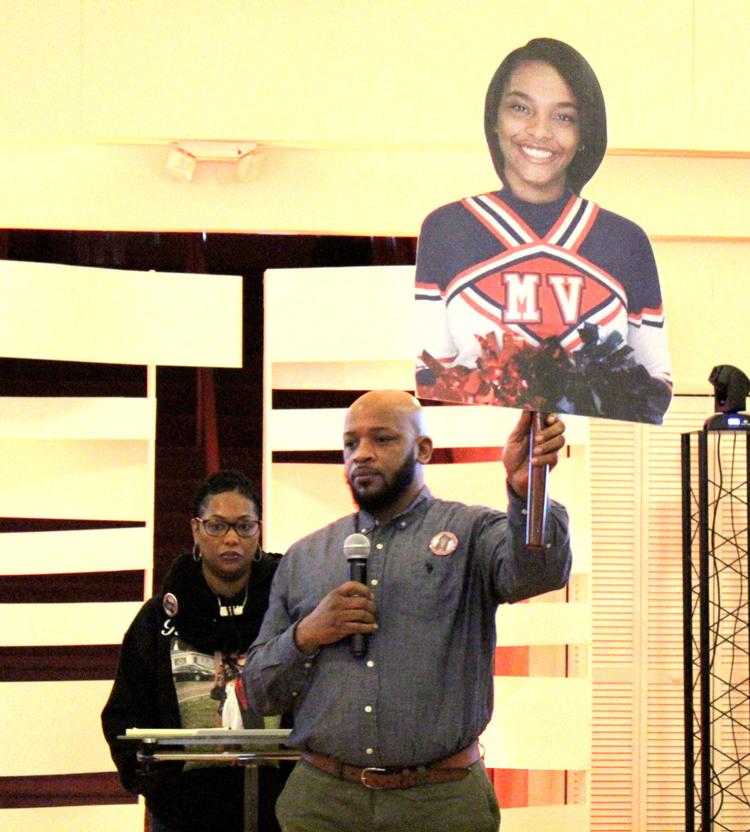 Just more than a month after Na'Jada Joyce died of a gunshot at age 20, her family members say they hope other young people will learn from her story.
Charles Hairston held up a large photo cutout of Joyce, his goddaughter, smiling in a Magna Vista cheer outfit as he addressed about 100 people, many of them high school students, at a Teen Dating Violence Summit on Thursday afternoon. By his side at the podium was Joyce's mother, Tilphanie.
Hairston urged audience members to take domestic violence seriously. He was one of several speakers at this second annual event, organized by the Southside Survivor Response Center to help teens recognize the signs of unhealthy relationships and how to get help.
"I hope when you leave here today, you remember this face," he said, cautioning young people to watch for controlling behavior from their partners. "When he goes through your cell phone, when he asks where do you think you're going dressed like that, I want you to see this face in your brain.
"We no longer have this face. We no longer have Jada or Jalen. All we have now are memories."
On Jan. 10, he recalled, "We got a call that nobody wants to get."
That was the day Joyce and her boyfriend, Jalen Millner, were found shot in a wrecked vehicle on Soapstone Road in Ridgeway. Police referred to the incident as a murder-suicide. However, Hairston said, "There's nobody to blame."
"The guy she was dating loved her so much he could not live without her. He took his own life," he said. "It grieves us as families. We grieve with his parents, because they lost a child as well. Some people say 'You should be mad!' Mad will get us nowhere."
In a controlling relationship, one partner may try to isolate the other from family and friends, speakers said. The family noticed some of these signs with Joyce, Hairston said.
"We watched Jada go through some changes. She was losing a little bit of weight, she started distancing herself a bit from her family. She started pulling away from us," he said.
"On birthdays now, guess where we have to go? To the graveyard."
Teens and young adults are disproportionately affected by relationship violence and sexual assault, according to loveisrespect.org. One in three high school students will experience physical or sexual violence by the time they graduate, SSRC outreach intern Ariel Johnson said. However, statistics show 81% of parents don't realize it's a problem.
Johnson and other speakers described the different types of abuse, warning signs of domestic violence, and, on the other side of the coin, what healthy relationships and consent look like. Several shared personal stories of their experiences, including Carla Wade, who described "the best friend's perspective" of an abusive relationship.
It starts young
Wade said her best friend, Marquisha, started dating a boy in middle school, and "seventh grade is when the violence started."
This is in line with facts shared by Johnson, who said violent behavior usually starts between sixth and 12th grades.
Wade said they were in line getting breakfast at school, when Marquisha's boyfriend smacked her "in front of everybody." However, they didn't take the abuse seriously, and the violence escalated.
"He chipped her tooth. He pushed her out of a moving car. We were there, we witnessed it," but they never called the police, she said. "I never knew that there was a place we could call to get her help. I wish I would have done more."
Then came Sept. 23, 2007, at 10:30 am. "I got a call that I needed to go to UNC Burn Center because Marquisha was in an accident," Wade said. Her friend was 17 years old and five months pregnant at the time.
"I found my friend wrapped like a mummy. She had burns on 90% of her body from an iron," and her jaw was broken, Wade said. The boyfriend had accused her of cheating on him, then proceeded to break her jaw with the iron and burned her all over her naked body — including her pregnant belly.
Warning the audience that the photos were graphic, Wade showed crime scene pictures of the marks left on her friend's body by the hot iron.
After the attack, Marquisha's boyfriend placed her in a bathtub and left her for hours.
"She didn't want to call the police because she was afraid he would kill her," Wade said. She ended up calling his mother, who came and got her and called 911.
Marquisha survived, but she still lives with both physical and mental scars, Wade said.
'It's not normal'
She told the audience that she wishes something like the teen summit had been held when they were in school.
"I wish that I would've had the resources you guys have. If you know somebody who's going through this, please report it," Wade said. "It's not cute, it's not okay, it's not normal."
Johnson shared resources for teens who are experiencing abuse or know someone in that situation. SSRC serves victims in Martinsville and Henry County, as well as Patrick and Pittsylvania counties, with a 24-hour crisis line: 877-WE-HELP6 (934-3576). Resources can be found online at ssrcenter.org or the national organization on teen dating violence at loveisrespect.org.
"If you realize your friend is in a violent relationship, first you want to react with action," Johnson said. "Only 33% of those who have experienced dating violence ever told anyone. Be there for them. Be respectful of their decisions. Just by being there for them and being supportive and caring, you're doing a lot."
Get local news delivered to your inbox!
Subscribe to our Daily Headlines newsletter.