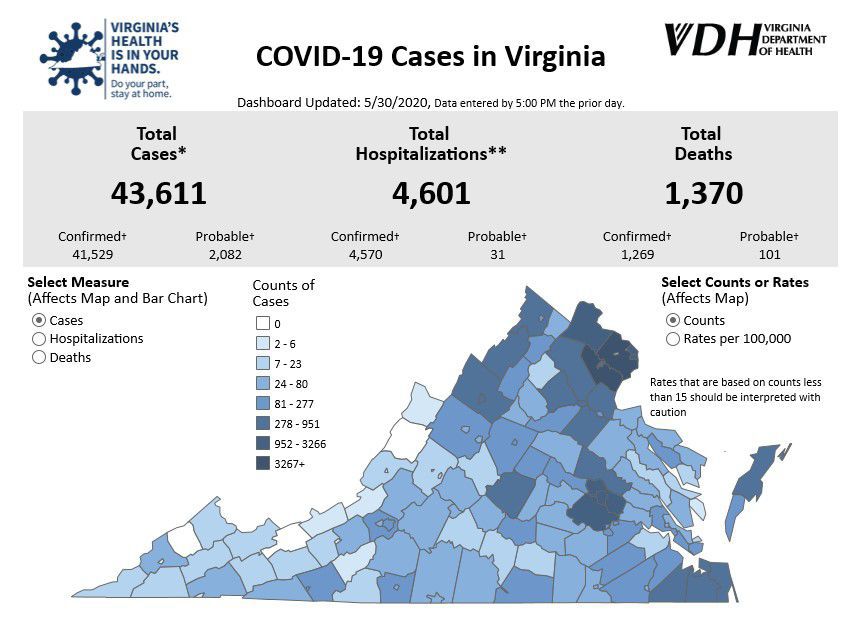 The numbers of positive tests for the coronavirus in the West Piedmont Health District that have surged so dramatically in May might be about to surge even more.
The Virginia Department of Health on Saturday began compiling data for "testing encounters" by the zip codes in each district.
The reason: The state had 37,362 test results that had not previously been assigned to a district.
For the West Piedmont district — which includes Henry, Patrick and Franklin counties and Martinsville — that means 330 additional encounters.
Exactly how many encounters translates to active cases was not disclosed in the announcement for VDH.
An email to Nancy Bell, the district's spokesperson, drew no immediate response.
There were 18 districts that had more new encounters than did West Piedmont. For instance, Roanoke County had more than 6,000 new ones, which moved the district from last among the 35 districts to 15th.
The Roanoke Times reported that Roanoke's testing encounters increased from 1,162 on Friday to 8,053 for all types of tests, and from 965 to 7,568 for the type of test that looks for active infections.
Under the department's new method of reporting the data, the Times reported, it cannot be determined if all of the tests were given to district residents or if they were tests of people living elsewhere who traveled to the city for testing.
The drive-thru testing at the Martinsville Speedway, which Bell and others have pointed to as the reason for the dramatic increase in cases in this area, serves only residents of Henry and Patrick counties and Martinsville and by appointment from a physician. Through Friday nearly 500 had been tested at the site.
On Saturday, VDH returned to its former method of assigning tests. If a lab fails to report a patient's address, then the test is assigned to the ordering provider's address. If that is lacking, it then goes to the lab's locations.
As of Saturday, VDH reported that there were 104 cases of COVID-19 in Henry County. On May 1, there were 16.
Bell had reported 95 cases in the county through Friday night.
There were no new cases since Thursday in Martinsville or Patrick County. Martinsville had 31 total — although data from the district suggests a higher number — and Patrick County, 18. Franklin County had 36.
The most recent cases announced Friday for Henry County were all males, ranging in age from their 30s to their 60s.
A case in Martinsville is also a male, in his 50s.
Henry County shows nine people hospitalized and three deaths. Martinsville has six hospitalized and one death. Patrick County has none of either.
As of Saturday morning there are 43,611 cases and 1,370 deaths statewide. Some 4,601 people have been hospitalized.
The Roanoke Times contributed to this report.
The Roanoke Times contributed to this report.
Concerned about COVID-19?
Sign up now to get the most recent coronavirus headlines and other important local and national news sent to your email inbox daily.