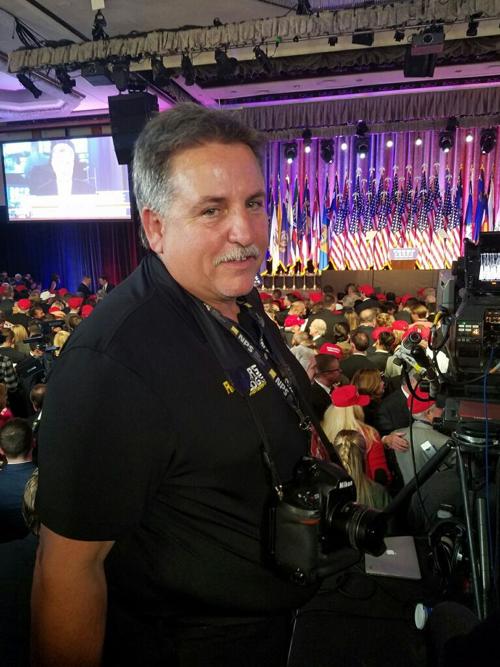 As Donald Trump's victory party was filling up with people Tuesday, one Martinsville man stood in the media waiting area along with several hundred others to capture the event.
It was for Ray Reynolds the 45th event he had covered on the campaign trail. Reynolds, who hails as, "The Man in Yellow," for all of his yellow camera gear, was ecstatic with the results and only feared of corruption coming from the Clinton campaign.
His first Trump event on Aug. 27, 2015, was in Aiken, South Carolina, for a Trump meet and greet. From there, Reynolds accumulated 28,000 miles travelling to photograph Trump.
The coverage included a few special moments, including being the personal photographer for Trump a few times, Mike Pence in Virginia Beach and the Greensboro Coliseum, and Ivanka Trump's personal photographer in Charlotte.
After Gen. Michael Flynn heard of how many events Reynolds had covered while he was speaking on behalf of Trump in Kinston, North Carolina, Flynn requested to have a photograph taken with Reynolds.
"There have been countless days with no sleep," said Reynolds in a phone interview Wednesday.
Reynolds said there were some events he would attend that 13,000 would be inside to hear and see Trump, and even more standing on the outside that were not able to get inside.
He even got the chance to meet Trump, saying the president-elect is, "a man of his word, honest, and compassionate. He's very caring and a generous person."
During the hot summer months especially, Trump made sure the media on hand at events got water and stayed cool as they had to wait long hours before doors would open at events and rallies.
What drove Reynolds to support Trump and get so involved was the loss of his mother and sister. His mother died in January 2015 after her medication was no longer covered due to the Affordable Care Act and six months later in July his sister died waiting on a respiratory test to be approved — a process doctors told her that under the new laws would take months.
In New York Tuesday night, Reynolds was invited to join the victory party because the Trump team knew, "I wanted to be a part of history and made sure it happened." It was in part a thank you from the Trump Campaign.
While the future is certain for Trump, Reynolds is not yet sure of what he will be doing since the election is over.
For now, he is enjoying this victory and is excited for the future.
Bell reports for the Danville Register & Bee