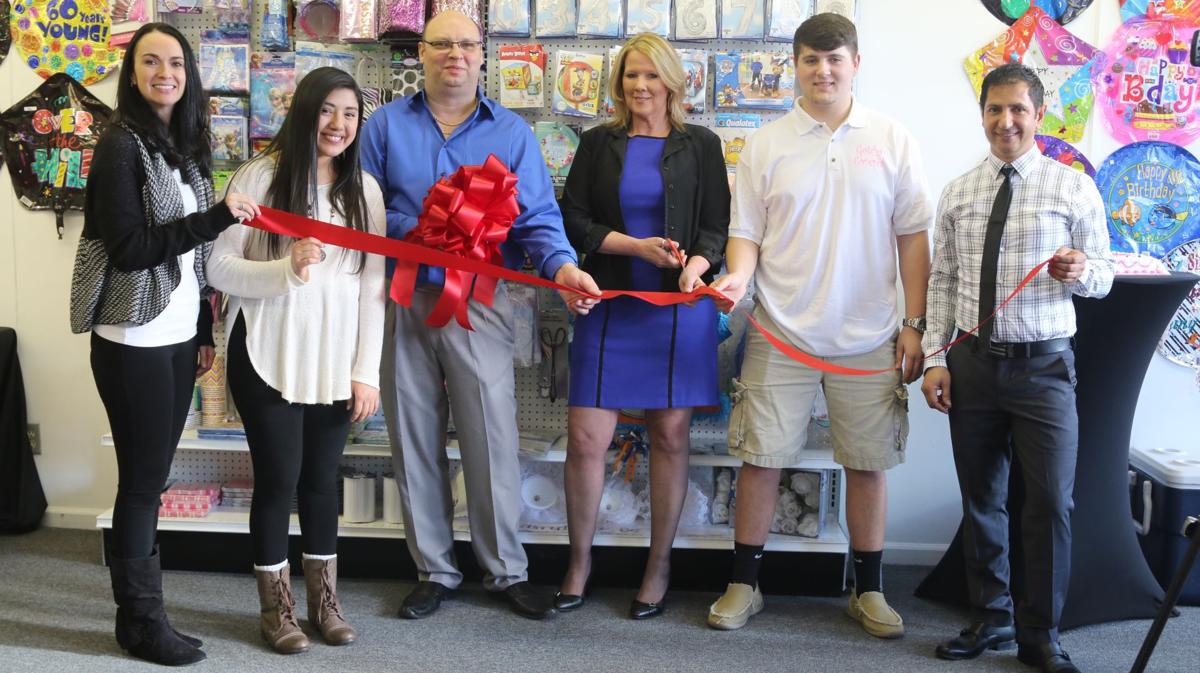 COLLINSVILLE–In need of some linens, glassware, balloons or invitations? New business owners Rebecca and David Watson have Gotcha Covered.
Located beside Pizza Hut in Collinsville and across the street from Hardees's, Gotcha Covered Linen and Party Rentals recently opened its doors at 2898 Virginia Avenue.
While Rebecca first started pursuing the business venture a year ago, finding a suitable space proved difficult.
"We started out as a home-based business. Then we went to one room, then to two rooms," Rebecca said. "We've been here for about three weeks now."
Amanda Witt, Martinsville-Henry County Chamber of Commerce president, said, "They're taking up a storefront that was empty, which is always a good thing."
On Friday, Gotcha Covered held their official ribbon cutting event, complete with chicken wings, handmade potato chips, tea sandwiches, chicken tenders, cake, popcorn and punch.
Witt brought the ribbon for the ceremony.
About welcoming a new business to the area, Witt said, "It's always exciting, especially this one."
Rebecca said that Witt had cheered on the company from its inception. The Chamber president also encouraged Rebecca to take the Startup Martinsville course at Patrick Henry College, taught by PHCC President Angeline Godwin.
The classes helped Rebecca learn how to run a business, which has successfully expanded over the course of a year.
Now, Rebecca's back in the Startup Martinsville program and is hoping to take home a big prize at the end of the course.
"In the end, there's about $60,000 up for grabs" from the Small Business Investment Forum, Witt said.
Whether or not they receive any funds at the culmination of the college classes, Rebecca and David are already showing fortitude in the business world.
"We started out with tablecloths and overlays," Rebecca said. "Now we're doing glassware, tuxedos – you can even rent a popcorn machine."
No matter the event, the party retail and rental store takes care of virtually any need a consumer may have.
"It's nice to see them expand and expand their services, too," Witt said.
As one of their best deals, the store currently has a great rental deal for those excited about attending prom.
"I call it the Prom Tuxedo Fundraiser," Rebecca said.
Any school renting items from Gotcha Covered for prom automatically gets a discount. On top of the savings, any boy who rents a tuxedo from the Watsons helps his school get $10 off of their total rental purchase.
"In reality, schools can get their linens for free," Rebecca said.
For those on the academic honor roll at their school, the Watsons also provide an incentive.
"If they're on the academic honor roll, they get $10 off of their tux. If it's a female, their date saves $10," Rebecca said.
Open Monday through Friday from 10 a.m. to 8 p.m. and Saturdays from 10 a.m. from 6 p.m., Gotcha Covered Linen and Party Rentals offers table cloths, overlays, chair covers, chair sashes, party rentals, party supplies and balloons of all sizes, both in English and Spanish, for all occasions.
For specific needs or questions, call the store at (276) 634-8256.