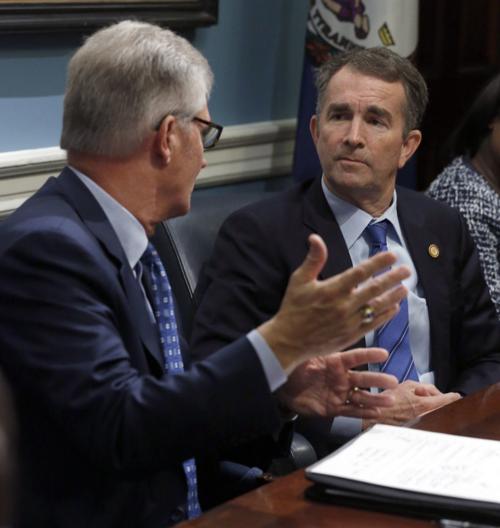 The $1 billion budget loss that Virginia officials feared turned into a manageable $236.5 million shortfall at the end of the fiscal year last week, boosting the state's balance sheet as Gov. Ralph Northam and the General Assembly prepare to revise the two-year budget that has been upended by the coronavirus pandemic.
State revenues grew by 2% in the fiscal year that ended June 30, but the budget the General Assembly adopted on March 12 is based on projected growth of 3.1%. The 1.1% shortfall triggers a legal requirement that the state formally reforecast expected revenues for the budget, which the governor will announce on Aug. 18 in advance of calling a special session of the assembly to revise the spending plan.
The 76% reduction in the projected revenue shortfall buoyed Northam, who resisted calls by Republican legislative leaders to revise the budget after the health crisis began in March. But the governor cautioned on Thursday that the boost in the state's balance sheet at the end of the last fiscal year doesn't guarantee revenue growth to support all of the spending originally planned in the next two years.
"While I am pleased that our revenue shortfall is less than initially expected, we know this pandemic will continue to negatively affect our state finances as long as this virus is with us," Northam said in an announcement of the year-end revenues. "We must all keep taking steps to protect public health so we can continue our economic recovery and ensure the commonwealth remains on strong financial footing.
The results won't be made final until July 24, but the surge in income tax collections in June - after Northam extended the payment deadline from May 1 to June 1 - could give lawmakers more room for their budget priorities when the assembly meets in special session in late August or September to consider more than $2 billion in new spending that the state froze in April to weather the crisis.
"I'm thrilled that we are in a much better place, but that does not mean we abandon our fiscal discipline," House Appropriations Chairman Luke Torian, D-Prince William, said Thursday.
Torian expects the assembly to focus on spending for essential services, including higher education and financial aid, which he considers a priority, as well as budgeting for the cost of police and criminal justice reforms that Democrats want to tackle in the special session.
"We're excited that [revenues] are not as bad as we thought they would be," he said.
Secretary of Finance Aubrey Layne said he still estimates that revenues are likely to fall short by $1 billion in this fiscal year and another $1 billion in the next, based on a roughly 5% decline in expected collections of payroll income taxes and sales and use taxes, which account for 85% of all state revenues.
Income taxes withheld from paychecks grew by 3% in the last fiscal year, or $391 million, but that fell about $214 million short of the forecast. Sales tax revenues increased by 3.5%, almost entirely because of online sales, but that's less than half of the projected growth rate, or $137 million less than the state expected to collect for the year.
"That's what we're going to forecast on going forward," said Layne, who estimated that Virginia collected $500 million less than expected in the last three months of the fiscal year because of declines in payroll income and sales taxes.
The decline in sales taxes is particularly concerning for local governments, which rely on them, as well as other hard-hit sources of local revenue, such as taxes on food and drink, lodging, and admissions.
Layne expects the state to release as much as $646 million in additional federal emergency aid to local governments soon, although he said they won't be able to use it to replace lost local revenues under the CARES Act which Congress adopted and President Donald Trump signed in late March. Virginia already sent $646 million to localities last month to pay for higher payroll and other expenses from responding to the COVID-19 pandemic.
"They need additional money," he said. "We need to get additional money to them sooner than later."
Layne also urged Congress and the president to give state and local governments more flexibility in how they use the CARES Act money to prevent cuts in public services and layoffs of public employees.
"I would love to see the federal government give some flexibility for these monies," he said. "Not only the state, that would really help the localities."
Virginia benefited from a $146.3 million decline in refunds paid to taxpayers in the last fiscal year, but the strongest boost to the bottom line came from the most unpredictable source - income taxes not withheld from paychecks but paid by self-employed professionals and investors who profited from stock sales.
Those revenues fell by 4.3% in the last fiscal year, but that's exactly what the state predicted after a surge in nonwithholding taxes last year in response to the federal Tax Cuts and Jobs Act that Trump signed in late 2017.
The state collected $355,000 more in nonwithholding income taxes in the last fiscal year than projected, or a difference of less than 1/10th of a percent of the $3.8 billion collected.
"We estimated correctly and it helped us this year," Layne said, "but it may not help us next year."
Grant Neely, Northam's communications director, said the results vindicate what he called the governor's "steady and measured leadership" during the public health and economic crises.
"The results speak for themselves," Neely said.
Be the first to know
Get local news delivered to your inbox!