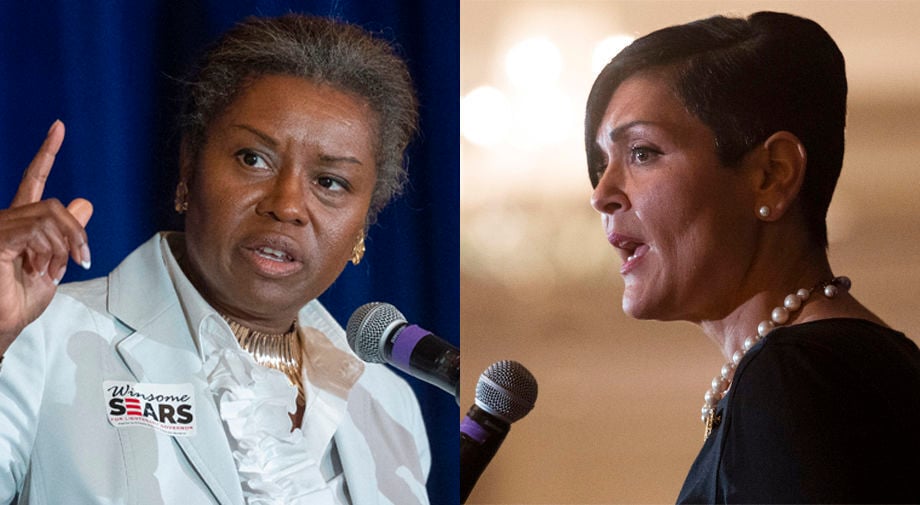 When voters decide on a new lieutenant governor Nov. 2 they won't just be picking a personality to preside over the state Senate.
The part-time office holder has an important duty - breaking tie votes in the 40-member chamber.
For Democratic nominee Del. Hala Ayala and Republican nominee Winsome Sears that means making the case to voters that their decision in this down-ballot contest will have consequences.
Ayala said in an interview she wants to unify people and turn away from the divisive politics of the Trump era.
"I try to bring compassion and understanding to the forefront. I try to communicate that I am human. I'm not a perfect individual," she said. "I'll always put my best foot forward and work hard for every Virginian so they have a seat at the table."
The Richmond Times-Dispatch has been unable to get responses from Sears or her campaign since she fired a previous campaign staff on Sept. 8. She and her campaign spokesman did not respond to requests for an interview or the opportunity to answer questions in writing for this story.
The Ayala campaign has cited more than 50 tie-breaking votes in the Senate from the current lieutenant governor, Justin Fairfax, since 2018.
Among those votes, Fairfax in 2020 broke a 20-20 Senate tie on a "red flag" bill that allows police and prosecutors to seek an order forbidding someone deemed a threat from buying or possessing a gun. Gov. Ralph Northam signed the bill into law.
Ayala generally supports gun control while Sears - who posted a photo of herself on Facebook holding a large weapon - does not.
Fairfax also made tie-breaking votes in 2020 against amendments that would have limited a state minimum wage increase. He cast a tie vote to pass a bill that makes general contractors liable for wages paid to a subcontractor's employees.
And Fairfax cast a tie-breaking vote to approve a 2020 bill that repealed restrictions on abortion. Ayala and Sears have different positions on that issue, with Ayala backing legal abortion and Sears supporting a ban on most abortions.
Ayala was first elected to the legislature from Prince William in the blue wave of 2017, when Democrats nearly took control of the state House on the heels of Republican Donald Trump's victory in the presidential race the year before. Ayala was re-elected in 2019, both times defeating Rich Anderson, who is now the chairman of the Republican Party of Virginia.
Gov. Ralph Northam gave Ayala a boost in a crowded Democratic primary this year with his endorsement, and she beat six others in June to become the only person of color on the Democrats' statewide ticket.
Ayala's mother was Lebanese and Irish, and her father was an immigrant from El Salvador with African roots. She previously worked as a gas station clerk and said Medicaid saved her life when she was pregnant with her son, Chedrick.
Ayala said they both almost died during his birth, and her family faced financial hardship after that. "We were standing in food lines at times trying to put a roof over our head."
"Medicaid was one of the reasons why I ran," she said. Many Democrats are campaigning on their action - with support of some Republicans - in expanding Medicaid coverage in Virginia under the federal Affordable Care Act.
Ayala is on leave from a cybersecurity job with the Transportation Security Administration.
Sears, if elected, like Ayala would be the first woman of color to hold statewide office in Virginia.
She also won a crowded nomination contest. Sears was the first Black Republican woman elected to the Virginia General Assembly, serving one term representing Norfolk from 2002 to 2004. She ran for Congress in 2004, losing to Rep. Bobby Scott, D-3rd.
Her family emigrated from Jamaica when she was 6 years old; she later served as a U.S. Marine and started an electrical, plumbing and appliance repair business in Winchester.
Sears has said her priorities include keeping taxes low and reducing regulation, school choice, and "uplifting Black Virginians," in part by creating a Black Virginians Advisory Cabinet for the governor and investing in historically Black colleges and universities.
Ayala said she needed Dominion's money in order to run her campaign.
"I wanted to talk to voters, and the only way to do that is through these mediums, or putting on commercials, or paying for mail," she said. "We needed the resources to talk to our voters."
The Ayala campaign ran a TV ad featuring Sears holding the large gun and calling her "dangerous" because she said she supported legislation in Texas that bans most abortions. Ayala has also criticized Sears for not saying whether or not she's received the COVID-19 vaccine.
The two candidates opted not to debate.
"We still don't know whether or not Sears is vaccinated," Ayala communications director Lauren Chou said by email. "... we have a responsibility to factor in the health and safety of the Delegate and the thousands of voters she will come into contact with."
Sears had $480,965 in cash at the end of September compared with more than $1 million for Ayala.