ALBANY – The most important work during a legislative session in Albany is set to take place over the next two weeks: negotiations between the governor and state lawmakers over a new state budget that affects everything from taxes to schools to government-funded health care.
But this year there is a growing cloud over the talks named Andrew M. Cuomo.
Among those demanding that Cuomo resign is one of the two Democratic legislative leaders who hold closed-door budget talks with him, as Albany grapples with sexual harassment allegations against Cuomo and a federal investigation into his undercounting of Covid deaths among nursing home residents.
The question hovering above 2021 budget deliberations is which Cuomo will be in the room? Will he look to placate lawmakers, giving them more of what they want than in a traditional budget year in order to appease his critics?
Or will he be tough-guy Cuomo, personally angered by the abandonment and sharp rebukes of so many lawmakers, especially among Senate Democrats, many of whom were unafraid long before the scandals to display their distaste for their fellow Democrat in the governor's mansion?
The answers to those questions will be shaped by March 31, if a budget is on time and if Cuomo is still in office.
By then, a whole range of fiscal and policy matters will be decided, including to what extent wealthy New Yorkers will see their taxes rise or if middle-income New Yorkers get their scheduled next step in the once-planned income tax reduction program.
If a deal isn't struck sooner, the budget will determine the precise ways in which a marijuana legalization effort is carried out. There is an increasingly likely deal to legalize mobile betting on college and pro sports contests, and the budget will decide to what extent local governments are or are not helped with funding for their operations, as well as how much money goes for new Covid relief efforts, law enforcement and construction projects for crumbling roads and bridges.
As always, the biggest focus for any lawmaker: school aid. It helps districts pay for teacher salaries, bus transportation, textbooks and other supplies and ultimately affects how much they rely on residents to pay in property taxes.
"It's always education, of course,'' said Assembly Majority Leader Crystal Peoples-Stokes, a Buffalo Democrat.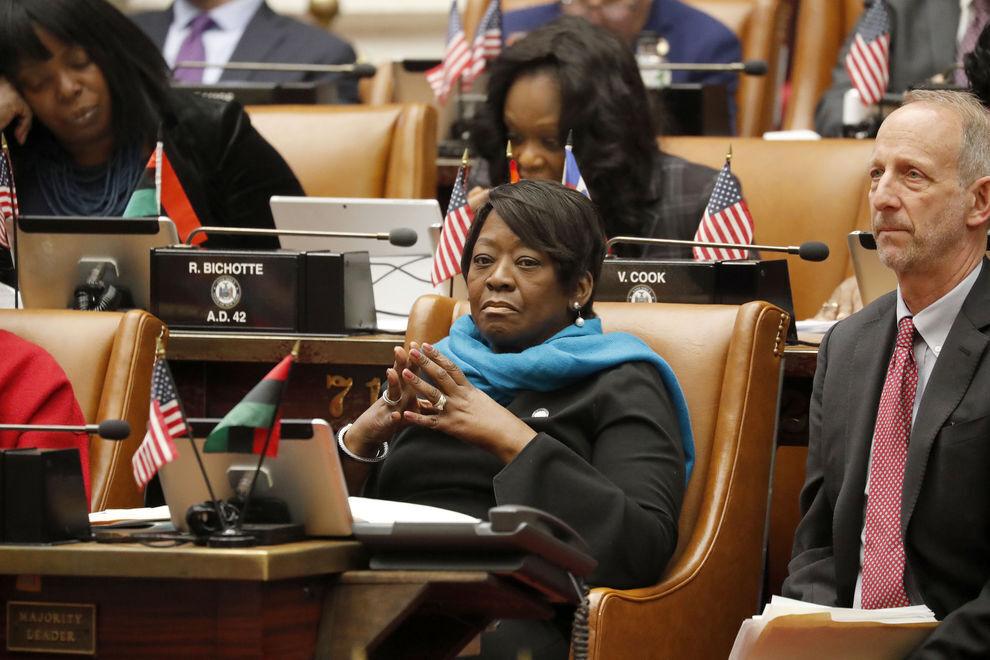 This year, Cuomo's first stab at a budget plan in January counted on a big infusion of money from a federal stimulus bill. That money, with passage last week in Washington, is coming, but lawmakers don't like how Cuomo's plan reduced state funding for schools while counting on more money for education by Washington.
The worry? The state will be under pressure when that federal money runs out in a few years and won't be able to make up the difference, causing fiscal problems for schools and their property taxpayers.
The state budget's fiscal condition is not as bad as feared last year, but Freeman Klopott, a Cuomo budget spokesman, said the state still projects "devastating" revenue losses – which are due to Covid, economic shutdowns, layoffs and bankruptcies – of $17.5 billion over the next year. The Washington bailout package totals $12.5 billion, but Cuomo officials are still seeking guidance from the federal government about how the funding can be used.
"The federal funding is a one-shot resource and is not recurring, and we will work with the Legislature to identify the best solutions to close the current and out-year budget gaps as we negotiate the budget ahead of the April 1 deadline,'' Klopott said.
With Cuomo wounded, Democrats in the Senate and Democrats in the Assembly – where the party enjoy supermajorities – have been working together on their separate, one-house bills so they more closely align, putting them in a stronger negotiating stance with Cuomo or, if he resigns, Lt. Gov. Kathy Hochul, a Buffalo Democrat, if she takes over his office. The two houses will take up the bills on Monday or Tuesday.
Besides education, the legislative houses want to boost money to health care programs that were hit hard by Covid-19; financially strapped renters; aging roads, bridges and mass transit systems; local governments and programs such as brownfields redevelopment in Buffalo; and Roswell Park Comprehensive Cancer Center.
Senate Democrats, for instance, are proposing a one-house budget bill that would make investments to help small businesses recover from the pandemic, offer property tax relief, add new incentives for employers to offer child care, designate more than $1 billion for various affordable housing initiatives and spend $3.5 billion more on school aid than Cuomo's education plan. They also are proposing to increase taxes on corporations and wealthy people – defined, for instance, as an individual earning more than $1.1 million annually – to raise more than $6 billion this year.
There is no doubt the Cuomo scandals already have and will continue to affect budget talks. "It's a severe distraction and his credibility plummets by the day," said Senate Deputy Majority Leader Michael Gianaris, a Queens Democrat who has called for Cuomo's resignation.
Might Cuomo be so upset with lawmakers that he tries to mess with the budget talks? "That would be inadvisable," Gianaris said.
Said another senator who spoke on condition of anonymity: "The governor is going to want to have as little consternation in this budget, as few battles, as possible, from an optics perspective. I believe he is going to operate, in some ways from a budget perspective, as business as usual, when it's far from that."
Before the controversy hit home for Cuomo, he was already facing the new reality that Senate Democrats this year joined Assembly Democrats in holding a supermajority, which means they have the Democratic votes – without having to beg Republicans for help – to override Cuomo.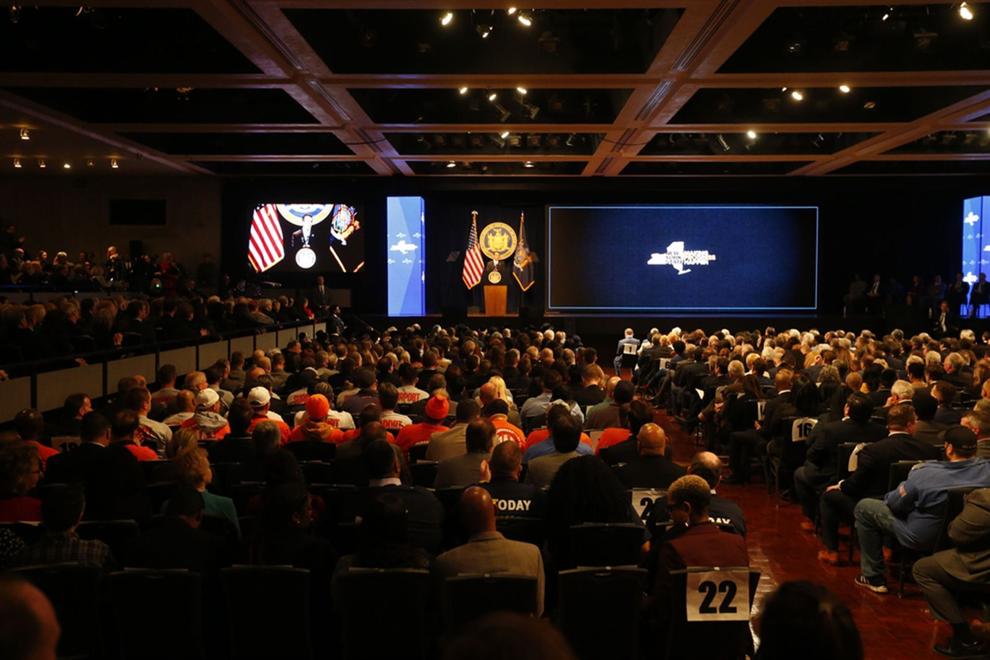 All of Albany questioned whether Democrats would use that new strength to override Cuomo, but that was before a chorus of lawmakers called for his resignation.
Will the Legislature try to take advantage of Cuomo when he is weakened? "It might be naïve or stupid of me, but I hate to think that because of the problems of the governor we as a Legislature would use that against him to weigh in and help us out with our negotiations," said Assemblyman Michael Benedetto, a Bronx Democrat and the influential chairman of the Assembly education committee.
For his part, Cuomo has said he is not going to be distracted by the swirls around him, and that he will continue to do his job, which means a growing focus on the budget in the next two weeks.
Peoples-Stokes, the Buffalo Democrat who is among those who have not called for Cuomo's resignation but wants to see how Attorney General Letitia James investigations of sexual harassment allegations play out, said she can't stop communications with Cuomo's office "because I've got to get things done for my district."
"Even if I was one those people who think it's OK to try and convict somebody through the public, I would still have to have conversations with him," she said.
Republicans believe Democrats in the Legislature have to be weighing how they can use Cuomo's problems to get a better budget deal for themselves. "I do have a concern that they may look to exploit that to adopt tax increases, which I don't think are in our best interest right now,'' said Assemblyman Ed Ra of Long Island, the ranking Republican on the Assembly Ways and Means Committee.
Ra said Cuomo may give in to lawmakers on some issues, like moving closer to the Legislature on details of marijuana legalization. But there will be battles between Cuomo and lawmakers on not only how to spend the flood of federal cash, but when to spend it; some, including Cuomo, have warned of a cliff next year or the years after if too much of the federal, "one shot" funding stream is used this year.
Cuomo has already proposed that he be the controller of how that federal money is spent, something lawmakers will oppose, given the lack of transparency in how federal funding was spent last year and the large level of short-term borrowing the state engaged in. "That's something we should be concerned with,'' Ra said.
The Republican and others also warned that Democrats who think they might have a timely advantage over Cuomo – assuming he does not resign before March 31 – might consider his past abilities to deftly negotiate budgets.
E.J. McMahon, senior fellow at the Empire Center for Public Policy, which monitors state fiscal affairs, noted a reality not erased by the scandals: New York governors hold tremendous powers in the state budget process.
"He's in the driver's seat. He's got the budget powers. It's the same as always,'' he said.
But might Cuomo want to woo lawmakers during his troubles? "He doesn't need to woo anyone," McMahon said. "The process is: they have to come to him and ask for things."