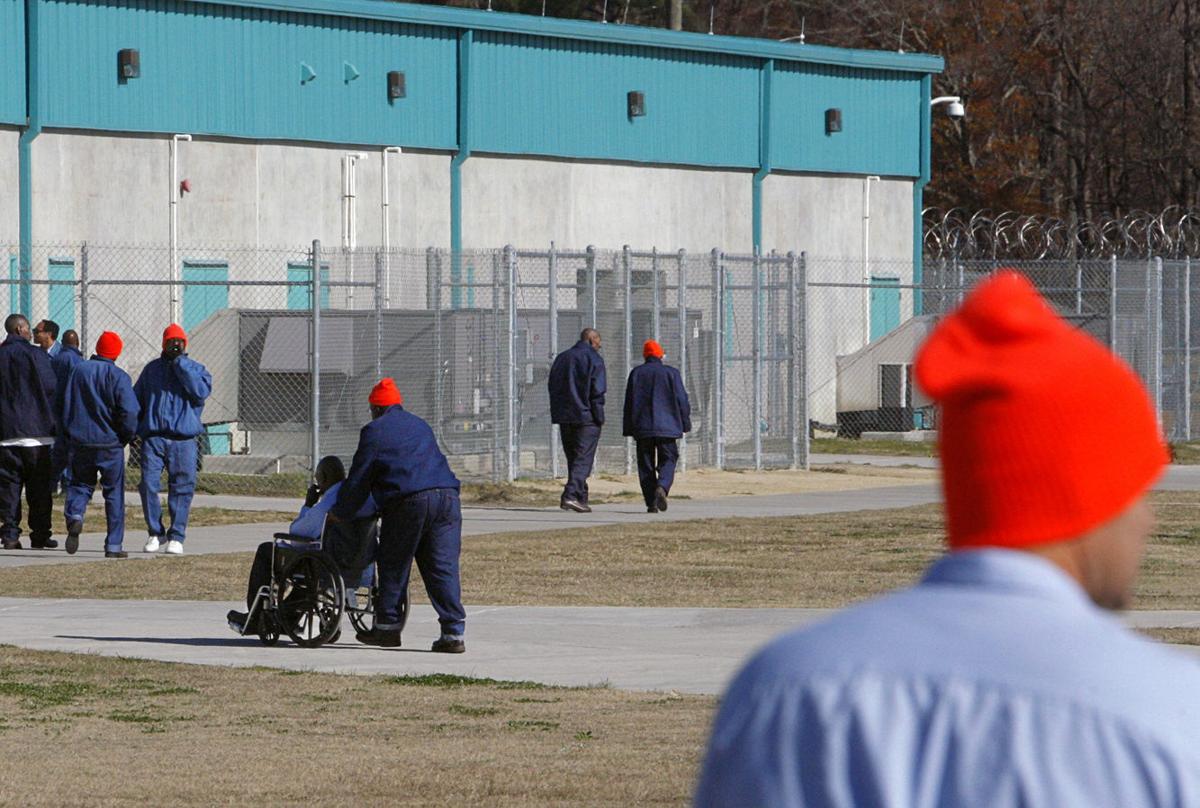 More than 1,500 of Virginia's 29,000 prison inmates have been infected with COVID-19, but officials say roughly nine out of 10 had no symptoms and almost all are now believed virus free.
The Virginia Department of Corrections had tested 22,538 inmates for the virus as of Tuesday as part of a large-scale "point prevalence" testing program. The results show that while it has infected about 5% of the prison population, the coronavirus has thus far not led to widespread serious illness as had been feared.
As of Wednesday, 11 inmates had died and six remain hospitalized for COVID-19, but only 74 were known to still have the virus and most of them have no symptoms. Sixty-eight prison employees currently have the virus. No staff deaths have been reported.
Seventy-four cases may be a lot, said Trey Fuller, assistant director of health services for the department, "but if the community had the same level of testing it would show that we are really stopping and slowing the spread quite a bit."
Test results do not lead to treatment - there is none - but allows for a housing strategy to curb the spread, said Fuller. "I would say there has been much less widespread transmission [here] than in other correctional systems because of our strategy," he said.
Point prevalence testing is the testing of everyone - with or without symptoms - in a given congregate setting, such as a prison or nursing home, at a given time. It gives a snapshot of the virus's spread and effects. The department, assisted by the Virginia Department of Health, state hospitals and others, began the effort in April.
Of those testing positive, 88% had no symptoms, the department reported. Those who test positive are periodically retested until they are negative or cleared by at least 14 days without symptoms following the positive test, said the department.
The UCLA Law Covid-19 Behind Bars Data Project has been tracking confirmed cases in prisons across the country. They said roughly a dozen states, like Virginia, have tested significant portions, if not all, of their inmate population.
However, they said they do not have a breakdown on how many offenders testing positive in other states showed symptoms and how many did not.
Fuller, who helped head up the prison system's testing program, said he was not surprised by the number of infected inmates without symptoms.
"We are doing so much point prevalence surveillance - which is really just not occurring in the community or any other setting, except for maybe long-term care facilities," said Fuller.
He said the asymptomatic results were seen early on, starting at a small, 70-offender work camp where 84% tested positive and none showed symptoms. Several who had symptoms that prompted testing there had already been moved and quarantined.
"We've seen how rapidly it spreads and how it oftentimes doesn't cause any symptoms," he said of the virus. "I think it's probably happening in the community as well, but the testing is just not nearly as widespread," Fuller said.
Dr. Leana Wen, a public health professor at George Washington University, said the prison testing results illustrate the need for more public testing.
"Congregate settings such as nursing homes and prisons are extremely high-risk settings for COVID-19," said Wen, who is also an emergency physician and former health commissioner for Baltimore. "It's critical that surveillance is done in these congregate settings . . . that's because where there's one case that's detected, often that is the canary in the coal mine."
The Centers for Disease Control and Prevention said that as of last week there were 2.6 million reported cases in the U.S., but that there are likely 10 times as many people who have been infected by the virus.
"Asymptomatic transmission is one of the reasons why this virus is so difficult to contain," Wen said.
Fuller said that "very quickly we found out that once the virus was there, especially if the virus had been there for days or a week or two, that the spreads were very rapidly."
He said that typically, point prevalence testing is not done unless there is a treatment available, which there is not for COVID-19.
However, Fuller said the testing has enabled the department to keep those who test positive with no symptoms living in one place  and those who test negative in another. Those who are ill are quarantined.
"We created not a treatment strategy, but a housing strategy to really try slow the spread — stop the spread if possible — of the virus," said Fuller.
The ongoing testing has been done with the help of the Virginia Department of Health, specialists at the VCU and UVA hospitals and the National Guard. Both public and private laboratories have been used for the testing.
Fuller said the program began before guidance on point prevalence came out from the CDC or VDH. "We saw its utility and moved forward with it," he said.
"It's a two-pronged approach: the National Guard is going across the state and testing nursing homes and prisons as well as, clinically, if there is a need for point prevalence due to positive staff or positive offenders we will also do point prevalence on our own," said Fuller.
He said there have been offenders who have tested positive for extended periods of time but that he was not aware of any who were reinfected.
Early on in the epidemic, other facilities with closed environments, such as nursing homes, were experiencing serious, deadly outbreaks in Virginia and across the country.
Advocacy groups here and across the country warned of a looming medical crisis behind bars where maintaining social distancing, inadequate protective equipment and other issues could lead to many deaths and the spreading of the virus in communities where the prisons are located.
Concerned about COVID-19?
Sign up now to get the most recent coronavirus headlines and other important local and national news sent to your email inbox daily.