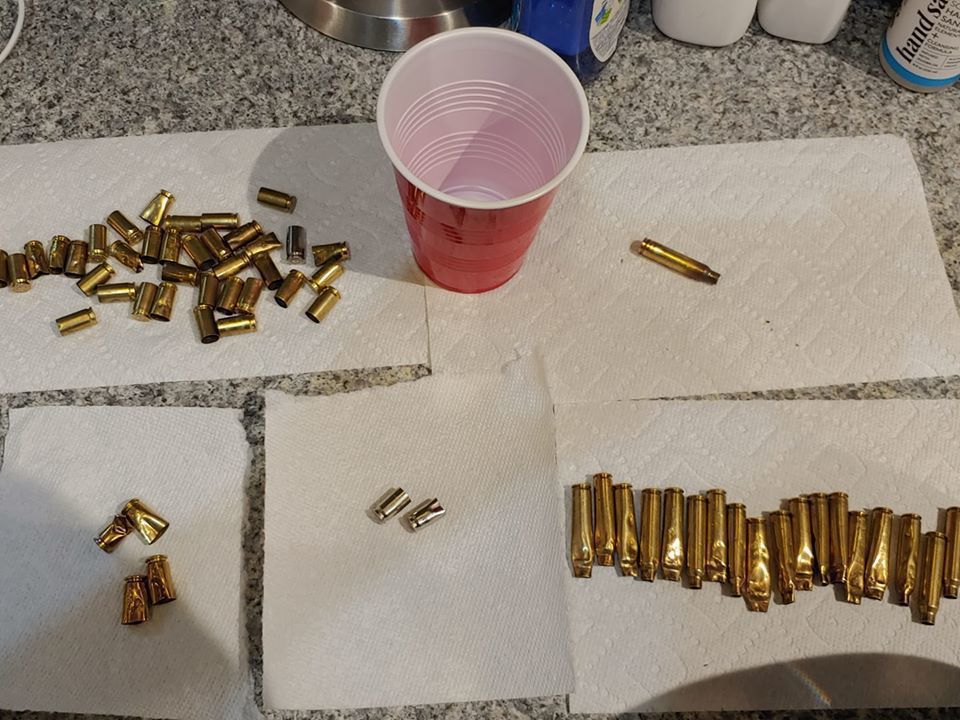 RICHMOND — Residents of Richmond's Oregon Hill neighborhood collected more than 80 cartridge casings from early morning gunfire July 4 that rattled the small enclave south of Virginia Commonwealth University's Monroe Park campus.
Most of the casings were found along Laurel and Albemarle streets, while others were plucked from alleyways and yards nearby, and at least one apparent bullet was found lying on a neighbor's bed, a video posted on Facebook shows.
"We are blessed that no one was hurt," said Todd Woodson, president of the Oregon Hill Neighborhood Association, in a statement posted to the neighborhood's website and Facebook page.
Around 2:20 a.m. July 4, Richmond police said they received multiple calls from the neighborhood, where a house party in the middle of the 700 block of Albemarle Street apparently spilled into the street and turned into a shootout.
Police also said gunfire was reported in the 400 block of South Laurel Street, and residents said they saw a man shooting into the air on Cherry Street — Laurel and Cherry streets both intersect with Albemarle.
Neighbors saw people shooting from car windows as they circled the neighborhood, and others fired as they ran from the scene. One car was seen fleeing the wrong way down Pine Street away from the shootings.
No one answered the door at the home when a reporter knocked Tuesday.
"It was like something out of the Wild West," said Julie Urena, who lives in Chesterfield County but owns a rental home in Oregon Hill. Her son lived there for five years while at school at VCU, and her daughter stayed there recently. She said the situation has given her pause about who might be renting her home. "I saw what had happened, and it was very scary."
The neighborhood group has long grappled with encroachment from VCU, whose students find the low rent and proximity of Oregon Hill appealing.
In his letter to residents, Woodson told them to "stay vigilant" of "problem party houses."
Woodson said he filed a zoning complaint against the property owner, whom he alleges is renting the home room by room, which is not allowed.
"Like a lot of people, I was disturbed to learn from neighbors that some 80 rounds were shot in Oregon Hill from people who were around a house party on Albemarle," said Scott Berger, a longtime resident who runs the neighborhood's website. He said he was two blocks away and heard the gunshots, but didn't realize how close they really were.
"We seem to be getting more irresponsible outsiders who think it is all right to carelessly shoot guns in the neighborhood," Berger said.
Rachel and Owen Howlett, who have lived in the neighborhood for a year, said they were roused from sleep shortly before the gunshots rang out. They looked out the window, where they saw a group partying around a car at Albemarle and Cherry streets.
"What confused things was that fireworks were shot off, too," Owen Howlett said. But a few minutes later, the couple said they heard a quick burst of gunfire that sent them ducking for cover.
"It's a little unnerving," said Rachel Howlett, noting gunfire is rare. "That it potentially could become the new normal."
The crackle of fireworks is common in the neighborhood, where posts on the community's Facebook page frequently dismiss questions of gunfire.
But last year, gunfire was reported near The Overlook, a group of town homes at the southern tip of the neighborhood offering views of the James River below, and last week a homeowner reported hearing gunshots on Holly Street.
On Monday, police said bullet holes were found in two homes and two vehicles in the area from the July 4 shootings.
Officers collected the casings from a homeowner who had gathered them from around the neighborhood. The man who collected the casings said they were from 9 mm, .233-caliber, .380-caliber and .40-caliber weapons, according to a photo of some of them posted to Facebook — as well as security video from several residents.
Anyone with information is asked to call Crime Stoppers at (804) 780-1000.
(804) 649-6527
Twitter: @AliRockettRTD
Be the first to know
Get local news delivered to your inbox!