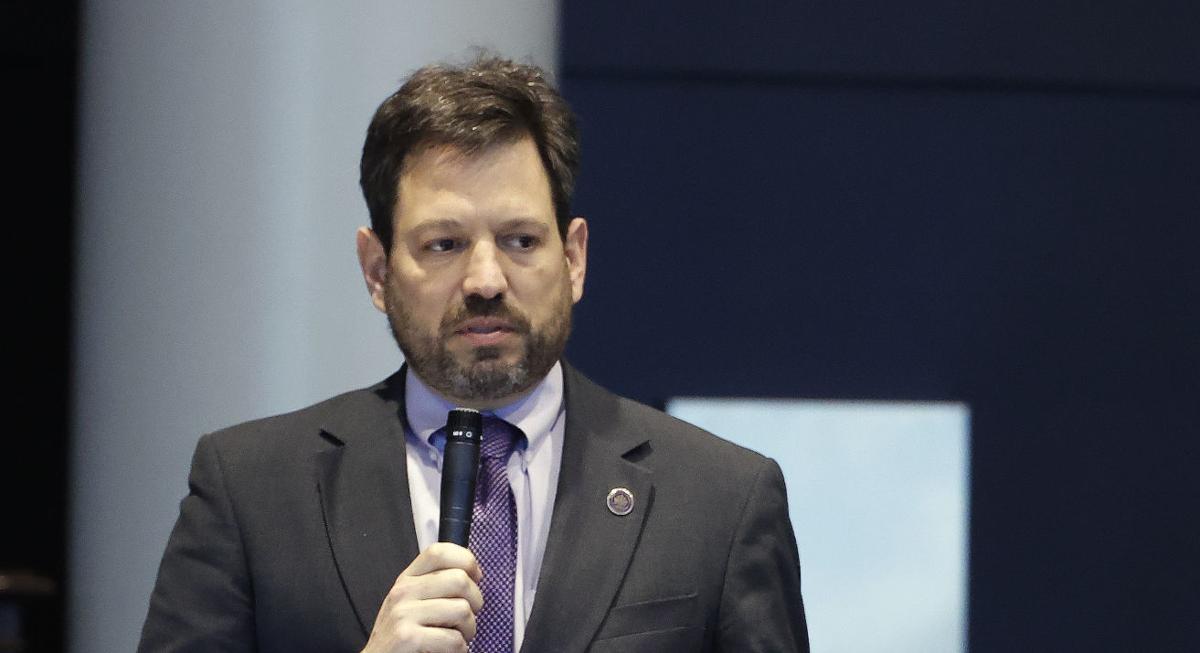 After more than two hours of passionate debate Wednesday from more than a dozen members, the Virginia Senate, in a narrow vote along party lines, approved a bill to abolish the death penalty in Virginia.
Gov. Ralph Northam supports Senate Bill 1165 as well as its companion in the House, House Bill 2263, which may come up on the House floor Friday. If the House passes it as well, it appears Virginia could soon be the first Southern state to abandon the death penalty.
"Since our colony was founded, 1,329 people have been executed by our government in this state, more than any other governmental entity in the United States of America," said Sen. Scott Surovell, D-Fairfax, the chief patron of the bill.
According to the Death Penalty Information Center, 25 states, including Virginia, have the death penalty, 22 states do not, and three states have governor-imposed moratoriums.
The Senate passed the bill on a vote of 21-17. Sen. Bill Stanley, R-Franklin County, opposes the death penalty and co-sponsored the measure, but did not vote Wednesday, saying he could not support the bill in its present form.
Surovell urged its passage citing the possibility of executing an innocent person, the legal costs of trials and appeals, the history of its racial misapplication and the secrecy surrounding the source of drugs used to conduct lethal injections.
"This system we have has just become completely untenable. It just doesn't work any more and it's time to move on," he argued.
Sen. Mamie Locke, D-Hampton, quoted the Equal Justice Initiative, an Alabama-based nonprofit, as saying: "The death penalty is lynching's stepchild."
"In the 1940s and 1950s, they simply moved from the outside, to the inside - legal violence instead of vigilante justice. It is not lost on anyone that those states that had a high number of lynchings, correlate with their support of the death penalty," she said.
Another proponent of the bill, Sen. Barbara Favola, D-Arlington, said the death penalty does not deter crimes. "The states that have abolished the death penalty have murder rates that are lower," she said.
"Mistakes happen. No matter what system we devise, we will not devise a perfect justice system. There will always be the possibility that we could execute somebody who was innocent," she said.
Several speakers favoring abolishing the death penalty raised the case of Earl Washington Jr., wrongfully convicted of a 1982 rape and murder in Culpeper and nearly executed in 1985 before DNA proved his innocence.
Opponents of the bill included Sen. Mark D. Obenshain, R-Harrisonburg, who said he believes in the sanctity of life, but, "There are clearly cases in which capital punishment is an appropriate sanction."
He said he would never argue that capital punishment saves the cost of housing an inmate for life. He added: "I would never make a robust defense over the manner in which capital punishment was applied in centuries past."
But, he contends, it can be applied far more carefully and fairly in Virginia now. "We need to look at how it is being applied now and it is rare and it is for the worst of the worst."
Among the cases he cited was that of Ricky Gray, who in January 2006 murdered seven people in Richmond, including two young girls and their parents and was executed in 2017. "These are savage crimes," he said.
"Very seldom is capital punishment even requested now and even less seldom is it given by juries, not because there are not cases in which capital punishment is appropriate but it is because of the discernment of prosecutors and law enforcement officers and members of juries," said Obenshain.
"It should rarely, if ever, be applied," he said.
Agreeing with Obsenshain, Sen. Richard H. Stuart, R-King George, said, "There are some people so rotten, so rotten to the core that you can't do anything with them and have to protect other members of society from them. That is our responsibility."
He added: "There are cases when that is entirely appropriate and we have to reserve this punishment for those that are so bad that they would take a human life just out of pure meanness and rottenness."
Stanley, the bill's chief co-sponsor and a staunch death penalty opponent, found himself in the unusual position of opposing the legislation Wednesday after an amended version he championed failed in committee Tuesday.
"My name is on this bill but I cannot vote for it," he said.
Stanley's bill would have made life without parole the mandatory sentence for all people convicted of aggravated murders so there would be certainty that such killers would never leave prison.
The abolition bill would make what are now capital murders - punishable by death or life without parole - aggravated murders punishable by life without parole. However, except in the case of the murder of a police officer, a judge could suspend part or all of a life sentence.
An execution, Stanley told his colleagues Wednesday, "is an act of vengeance for humans because we are frail, imperfect, it feels good  but ... it solves nothing except a lust for vengeance, which in my mind is a sin."
However, he said he could not support the bill if someone convicted of aggravated murder could potentially be set free. He said that he and some of his Republican colleagues could have cooperated with the Democrats. "We weren't asking too much," he said.
"This could have been coming out today as a bipartisan effort to end the death penalty in Virginia. Instead, it's a party-line effort," he said..
Sen. Siobhan S. Dunnavant, R-Henrico said she has struggled over the death penalty. "I don't think it's right to murder somebody no matter how egregiously they have behaved. But you have to provide to society a sense of justice," she said.
She said polls show that many support ending the death penalty so as long as the convicted person goes to prison for life.
"It frustrates me because we had the chance to do that yesterday," she said referring to Stanley's proposal. "So make no mistake, this is not what the majority of Americans support," she added, voicing her opposition to the bill.
Sen. Joe Morrissey, D-Richmond, who has prosecuted and defended capital murder defendants, spoke for more than 15 minutes in favor of abolition, again citing the risk of executing an innocent person.
"What's the number that we use?" he asked. "What is the collateral damage that we're willing to say, 'That's acceptable. We can kill those many innocent people,' " he asked. "I don't think that number is there," he said.
No one has been sentenced to death in Virginia since 2011, or executed since 2017. The state's death row is down to two men, whose sentences will be changed to life in prison without the possibility of parole if the bill becomes law.
Earlier Wednesday, in a 15-6 vote with one abstention, House Bill 2263 - the identical companion bill to Surovell's Senate bill - was approved by the House Courts of Justice Committee. It is headed for the House floor Friday, said Del. Mike Mullin, D-Newport News.
Just prior to the Senate vote, Surovell said, "I think at the end of the day, we look back 50 years from now - the electric chair, the lethal injection table - they're going to be sitting in a museum, they're going to be sitting next to the stocks from Jamestown and Williamsburg. They're going to be sitting next to the slave auctioneer block."
"People are going to look back and wonder how it was we ever used these things," said Surovell urging the bill be passed.