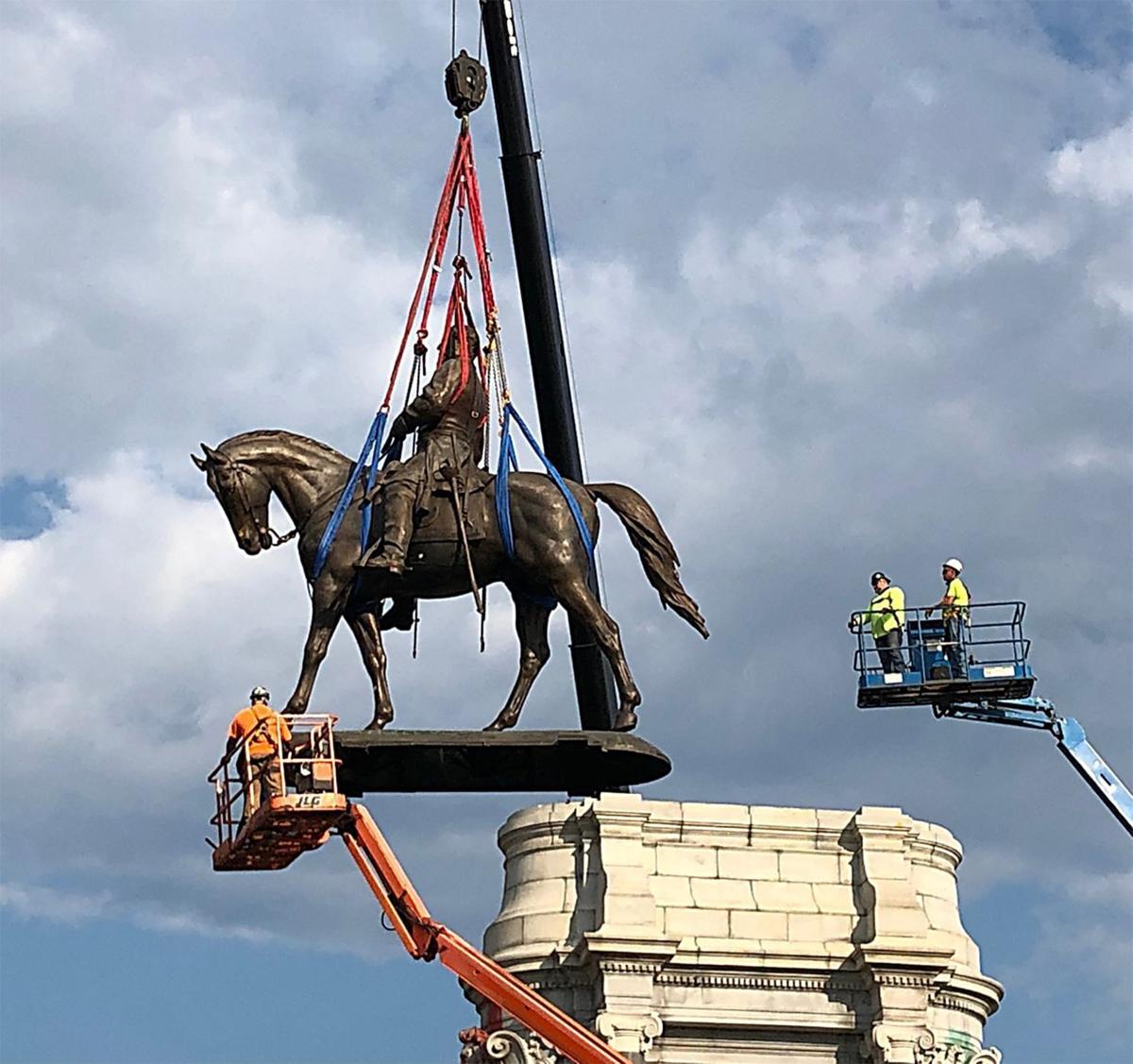 The Virginia Supreme Court on Thursday rejected without comment a rehearing bid from the plaintiffs who opposed the removal of the Robert E. Lee statue on Monument Avenue in Richmond.
"This means that the plaintiffs' last ditch effort has failed and this case has reached the end of the line," said Charlotte Gomer, a spokesperson for Attorney General Mark Herring, in a prepared statement. Herring's office argued the case supporting Gov. Ralph Northam's order.
On Sept. 2, the unanimous court sided with Northam's order to remove the monument over the objections of five local residents who had filed a lawsuit that had blocked the removal for more than a year. The statue was removed on Sept. 8. It was the last remaining Confederate statue on Monument Avenue.
Patrick M. McSweeney, one of the lawyers who filed the 11-page petition on behalf of the plaintiffs, said Thursday, "In light of the significance of the errors that we pointed out in the circuit court's decision and in the September 2 opinion of the Supreme Court, this summary dismissal of our petition is absolutely stunning."
Referring to the petition, the Supreme Court's order Thursday simply stated: "Upon consideration of the petition of the appellants to set aside the judgment rendered herein on September 2, 2021 and grant a rehearing thereof, the prayer of the said petition is denied."
Northam ordered the statue removed last year during protests in Richmond following the murder of George Floyd. The monument was located at Lee Circle on land given to the state by 1887 and 1890 deeds.
The residents opposed to the statue's removal filed suit in Richmond Circuit Court. A judge ruled against them, holding that arguments to keep the statue in place were contrary to current public policy as established by the General Assembly. But an injunction was put in place barring the monument's removal pending the appeal to the Virginia Supreme Court.
On Sept. 2, the justices sided with the circuit judge, ruled against the plaintiffs and dissolved the injunction. In a separate case, the court also ruled against an heir of those who donated the property.
McSweeney said last month that restoring the monument would be the ideal outcome for his clients, who do not believe that the state owns and controls it.
Among other things, the petition complained that the justices ignored the contention that the state cannot continue to benefit from an agreement it has repudiated. In this case, the state wants to keep ownership of the monument and land while disavowing the promises it made to obtain them.
"Such a result allows the Commonwealth to take property without compensation," the petition argued.
The petition also asserted that the justices failed to address claims that the state could transfer the monument and Lee Circle to a private party if, after 130 years, the state decided it did not want to be associated with any message the monument conveys.