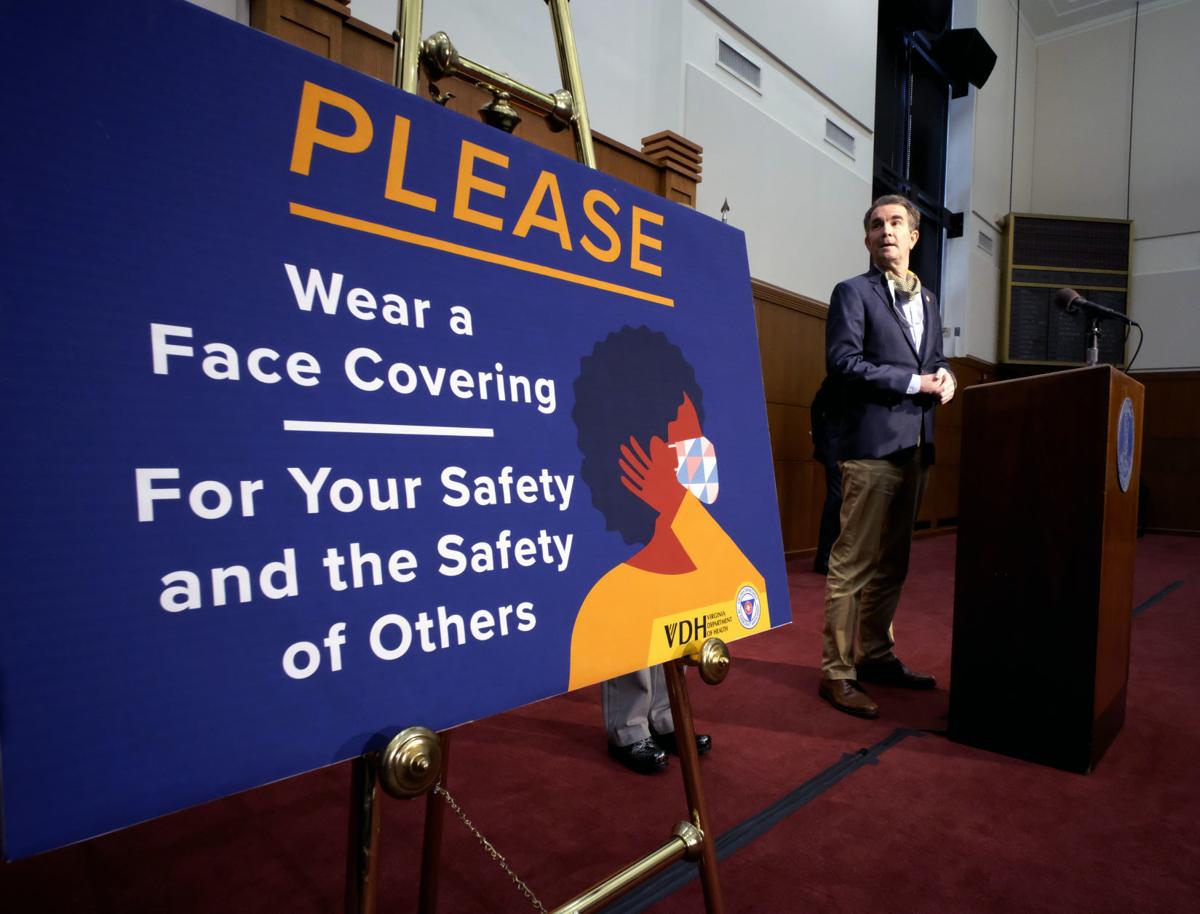 Gov. Ralph Northam said Thursday that businesses faced with a customer not wearing a mask should educate the person on the importance of face coverings, and that they can refuse service to a customer who does not comply.
Northam clarified that while his executive order that takes effect Friday compelling all Virginians to wear masks at public, indoor facilities could lead to a misdemeanor charge, his administration would pursue only those people displaying repeated and egregious violations.
The administration sought to temper confusion and pushback over how Northam's executive order will be enforced. Northam reiterated Thursday that the administration is taking a restrained approach toward enforcement, and instead is asking people in Virginia to police themselves for the sake of public health and the state's economic recovery.
"We need to get the politics out of this. This is about health crisis, making sure other people are safe," Northam said when asked about people protesting the order, either because they see it as a threat to their freedom or because they distrust widespread guidance suggesting masks help prevent the spread of COVID-19.
"I can't lead everybody to the water, but I'm going to lead as many people as I can," Northam said during a briefing with reporters.
As Richmond, Northern Virginia and Accomack County prepare to begin reopening on Friday, Northam announced that Virginia will remain in Phase One for at least another week, as state officials continue to collect data and study the spread of the virus. Northam also said the rest of the state's public beaches can reopen Friday, with restrictions.
Enforcing the order
Republican legislative leaders, a group representing the state's police chiefs and the Virginia Chamber of Commerce all oppose the mandate on masks, arguing that in practice, businesses will be tasked with enforcing it, potentially leading to dangerous confrontations.
A spokeswoman for the Virginia Department of Health, which was tasked with enforcing the order, said Thursday that the department recommends that business owners faced with customers who are not wearing masks "should tell non-compliant individuals to either put on a mask or leave the store."
Legally, however, the order makes no demands of businesses. Under the Phase One guidelines, businesses are required to outfit their employers with face masks.
"There will be no proactive inspections or monitoring of businesses," VDH spokeswoman Maria Reppas said in a statement.
As for individuals, Northam initially said the requirement would not be criminally enforced. However, the text of the order, published hours after he announced it, stated that violators could be subject to misdemeanors.
Rita Davis, Northam's legal counsel, said Thursday that the administration would pursue charges only for people displaying repeated and egregious violations. In those cases, the state would first pursue a warrant from a local magistrate, as opposed to on-the-spot arrests at storefronts.
Davis said that if a business owner fears for the safety of employees or rule-abiding customers, they can deny service to someone refusing to wear a mask, similar to rules that call for shirts and shoes inside some businesses. Anyone arrested under those circumstances would be charged with trespassing, as opposed to a violation of the mask order, Davis said.
"Business owners have this discretion," Davis said. She added that business owners should still be mindful of people with medical conditions and disabilities that may make it difficult for them to wear a mask.
Asked by a reporter, Northam declined to lay out a scenario that would prompt action by VDH, which could take the form of a civil injunction, or a criminal Class 1 misdemeanor, punishable by up to a year in jail and a $2,500 fine.
"I could give you all kinds of scenarios. I think it's very difficult to draw the line anywhere in particular," Northam said. "I would just encourage everybody as best they can to follow the guidance."
Emergency declaration
Also Thursday, Northam said he has extended his declaration of a state of emergency in Virginia. The order was set to expire June 10 and has now been extended indefinitely.
Northam said the extension legally allows Virginia more flexibility to continue addressing the crisis, like continued use of the Virginia National Guard. Under the emergency order, health care providers using Medicaid can be reimbursed for some telehealth services.
"It gives us a lot more flexibility, and rather than set a date, I wanted to do an undetermined date to have more flexibility," Northam said.
Driver's licenses
Northam also announced Thursday that he will extend the amount of time Virginians have to renew their driver's licenses or identification cards. Northam said that while the state's Department of Motor Vehicles has slowly begun serving customers, demand continues to be high.
As a result, Northam said that licenses and ID cards expiring before July 31 will now expire Aug. 31.
(804) 649-6254
Twitter: @MelLeonor_
Richmond.com Editor Paul Whelan contributed to this report.
Concerned about COVID-19?
Sign up now to get the most recent coronavirus headlines and other important local and national news sent to your email inbox daily.