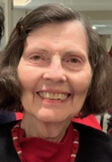 Mary Weddle Lambert, age 86, of Eden, N.C., died peacefully after several months of declining health not related to COVID-19 on Friday afternoon, August 7, 2020, in Greensboro, N.C. A funeral service will be held 2 p.m., on Wednesday, August 12, 2020, at Spray Baptist Church with a visitation held one hour prior to the service from 1 until 2 p.m. Burial will follow at Overlook Cemetery. Mary will lie-in-repose all day Tuesday and Wednesday morning at Fair Funeral Home for anyone wishing to pay their respects and sign the register book. She was born on February 26, 1934, in Washington, D.C., where her father was a member of the Metropolitan Police serving under President Franklin D. Roosevelt. At the age of 2, she moved with her mom and sister to Leaksville, now Eden, where she resided for much of her life. When the Baptist preacher moved to town in 1946, Mary met his son, the love of her life, Harold Lambert. They were married on November 16, 1952, at the First Presbyterian Church of Leaksville by the Rev. H. Fletcher Lambert, the groom's father, and the Rev. John Whitley. She soon realized she had to become a Baptist and be baptized so she joined Spray Baptist Church where she continues to be a member. She, for many years, was a Sunday School teacher in the children's primary class while her girls were young. She also was a member of the WMU and Bible Study Group 2 throughout her adult life. After her husband passed away in 1987, Mary became a member of the Adult Choir as well. She really enjoyed singing with them and sometimes playing the piano for Wednesday Night Prayer Meeting until her health began to decline. For a short time, Mary and Harold moved to Concord where he worked for Lady's Funeral Home. They returned to Leaksville shortly before the birth of their first daughter, Mary Leigh. Martha would follow some 8 years later. Mary graduated from Tri-City High School in 1952, the last graduating class there. She began working for the City of Leaksville in the water department following her high school years. She moved within city government throughout her entire adult life. When Leaksville, Spray, and Draper consolidated in 1967, Mary was named the first City Clerk of the City of Eden. Along the way, she saw many changes in local government; and took on the additional role of Administrative Assistant to the City Manager, both of these titles she held until her retirement in 1996. While working for the City of Eden, Mary held membership since 1975 in the N.C. Association of Municipal Clerks where she held the position of General Membership Chairman. Since 1980 she was a member of the International Institute of Municipal Clerks. During her career in local government, she completed a three year accreditation course at the Certification Institute in Chapel Hill. During the late 1970s and early 1980s, Mary furthered her education taking general education classes at Rockingham Community College all while working full time for the City. She was a perfectionist by nature and earned nothing but As in all her classes! In addition to her church groups, Mary also enjoyed being a member of the Junior Literary Society and the National Society of the Daughters of the American Revolution where she made many lasting friendships. For many years, Mary held the position of Treasurer for the George Reynolds Chapter of the DAR. Just before and at the beginning of her retirement, Mary picked up her grandson, Daniel Cottrell, from preschool at Leaksville Methodist Church; and then from Kindergarten at the school across the street from her home while his mom completed her day as a teacher there. Unfortunately for her, Daniel and his family moved away after his Kindergarten year. Looking to fill her days in retirement, Mary joined several additional clubs to keep busy. Among those were the Out Our Way Garden Club, the Thursday Study Club, Widows for Christ at Spray Baptist, and Eden Woman's Club. Mary enjoyed traveling with special friends all over the US, Canada, and Europe. Additionally, she really loved going to the beach each summer with her girls and their families. Even in her years of greater decline, she would still ask them, "Are we going to be able to go to the beach this summer?" Mary was predeceased in 1987 by her husband of 35 years Harold Lambert, grandson Michael Cottrell, her mother Lora W. Weddle, father Claude S. Weddle, stepmother Helen Weddle, father-in-law the Rev. H. Fletcher Lambert, mother-in-law Minnie H. Lambert, step mother-in-law Ethel K. Lambert, and brothers-in-law Everette Lassiter and the Rev. James Lambert. Leaving behind to cherish her memory are her daughters, Mary Leigh Cottrell and husband, Roy of Mooresville, N.C., and Martha Newman and husband Chris of Martinsville, Va. Grandchildren Daniel Cottrell and wife, Haley of Kannapolis, N.C., and Meredith Cottrell of Asheville, N.C. A great grandchild is due in early 2021. Sister Claudel Lassiter of Greensboro, N.C.; Sister-in-law, Betty Jo Lambert of King, N.C.; Nieces, Linda Millen and husband, Rick of High Point, N.C., Cathie Bridges of Oak Island, N.C., and Christie Winkler and husband Keith of Greensboro, N.C. Nephews, Steve Lambert of Banner Elk, N.C., and Blake Lambert of Greensboro, N.C. Several grandnieces and grandnephews. We would like to thank Dr. Gupta and the fabulous staff of Friends Homes West Healthcare for their excellent care for the last year. Online condolences may be offered to the family at www.fairfuneralhome.com Memorial contributions may be made to Lottie Moon Offering for International Missions, Annie Armstrong Home Missions Offering or Widows for Christ c/o Spray Baptist Church, 745 Church St., Eden, NC 27288; NC Baptist Missions Offering c/o Baptist State Convention of North Carolina, Attn: NCMO, 205 Convention Drive, Cary, NC 27511.
Obituaries Newsletter
Sign up to get the most recent local obituaries delivered to your inbox.