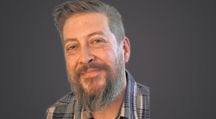 Richelle, my friend, my former coworker, the person I thought would probably take my job when the powers that be finally hauled me away kicking and screaming from my editor's chair, died in the hospital at 49 from COVID-19 complications. She was vaccinated in January, but she had underlying health issues. This virus is insidious, grabbing and releasing some and taking others despite efforts to stay safe.
Richelle left the paper in 2013. Before that, she and I worked together for 19 years, knee-deep in the trenches of small-town journalism, writing about weddings, shootouts, kids making the honor roll, meth lab busts, Maw-Maw's 100th birthday, property disputes, self-published books of poetry and a gruesome murder every now and then.
Most of that time, I was editor and she was assistant editor. She also worked the crime and courts beat, dealing with criminals, cops, lawyers and judges, all of which can present a challenge for someone seeking truth on a deadline.
She was always up for the challenge.
Beneath what appeared to be a tough exterior was love and compassion. She headed up Project Christmas for decades, making sure poor families had something to eat and presents under the tree for the kids. Thousands of people benefited from her efforts.
And she formed special bonds and friendships with the people she encountered.
One of those friendships was with the legendary local lawman Charles Queen, a deputy sheriff before becoming a bailiff in the twilight of his career.
When Queen died after 50 years in year law enforcement, Richelle wrote about how he took her under his wing:
I had the privilege of calling him my friend. We met more than 16 years ago when I was a green reporter fresh out of college with a brand new job in a brand new town I had never been to before. I was thrown into the lion's den of the court world (which, if you don't know, operates totally different than any other world). He helped me conquer my fears … and he made it fun along the way.
He and I were tablemates. He had a seat where he could watch over the happenings of the courtroom. There was always an empty chair beside him. He called me to sit there one day.
"You can sit here anytime you want to," he told me, "but bring some candy."
"What's your favorite kind of candy?" I asked him.
"It's not for me," he said. "Bring something for the little kids, not anything too hard."
A bag of miniature Reese's usually bought me a seat at the table for a full two-week term of Superior Court.
But I learned he wasn't 100 percent truthful about the candy. Yes, a lot of it went to the kids, any kid who came into the courtroom. But leftovers went to Charles.
Not every encounter Richelle had was so friendly. When the police department got a new drug dog, she stopped by headquarters to snap a few photos and interview the handler.
At some point, the dog bit Richelle. It was a superficial bite, more shock than pain.
When she got back to the office she said, "The drug dog bit me."
I said, "You shouldn't carry all that weed in your purse."
She stormed out in mock disgust.
In a dusty corner of the newsroom, I found an old Employee of the Month plaque designed for 12 names that was mostly blank after our company abandoned the program a few years before. I took a sharp tool and carved in one of the open spaces below Employee of the Month "The dog that bit Richelle."
Then I presented her the plaque. She laughed.
Richelle made me a better newsman and her adopted town a better place. I hope that short, feisty, highly intelligent go-getter with a tender side is enjoying a Reese's somewhere. Many of us had the privilege to call her our friend.
Scott Hollifield is editor/general manager of The McDowell News in Marion, N.C., and a humor columnist for Lee Newspapers. Contact him at rhollfield@mcdowellnews.com.