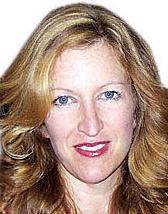 Most people's preparation and education for their jobs come from school.
Mine came from goofing off while at school.
Yes, ironically, I didn't actually get many writing assignments in my English classes, yet I spent most of my days in school writing. That was in the form of notes to my best friend, Kim.
Each day we would write between 20 and 50 pages to each other (more often the higher number than the lower). Even given the large handwriting of teenage girls, that's quite a lot.
It's extra impressive when you consider that nothing exciting ever happened to us, so we didn't have much to write about.
During each class, we'd write a 3- or 4-page note to the other. We would trade notes in the hallway between classes. If we weren't spending the time after school together, we would come up with 10 to 25 pages of notes to swap on the school bus the next morning.
We wrote about the minutiae of life: squabbles with siblings, an interesting bug on the porch, washing dishes after supper, the Sunday-afternoon drive to visit Ma.
We ended up worried that we would never get boyfriends, because we were too shy. So it was we added charts to our notes.
We made a rule that we would have to talk to one boy at every class, break and lunch, to get used to talking to boys. We had to check off each time on the chart and describe the interaction.
Of course, we would pass the charts to each other for review, to prove we were meeting the requirements.
Given that we could write so much about so little, our expectations weren't high at all. Here are some actual entries:
Jonathon Bowers asked me if I had an extra sheet of paper, and I said "yes" and gave him one.
I asked Tony Brown what page we were supposed to be on.
Preston Rakes dropped his pen, and I gave it to him and said, "Here."
Yep, that was it. However, we could, and often did, write pages about how difficult it was to get the nerve to ask Tony Brown what page we were supposed to be on and what a relief it was once we had done it and the stress was behind us.
As time went on, we wrote about tremendous milestones in upmost detail: my first kiss (on the steps at church during the church picnic), her first kiss (on my front porch), our first sips of beer – they tasted gross, so they also were our last sips of beer.
Our lives were boring, if you measured them by what sounded like standard teenage experiences, such as boyfriends, dates and going to the mall. Yet they were rich beyond belief if measured by companionship, attention to one another, awareness of all the tiny details of life.
Perhaps because we didn't have big things to write or talk about, we learned to extrapolate the details of the commonplace. That taught us to observe and describe the world around us, and to find stories where others wouldn't notice anything.
I suppose it was that experience that taught me: If I can think it, I can write it.
When something stumps me, as in writer's block, I just sit back and let my mind roll over it.
If I can think it, I can write it.
Now I teach my daughter to write.
I don't start her on a blank page and give rules for any certain format. Instead, as something happens that catches her attention related to what she will be writing about later, I point out that what she just has spoken would be a great sentence for her article or story. You can practically see the light bulb go off in her head as she says, "Oh yeah!" and writes it down.
Many of those comments are the minor observations one makes in passing, the kinds of things we think and talk about, but don't seem "official" enough to go into writing. Yet it's the inclusion of details, which brings writing to life.
Hours or days later, when it's time to write something, my daughter already has a good part of it written down. She just has to put those written thoughts in order and add whatever's missing, such as a clever lead or a good ending. Then she reads through it and see if anything needs explaining to anyone who isn't familiar with the topic.
This weekend, my childhood best friend is here for a visit. We are going through those old notes we wrote decades ago.
We didn't realize it at the time, but that note-writing practice gave each other the best gifts ever: full, complete documentation of our childhood and teen-aged years. Those two young, naïve girls come back to life whenever we get together over the yellowing papers with the fading ink.
And this middle-aged woman has a job she loves beyond belief, which basically is just an extension of her writing practices as a kid.
Holly Kozelsky is a writer for the Martinsville Bulletin; contact her at 276-638-8801 ext. 243.
Holly Kozelsky is a writer for the Martinsville Bulletin; contact her at 276-638-8801 ext. 243.
Catch the latest in Opinion
Get opinion pieces, letters and editorials sent directly to your inbox weekly!