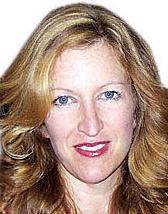 My sister warned us that it gets stricter and stricter the closer we get to New York.
That was fine with us, because my daughter and I had maintained an uncompromised quarantine for two weeks before going to visit my parents — and we surely weren't going to let up on our safety measures on our drive to see them.
In fact, New York had been the epicenter of the COVID-19 emergency for a long time. It had the highest rates of infection in the nation, and I had no intention of picking it up the virus and bringing it back with me to Henry County.
We made the drive to upstate New York fearful of the cooties and germs and viruses and silent killers that it seemed I could see in little dots and speckles floating on the air all around me. My imagination had me on high alert.
It was a bad feeling driving into the hot spot of COVID-19 danger.
Normally we're easy-going travelers. My daughter will tell you with joy that we'll stop on a whim at any little museum, interesting site or cat café we come across. We figure that we'll get there when we get there. And when else would we have a chance to, for example, make our own custom bar of Hershey's chocolate on an assembly line, or walk through the site where George Washington and the Continental Army camped through the coldest winter on record, from 1779 to June 1780, surviving by eating their own boiled shoe leather?
This trip, we parked away from everyone else in rest stops or gas stations. We went through a little bottle of sanitizer each just to clean up after opening doors and turning on sink spigots. We ate our own food we had packed from home.
Just as my sister had said: The closer we got to New York, the more and more pandemic precautions we saw.
In southern Pennsylvania, only about a quarter of the people in gas stations and other roadside stops wore masks. They huddled around close together, not respecting distance. Farther and farther along, floors were marked for the 6-foot distance, all employees of places had masks, and more and more customers did.
It was all serious business in New York. We didn't see a single soul without a mask; the attitude in stores and gas stations was somber; and every here and there on the highway were large signs whose light bulbs lit up various messages on how people are required to wear masks and should wash their hands often.
Throughout our 700-mile journey, I had a creepy feeling of being surrounded by cooties. I like the analogy Linda Wilson of Bassett had used: Imagine you are making some crafts with a group of friends. Just one friend is using glitter. How many of the ladies' crafts have glitter on them? All of them.
About halfway through our visit, New York Gov. Andrew Cuomo announced a required quarantine of any visitors from eight high-risk states. Quickly I scanned the article for the list: No, Virginia wasn't on there, but neighboring North Carolina was.
That was a relief, though I did let my mind wander enough to imagine being required to stay at the family camp for another week and a half.
Before the visit, I was worried that we'd bring a sickness to my dad. After our visit, I was worried we would bring back the coronavirus (or cooties or glitter, or however you look at it) back from the world's coronavirus hot spot, to our home.
Well, folks, it has been a week, and we haven't started coughing yet.
Nearly every day this week, the United States kept breaking records on highest numbers of positive coronavirus cases. It's getting worse and worse, but people around here are getting lazier and lazier about precautions.
Wherever we go, at least half and sometimes most people aren't wearing masks. Instead, they're going around talking and laughing and sometimes hovering over others, no barriers whatsoever.
Just imagine if their droplets of coronavirus-laced saliva were visible the way glitter is.
Holly Kozelsky is a writer for the Martinsville Bulletin; contact her at 276-638-8801 ext. 243.
Holly Kozelsky is a writer for the Martinsville Bulletin; contact her at 276-638-8801 ext. 243.
Concerned about COVID-19?
Sign up now to get the most recent coronavirus headlines and other important local and national news sent to your email inbox daily.