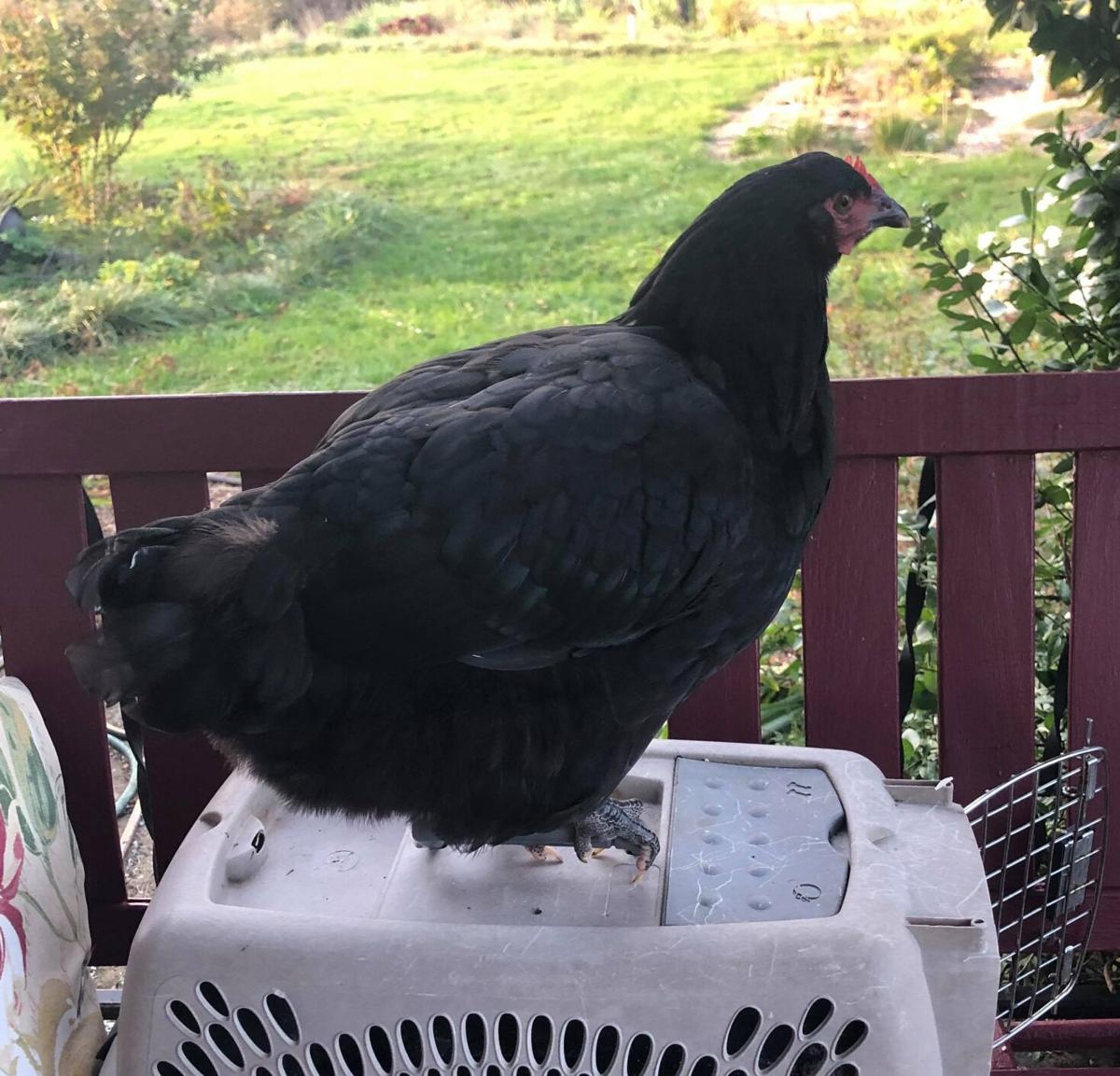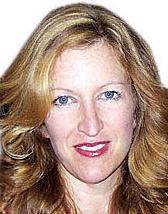 That picture of the hen on my shoulder got 103 likes on Facebook.
People wrote that it was cute – but people who really know chickens would know that it was pitiful.
Except for among those very few cases in which people put in a lot of efforts to tame their chickens, chickens only like each other. They don't care about people.
Of course they like us well enough to follow us around when we are throwing out food, but they don't sit around with us for fun. They'd prefer pecking in the dirt.
In fact, their pecking instinct is so strong that a chicken on your shoulder is constantly jerking around, with the head twitching in pecking motions, looking this way and that with its whole head, not just the eyes.
And your eyes? Get that chicken off your shoulder quick, before it pecks at them. Chickens can't help pecking.
If you noticed a wild look in my eyes in that picture and my hair disheveled, it was because I just had the silly notion to take a selfie quickly before Marian, the French Black Maran hen, pecked my eyes out. There was no time to try to look composed.
Marian the poor little hen once was part of a lovely flock of eight beautiful, friendly young hens. That's friendly in chicken context: They would follow us around regularly, and at least twice a day all would come up on the porch and sit on the porch swing and look cute. That was it.
We also have a flock of three old chickens, one rooster and two hens. We were hoping at some point to integrate the two flocks.
They lived in a duplex chicken coop. They all spend the day free in the yard but are closed into separate coops at night.
Hens are violent creatures, quick to peck newcomers or perceived weaklings or any hen of a different size or look. We wanted to open up the chicken-wire divider between the two coops when we could be assured the old ones wouldn't harm the young ones, but we didn't know when that could be. When the chickens were free outdoors, if a young one came too close to the old ones, she would get quickly chased away, at the mercy of sharp beaks.
Last year's generation of new hens did not even survive the meaner, older generation of hens. Even when all the chickens were outdoors, where there was plenty of space for everyone, the old ones tormented the young ones. I had to separate them all permanently, with each flock alternating days outside, but the young ones perished when by accident one of the old ones got outside on the young ones' day. I came home from work to find a travesty.
Well, for the past year a couple of the meaner old hens died, so the remaining older generation did let this year's second younger generation live outdoors, at a distance. Could they live together in one coop at night and on days we were away from home, too?
Hens aren't the only vicious creatures. Predators get extra hungry in the fall. One September morning I awoke to find the wire fencing pulled away from the wooden coop frame, seven piles of feathers in different areas of my yard, the neighbor's yard and the field – and the poor little black hen walking around looking disconsolate.
The three older chickens seemed fine in their enclosed half of the coop.
I thought that with time Marian the Maran would take up with the three old chickens, but that has not happened. When occasionally I've put her in their coop, with me standing there to watch, they race to peck her and she runs away screeching.
The poor little black hen is not welcome among her own kind, so instead, she hangs out with the dogs and the people.
She would not go back to sleep in her coop, and who could blame her. A few nights after the attack I discovered the tree where she had begun sleeping. I got her out and put her in the cat carrier, and she spent the night in the house on top of the washing machine.
Since then, every evening around 5 p.m., Marian comes to the porch. She weaves in and around the dogs' legs. She walks up to my daughter and me, and hops on our arms, and we pet her.
At nightfall, we open the cat carrier, and she walks in (if only the cats were that easy). We put her overnight on the washing machine.
We think about trying again in the spring with a new flock – after, of course, we have rebuilt the coop like a fortress. But we wonder where they all would live.
It doesn't look like little chicks would be safe with the bossy older chickens. How about with that black one?
It's hard to guess whether Marian would appreciate finally having a flock to call her own once again – or if her inner hen cannot be controlled, and finally she'd have her chance to boss around and peck the weaklings, and the cycle would continue.
Holly Kozelsky is a writer for the Martinsville Bulletin; contact her at 276-638-8801 ext. 243.
Catch the latest in Opinion
Get opinion pieces, letters and editorials sent directly to your inbox weekly!